Estimated read time: 2-3 minutes
This archived news story is available only for your personal, non-commercial use. Information in the story may be outdated or superseded by additional information. Reading or replaying the story in its archived form does not constitute a republication of the story.
SYDNEY — Unless you're a diehard tennis fan and like to stay up all hours of the night you likely haven't watched much of the Australian Open.
During a match on Tuesday female tennis player Li Na managed to hit what may be the worst serve in the history of professional tennis.
Li Na tosses the ball for her serve and then manages to send the ball to the upper deck.
I'd give her a really hard time, but I'll refrain for two reasons. First of all it looks like she's already pretty hard on herself. Secondly, I'm possibly the worst tennis player ever and her worst serve is probably my best.
However, it's pretty fun to watch.
Brian Scalabrine Dominates
Brian Scalabrine has been in the NBA for 11 seasons and he currently plays for the Boston Celtics. Scalabrine has been to teams all over the country and sat the bench at most of them.
Some NBA fans started calling Scalabrine a "regular Joe" and assumed he didn't have any real basketball skills. Well, Scalbrine had enough and challenged any Boston-area amateur to a game of one-on-one.
Four men were hand picked to play Scalabrine and he wiped the floor with them. Check out the video to see it go down.
The NHL Doppelganger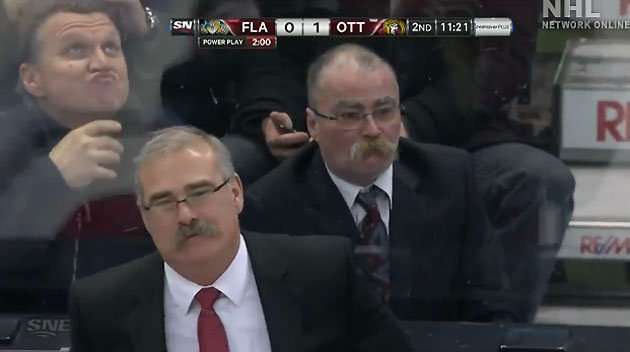 I'm not a huge NHL fan, but I am a huge doppelganger fan.
The Ottawa Senators coach, Paul MacLean, had his look-a-like sit right behind him while his team took on the Florida Panthers.
Ian Mendes of Sportsnet caught up with the doppelganger and it turns out it was totally coincidence.
"These are actually just my company's seats," Mike Watson told Mendes. "I haven't been to a game here in two years. They usually give the tickets to clients, but I was able to go tonight."
×
Most recent Sports stories