Estimated read time: 4-5 minutes
This archived news story is available only for your personal, non-commercial use. Information in the story may be outdated or superseded by additional information. Reading or replaying the story in its archived form does not constitute a republication of the story.
PROVO — Imagine the scenario of a relatively young husband, father of several toddlers, quitting his secure job in favor of a perceived upgrade.
For two years, after hauling his family across the country, this same man pours his heart into the new gig only to show up one day and be fired — primarily because he wasn't a friend of the new boss.
Not cool, you say? "Too bad," comes the rightful response.
Such is the case of Joe DuPaix, the BYU running backs coach until he got dumped earlier this month.
DuPaix gave up a stable spot on the Navy coaching staff to come West, jumping at the chance to work for coach Bronco Mendenhall and offensive coordinator Brandon Doman. This was a homecoming of sorts for DuPaix, who played for his father, legendary coach Roger DuPaix, at Skyline High in Salt Lake City.
Even if he wasn't good enough to play there, the younger DuPaix was born to be a BYU Cougar. And during his two years in Provo, he reveled in it.
"It's a great day to be Cougar," he often wrote on his Twitter account.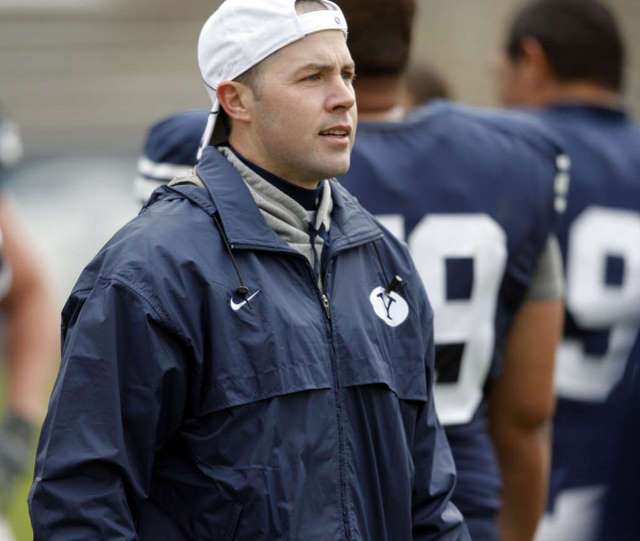 But BYU's offense was a mess during his tenure, particularly throughout this past season. Although it was hardly his fault, DuPaix got caught up in the upheaval that has resulted in all five offensive coaches losing their jobs.
Such is the nomadic existence of assistant coaches in college football. Life isn't fair, even in Happy Valley.
Besides being associated with a crummy offense, DuPaix wasn't tight with Robert Anae, the new coordinator who replaced Doman. Anae hired his buddy, Mark Atuaia, who played running back at BYU from 1991-96, excluding two years off for a church mission for The Church of Jesus Christ of Latter-day Saints.
Atuaia has an impressive list of credentials, hardly any of which includes coaching. Not coincidently, he and Anae are from the same town in Hawaii and attended the same high school.
According to the university's athletic website, he "joined BYU Athletics this past June after previously working as the assistant dean to the dean of Student Life at BYU." In 2011 he earned a law degree and master's degree in public administration from BYU.
In short, Atuaia went from the classroom to the office to the Division-I practice field. Hopefully he remembers to trade a briefcase for a whistle.
For his part, DuPaix's 15 years of experience includes coaching at Riverton High, Cal Poly and some place known as the University of Missouri-Rolla. Along the way, maybe he should have included Anae on his Christmas card list.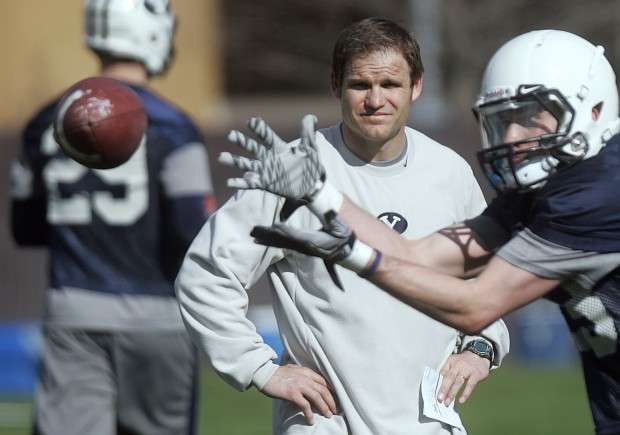 Don't mistake this as a slam on Anae for dumping a qualified coach in favor of one who has never coached full time. Far from it.
Anae has every right to choose his assistants. If he wants Atuaia or some other random person, so be it.
Like DuPaix, receivers coach Ben Cahoon also got caught up in the overhaul. As we saw last season, the receivers weren't the problem with BYU's inadequate passing game.
But two years after going from being a player in the Canadian league to a BYU coach, Cahoon was cast aside. The new coach — albeit until Aaron Roderick realized he was a better fit to stay at Utah— had a connection with Anae that went back several years at Ricks College.
For all the uniqueness of BYU, football coaches are hired to win games. Every fireside the football team held the night before road games was great, but none of them make up for inexplicably losing at Utah, Boise State and San Jose State.
If BYU's offense continues to stink under Anae's direction, he'll also be sent packing. So he deserves to handpick his assistants.
#poll
And whether it's a directive from athletic director Tom Holmoe or Mendenhall, BYU's leadership is right to give Anae full authority. Mendenhall needs to get out of Anae's way, allowing him complete freedom to coach the offense as he sees fit.
With this in mind, Mendenhall will have no problem supporting Anae. In his eight years, he's known to give the assistants freedom to do their jobs.
This time is different, though. Mendenhall won't be able to escape accountability if the offense sputters.
Three years ago, after BYU suffered through a 7-6 season that included mismanaging the quarterbacks, Anae quit his first go-around as the offensive coordinator and left to become an assistant at Arizona. This year, with a substandard season that also included bungling the quarterback situation, Doman paid the price.
No more.
Blame the coordinators once or twice — shame on them. Blame the coordinator a third time — shame on the athletic director.
×
Related stories
Most recent Sports stories