SALT LAKE CITY — Former local college stars are front and center as the Super Bowl invades New Orleans.
Guys we'll be pulling for include, from the Niners, former Ute star and No. 1 overall NFL pick Alex Smith, although right now he's buried behind San Fran's "New Age" starting QB.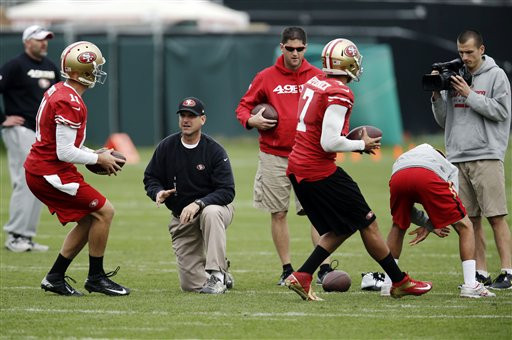 Colin Kaepernick is almost an honorary "local." He starred at Nevada and is firmly in charge of the Niners offense — but all it takes is a tough break or bad cut, and if Kaepernick were to get hurt you know Alex would be up and ready to lead the Niners at any time in the Super Bowl. Who knows? He might even win it for them.
49ers also have SLC native and East High graduate Will Tukuafu on their roster.
On the other side of the field, the Ravens are loaded with game-changing locals like former BYU tight end Dennis Pitta, who caught five several key passes in the playoff game Sunday night, showing tremendous toughness down near the goal line when he was crushed but held on to the football. On the next play QB Joe Flacco went right back to Pitta for the go-ahead and game-winning touchdown in the third quarter.
Pitta caught five passes for 55 yards and a touchdown, now joining Chad Lewis as the only BYU Cougar tight end to play in a Super Bowl.
Then there is the resurgent Ravens defense that got it all right, turned shoddy regular season play around in time to beat two of the top three quarterbacks of all time — Tom Brady and Peyton Manning in their backyards, back to back.
Former Highland High star Haloti Ngata, playing most of the season on a painful knee, was a solid stuffer in the middle of the Ravens line and former Ute Paul Kruger (one of Baltimore's up-and-coming defensive ends) returns to the scene of his greatest win, the Superdome in New Orleans.
Last time there, Kruger helped shock the world by beating Alabama in the Sugar Bowl, and right after Paul and I shared a unique postgame interview moment.
During the mayhem of our live-shot with Paul and QB Brian Johnson, I was reading to the highlights everybody was seeing at home. I had no TV to look at and follow the highlights along, so it was crucial that I stay on time with what I was reading. There were two or three pages of highlights I had scrawled out in barely readable pen, and with my microphone in one hand clearly I was having trouble turning the pages on my highlight.
I'll never forget Kruger jumping in, and with his defensive lineman's gloves still on, turning the pages over on my clipboard so I didn't get behind!
I'll always be indebted to Paul and tell him every time I see him. It was a very heady and cool thing for him to do to bail me out of a potential disaster!
Also, Paul Kruger is in the last year of his contract, so he's about to seriously get paid by the Ravens or some other NFL team that values a tough, high-motor pass rusher. Can't imagine Baltimore letting him go.
Ravens also have former Utes Maake Kemoeatu and David Reed on their roster.
This Super "Baugh" (or is it "Har-Bowl"?) will be extra enjoyable since several of our local's are heavily involved.
Unless Alex Smith plays, we'll be rooting heavily for the team with Utes, a Cougar and Ram!
×
Related Stories