Estimated read time: 4-5 minutes
This archived news story is available only for your personal, non-commercial use. Information in the story may be outdated or superseded by additional information. Reading or replaying the story in its archived form does not constitute a republication of the story.
PROVO — Now that the shock has worn off — or at least mostly worn off — and BYU fans have started to enter the acceptance stage of Robert Anae returning as their school's offensive coordinator, it's time to give those fans some hope that all will be OK.
One thing BYU's offense has sorely lacked the past couple years — beside a quarterback, an identity, etc. ... Sorry, I digress — is attitude. Offenses need toughness and confidence. When they line up, they need to believe they're going to dominate the defenses opposing them.
Such swagger comes from coaching.
BYU's defense had it this past season. The Cougars had the swagger, cockiness and attacking mentality that produced one of the all-time great defensive units in BYU history — evident by the Cougars finishing third in the entire country. The defense took on the personality of its coordinator — not the stoic head coach we see on the sideline, but the old school Bronco Mendenhall, who, when he first came to BYU as defensive coordinator, wanted his players to crack skulls, intimidate and dominate opposing offenses.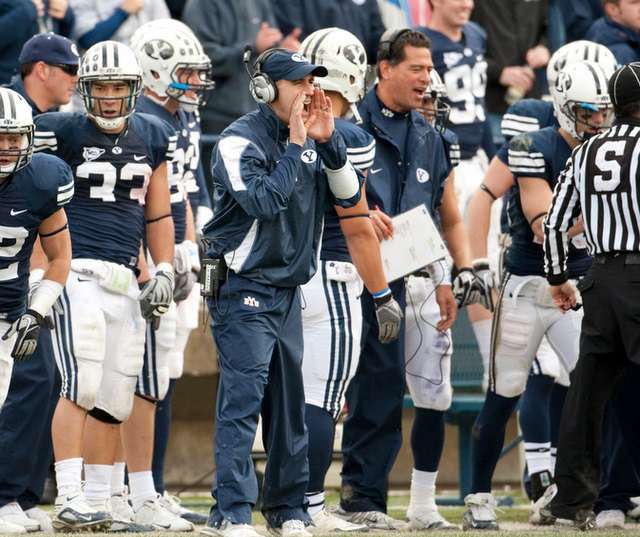 Unfortunately for BYU fans, the passion Mendenhall instilled in his defense hasn't translated to the offense the past two seasons. As has been the case throughout his BYU coaching reign, he has given his offensive coordinator almost full autonomy on that side of the ball. When Anae left BYU — or as some claim, was forced out — Mendenhall turned the offense over to up-and-comer Brandon Doman. He is an affable, nice guy. But given the many mistakes that were made by his players, maybe that was one of Doman's biggest downfalls — he needed to be nastier.
"He's not really a nice guy," former BYU all-conference offensive lineman Jake Kuresa told us on "Gunther and Graham" recently on 1320 KFAN about Anae. "I saw him when after I played and he was really nice. He treated me like his son. But when I was playing he wasn't nice. He was very focused. He's an old school offensive lineman.
"He's pretty nasty with how he approaches football. He gets fired up and he approaches practice like that. So he's not out there trying to make friends. He's not out there to be a players' coach. He's not out there to worry about people's feelings. He's out there to execute. I think he's exactly what BYU needs."
Obviously being physical starts up front with the "big uglies," which according to Kuresa had gotten soft the past two years under Doman.
---
Those guys are talented. They're big. They're strong. There's no reason they shouldn't be physically dominating opponents and they're not. It's just the mentality and it's been soft.
–Jake Kuresa, former BYU OL
---
"They've gotten soft. And whether it's the offensive coordinator, or the offensive line coach, or whether it was the players individually," said Kuresa. "Those guys are talented. They're big. They're strong. There's no reason they shouldn't be physically dominating opponents and they're not. It's just the mentality and it's been soft."
Anae's specialty is the offensive line, and he will fill that coaching role himself in addition to being BYU's offensive coordinator. Judging by his track record, that is a very good thing. In his first stint at BYU, running back Curtis Brown became the school's all-time leading rusher behind a bruising O-line, only to have his record broken right after by Harvey Unga. Both running backs clearly thrived in Anae's offense. And even during his two years serving under two different head coaches at Arizona, Anae had great success with Ka'Deem Carey, who led the nation this past season in rushing.
The other area where Anae returning will be a positive is motivating players, which at BYU is a bigger challenge than other schools.
"You don't have to train aggression or you don't have to emphasize being physical to offensive lineman — it's part of their nature," said Kuresa. "But at BYU, it's a little bit different. You got three of those starters going home to kids that night and a wife and you have to have a guy that can get a little bit of nasty out of them."
The last two years the word "nasty" was used more in describing how bad the BYU offense was. With Anae back in the fold, at least "nasty" won't be as "nasty" of a word.
BYU fans, at least, can only hope.
Kevin Graham co-hosts Gunther and Graham 2pm-7pm on 1320 KFAN. He is also the founder and editor of www.SportsMashup.com. You can follow him on Twitter @KevinGrahamKFAN and like him on Facebook (SportsMashup).
×
Related stories
Most recent Sports stories