Estimated read time: 4-5 minutes
This archived news story is available only for your personal, non-commercial use. Information in the story may be outdated or superseded by additional information. Reading or replaying the story in its archived form does not constitute a republication of the story.
SALT LAKE CITY — Most of the talk early this season about the future for the Jazz had centered around their young big men Derrick Favors and Enes Kanter, but Gordon Hayward and Alec Burks are providing their own spark.
Hayward provided 27 for the Jazz and Burks played three positions and added 13 in the Jazz's 100-94 victory over the Mavs to show why there is excitement about he future for the Jazz. The backcourt duo helped hold down the void left by Mo Williams while adding what they do best.
Hayward was the star of the game for the Jazz. The Jazz were up and down as they let the Mavs stay in the game. However, he was consistent with his shot, going 4-5 with his 3-pointers, and 8-14 overall.
---
Anytime someone's got a fast-break layup it's probably my favorite play is to try to run back and try to block it. It's a big momentum change, it got the crowd going and they are a big part of how we play at home.
–Gordon Hayward
---
"It's always good to see your shot go down," Hayward said. "My teammates did a good job at finding me. Especially when the bigs got doubled they did a great job of kicking out, and so I'm supposed to be able to knock that down. So we can open it up for them."
He has shown that he can take over games with his shooting, but his ability to affect the game in other areas is what he is most proud of. On top of his points he had six rebounds, five assists and two blocks. Both blocks were layup attempts and the second was a fast-break chance for Rodrigue Beaubois early in the fourth when the Mavs were about to go up 10.
"Try to make a play," Hayward said. "Anytime someone's got a fast-break layup it's probably my favorite play is to try to run back and try to block it. It's a big momentum change, it got the crowd going and they are a big part of how we play at home."
From that point on the Jazz chipped away. They went from down 8 to up 7 over the next 10 minutes. That was the time when Burks, Hayward and Randy Foye were switching off at point and all controlling the ball.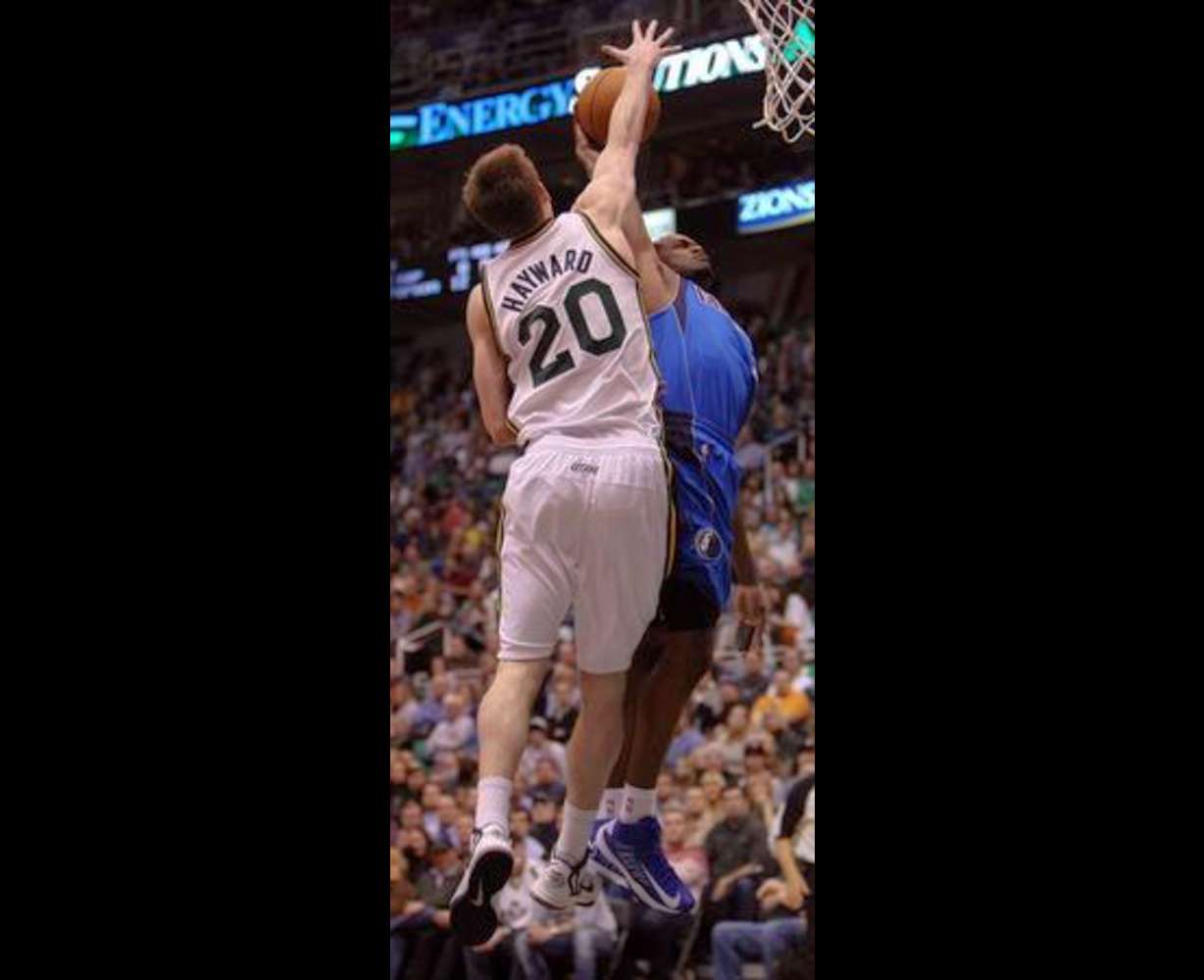 Burks played the primary point guard. He had played coming into college, before he grew to 6-6, so it was nothing new and the team had used him there a lot before.
"We've seen it in practice a lot," said coach Tyrone Corbin. "We've seen at different times throughout the season, early in exhibitions."
Two of the biggest plays in the game came from Burks making plays. The earlier one was a 3-pointer in the middle of the Jazz's 13-0 run. Al Jefferson had the ball blocked with a few seconds left on the shot clock and the ball got batted around to Burks who let a deep 3 fly with just under a second left.
It went in and Burks calmly jogged back like he had done it a thousand times.
"Just had to shoot it," Burks said. "One second left just had to shoot it and it went in."
Burks uses his athleticism as well as anyone. His perimeter defense and ability to attack stem from it, as does his free throw shooting. He shot nine free throws, made eight, because of how much he attacks the rim. Burks and Hayward actually accounted for half, 18, of the team's free throws.
But, there are still some things that Burks need to work on. The other big Burks play was almost a big mistake. Jefferson pulled down a rebound and got it to Burks who nonchalantly started dribbling, unaware of the 8-second half court clock ticking down. Then Jamaal Tinsley jumped up and started yelling at him from the sideline, actually he was a few feet on the court.
"Just letting him know to push the ball up and just look out for the shot clock," said Jamaal Tinsley. "Knowing you got to get the ball over that 16-second, something that he probably don't know."
Burks got it across just in time, the clock struck 15 right as his feet hit, he got the ball to Jefferson who got it to Hayward for his final 3 to cap the big run. Fortunately Burks learned about the rule without breaking it.
"I didn't know that you know," Burks said. "I didn't get one so I'm glad I didn't."
That is why the future has Jazz fans excited. Two players who were able to contribute and really decide a game. Both are still young and learning about the NBA. But the mistakes they are making are making them better and they are improving themselves and the team.
×
Related links
Related stories
Most recent Sports stories