Estimated read time: 4-5 minutes
This archived news story is available only for your personal, non-commercial use. Information in the story may be outdated or superseded by additional information. Reading or replaying the story in its archived form does not constitute a republication of the story.
SALT LAKE CITY — If at first you don't succeed, take a two-year sabbatical in the desert and come back for a second attempt.
The storyline belongs to Robert Anae, BYU's former offensive coordinator who has decided to take another crack at working in the fishbowl existence in Provo. As Anae begins his second tour, here's one piece of advice: You're only as good as your last play.
Out of all the jobs in Utah sports, offensive coordinator at BYU has got to rank as the worst. Certainly, as we've seen for decades, it's the most scrutinized.
The typically stone-faced Anae, who served as BYU's coordinator from 2005-10, obviously embraces the pressure.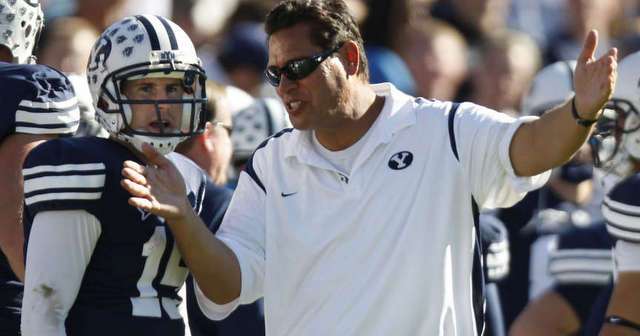 So did Brandon Doman, the coach whom Bronco Mendenhall fired to rekindle his relationship with Anae. In 24 months, Doman went from the nation's best quarterback coach — those are Mendenhall's exact words — to deciding if he wanted to accept a demotion and remain on the staff.
Two years ago, Doman was a wonder kid. Today, he's forced to either swallow his pride or uproot his family and look for work elsewhere.
On Jan. 4, 2011, Mendenhall showered Doman with praise. On Jan. 4, 2013, Mendenhall's decision to dump Doman became official.
"I believe Brandon is the best quarterbacks coach in the country, and I'm excited he has accepted the opportunity to also serve as offensive coordinator," Mendenhall said two years ago. "He is one of the bright young coaches in the country and the kind of person who exemplifies the core values that our program represents. He is a great teacher and mentor to all in his care, and I'm confident he will thrive in this opportunity to build upon our successes as a program and as an offensive unit."
What exactly are those core values that BYU represents?
For all the constant stream of rhetoric that comes from Mendenhall, many of those core values are the same that every Division I program has. Winning football games ranks higher than fifth on the priority list.
Here's the cold truth: BYU's offense stunk the last two seasons. And when any part of a football team stinks, coaches get fired. At the core, everybody everywhere values winning.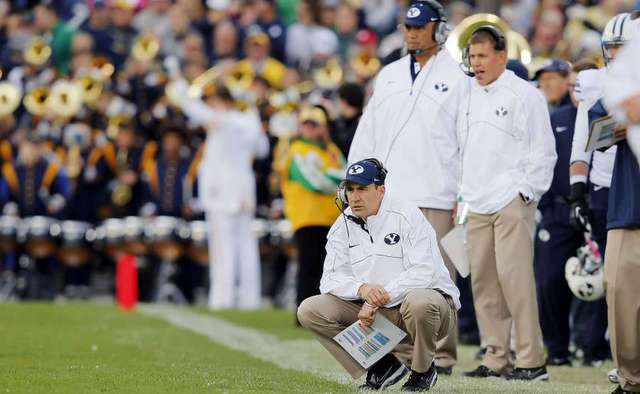 Doman represents the essence of BYU football. He was raised a Cougar, dreaming of following his three brothers who went from Skyline High in Salt Lake City to play for BYU. He gave up football for two years to serve a mission and then came back to stand on the sidelines for almost three seasons before finally getting a chance to play quarterback.
After a short stay in the NFL, although he wasn't Mendenhall's first choice, Doman became the quarterbacks coach at his alma mater. He worked wonders with John Beck and Max Hall but wasn't able to do the same with Jake Heaps and Riley Nelson.
Ironically, the same can be said for Anae, who was the coordinator during Doman's time as the quarterbacks coach. He also held the same job in 2010, when Heaps and Nelson were the quarterbacks on a 7-6 team. Shortly after that season, Mendenhall released the offensive staff, leading to Anae leaving to coach the offensive line for Arizona.
Anae returns to the same situation he left — namely, the offense is a mess. Good luck fixing it.
This much is true: Anae and Doman were good coaches with great players, starting with two outstanding quarterbacks. Neither one of them could do much with substandard players.
This isn't to say Mendenhall was wrong in making Doman a scapegoat. He's free to hire and fire anybody he wants to, or whomever athletic director Tom Holmoe wants.
#poll
The thought here is Anae will do a good job, even if the reviews are mixed.
One of Anae's former players I spoke with didn't like the hire at all. He thought Anae was unprepared, lacked the necessary judgment and couldn't relate to his players. But other than those things, he was fine.
Jake Kuresa, an offensive lineman for Anae, took the opposite approach. Speaking on the Cougar Sports show on 960-AM, Kuresa praised the move.
"I'm ecstatic about the hire," he said. I think it makes a lot of sense."
Unlike other recent BYU coordinators who had backgrounds as quarterbacks, Kuresa believes Anae will pay particular attention to the offensive line, which has not been good.
In the end, no matter who calls the plays, you gotta have the horses to win the races.
×
Related stories
Most recent Sports stories