BYU managed to secure a victory over the University of San Francisco Dons on the road Saturday, winning a tight game 80-76.
The BYU defense tightened up in the second half, holding USF to 30 second-half points after giving up 46 in the first half. The Dons were as "can't miss" as they come during the first half, shooting 9-13 on 3-point attempts, compared to 2-11 in the second half.
While many of BYU's wins this season have come as a result of strong play from Tyler Haws and Brandon Davies, the two captains were not their usual selves against San Francisco. Davies fouled out after scoring a season-low six points with 4:22 remaining in the game, and Haws missed three free throws in the final minutes that allowed San Francisco to come within one point with seconds to go.
Accordingly, Saturday belonged to maligned point guard Matt Carlino and rebounding savant Josh Sharp. Carlino finished with 22 points, matching Haws in leading the team in scoring, and Sharp recorded 10 rebounds while staying out of foul trouble.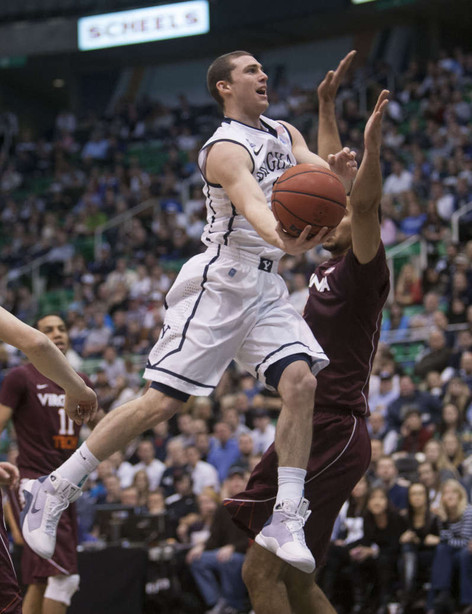 Carlino buried two free throws to push BYU's lead to four late in the game, icing the contest after Haws missed free throws and was forced into a turnover that gave USF an opportunity to take the lead late.
Whether it was hitting from behind the 3-point line or lowering a shoulder and getting to the rim for a layup, Carlino seemed to make shot after shot throughout the game when it felt like the Dons were on the verge of pulling away.
Carlino had another 4-by-4 game, following up his 21-point, five-rebound, five-assist, four-steal outing against Loyola Marymount with a 22-point, seven-rebound, four-assist, five-steal performance against San Francisco.
Carlino also played excellent defense down the stretch against another talented point gaurd, San Francisco's Cody Doolin. Doolin came into the contest averaging 12 points, six assists and just 1.5 turnovers per game. The Dons' junior guard finished with 22 points and 10 assists, but had four turnovers in 38 minutes.
Carlino was able to use his speed and length to stay with Doolin, and had a beautiful steal near the scorer's table that led to a breakaway dunk by the BYU point guard. By the end of the game, Doolin was resting his hands on his hips during breaks, fatigued after playing nearly the entire game.
Meanwhile, Sharp had his second straight excellent game on the glass, snagging four offensive rebounds and 10 total boards. Sharp was active on defense, flying out to the perimeter to contest 3-point attempts and then rushing back to contest rebounds. Sharp scored six points on 3-4 shooting, and had another big dunk that energized his team for the third straight game.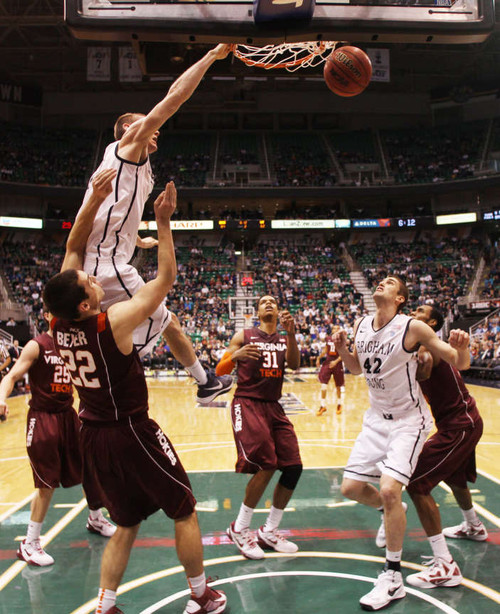 Sharp also played timely defense late, guarding USF forward Cole Dickerson in the closing stages when BYU went small with a lineup of Sharp, Brock Zylstra, Haws, Craig Cusick and Carlino. In the final seconds, Sharp contested a layup attempt by Doolin that would have tied the game. Doolin drove right and Sharp rose up, forcing Doolin to adjust the height of his attempt, causing the ball to fall off the side of the rim and into the hands of Carlino for his seventh rebound.
Saturday's game was another example of the potential the team has when Carlino is playing well. The sophomore guard has been hot and cold during the season, beginning the year with strong play before going into a slump that resulted in the temporary loss of his starting spot. However, since BYU's game against Iowa State, Carlino is averaging 11.7 points, 3.4 assists, and 3.5 rebounds while shooting 51.3 percent from the floor.
Carlino helps the team best when he is able to push the pace under control, breaking down defenses by penetrating into the paint, getting to the rim and limiting turnovers. His maturation as a point guard in the BYU offense is beginning to show, and as he continues to gain experience he shows the potential he had when he first arrived on campus.
If BYU hopes to compete for the West Coast Conference title against Gonzaga and Saint Mary's, Carlino will have to continue the level of play he has demonstrated against Loyola Marymount and San Francisco. If Carlino is able to continue his production from recent games, BYU will be a difficult matchup, at home or on the road, and should be competitive in the remainder of its games.
Saturday's exciting contest is the first conference road game for the Cougars, who improved their record to 12-4 overall and 2-0 in conference. They have won their last five games.
BYU's next game is Thursday at 7 p.m. MST against Pepperdine at home in the Marriott Center.

Daniel Lewis is an intern with KSL.com, and covers the BYU men's basketball team. He currently attends Brigham Young University, and is studying communications.
×
Related Stories