Estimated read time: 4-5 minutes
This archived news story is available only for your personal, non-commercial use. Information in the story may be outdated or superseded by additional information. Reading or replaying the story in its archived form does not constitute a republication of the story.
TEMPE, Ariz. — The Pac-12 conference season tips off Wednesday night when the Runnin' Utes head to the Grand Canyon State to face Arizona State. Utah will then make its way south to Tuscon to take on No. 3 Arizona on Saturday.
At 8-4, the Utes are off to their best start since 2007-08, with each of those four defeats coming by seven points or less.
"We feel like we could be in a better spot record-wise," said senior center Jason Washburn. "All of our losses in nonconference were close. All of them were tough to swallow because we felt that we could win them all and we were in positions to win them all.
"But at the same time, it's helped us grow. It's given us something to build on. Going into conference, we have a really good idea of what it takes for this team to win, and we're going to see what we're made of."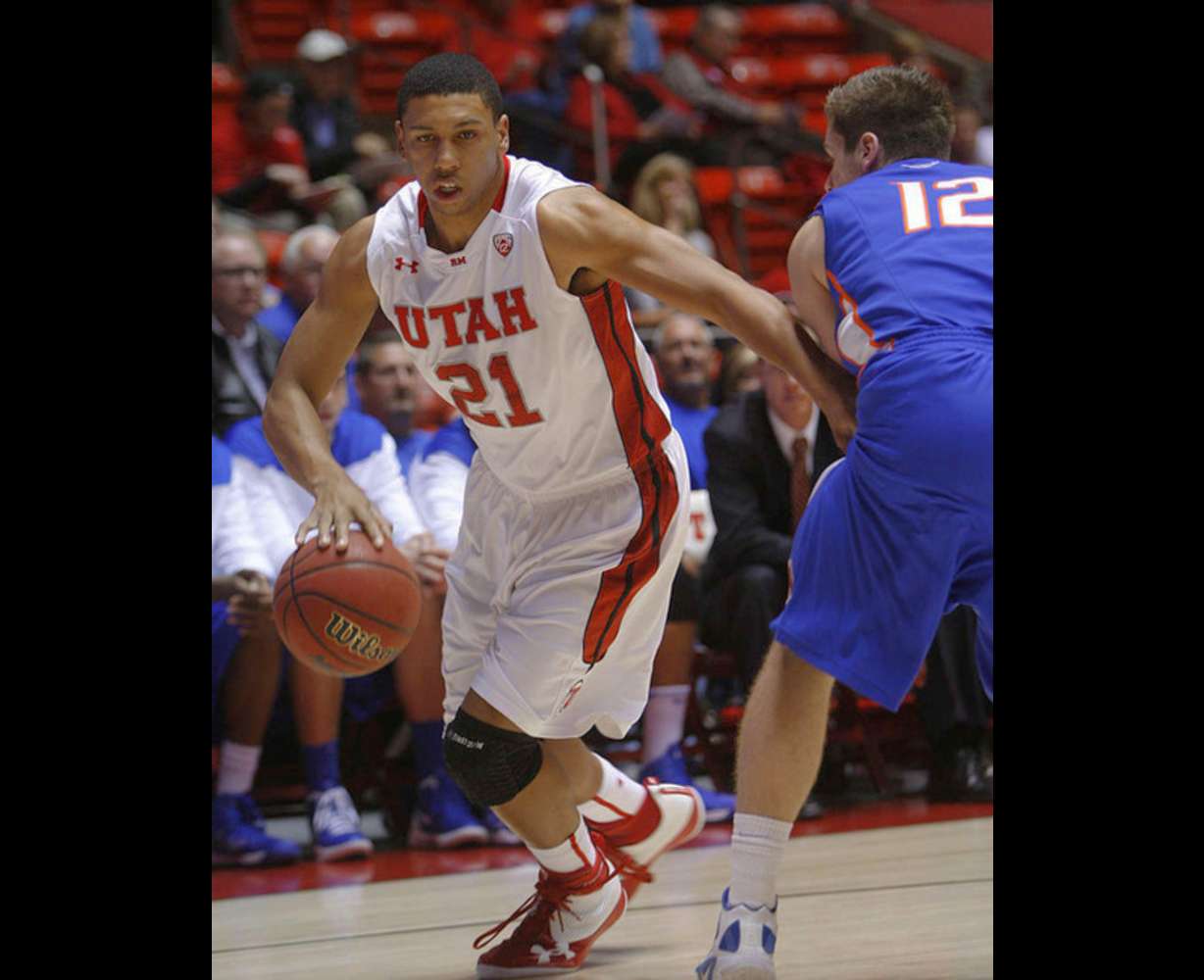 Utah's nonconference showing was a significant improvement over last year, when this Utah program went 3-9 during nonconference play — with an average margin of defeat of 22.2 points in those nine losses.
The Utes owe most of the improvement to defense, where they rank No. 26 in the nation in opponent field goal percentage (38.1). Last year, Utah ranked No. 321 nationally in that category.
Despite the improvements, Utah head coach Larry Krystkowiak knows his defense's greatest challenge is still ahead of it.
"Defensively, with league play coming, we're playing against some elite players within (the Pac-12)," Krystkowiak said. "We have to be ready to guard."
The offensive side has also shown colossal improvement for the Utes, where they are shooting 47.4 percent from the field. This stat ranks No. 28 in the country, up from No. 306 last year. Utah also ranks No. 4 in the nation in assisted basket percentage (67 percent).
Senior guard Jarred DuBois leads the Utes in scoring as well as assists, averaging 13.5 points and four dimes per game. Jordan Loveridge, a true freshman forward out of West Jordan High, is Utah's second-leading scorer and leading rebounder, posting 13 points and 7.6 boards per contest.
The Utes open Pac-12 play against Arizona State, with which they split the season series in 2011-12. The Sun Devils and Utes finished third-to-last and second-to-last in the conference last season, respectively, but both squads are much improved in 2012-13.
Arizona State boasts an 11-2 nonconference resume, with key wins over Arkansas and at Texas Tech. The Sun Devils' only two defeats came at the hands of No. 16 Creighton and against DePaul from the Big East.
In regard to common opponents, Arizona State beat both Sacramento State and Cal State Northridge handily — two teams against which Utah built up double-digit leads, only to squander them away in the waning minutes of both matchups.
Freshman guard Jahii Carson leads the Sun Devils with 17.7 points and 5.5 assists per game. Senior forward Carrick Felix scores 14.6 points with a team-leading 7.5 rebounds.
The battle at center will be one to watch, as Utah's Dallin Bachynski will go to head to head with his older brother, Jordan.
"It's rare that two brothers get a chance to play against each other," Krystkowiak said. "But it can't be a situation where anybody is feeling pressure. It's all about what we need to do to try and win that game. So hopefully Dallin doesn't get too caught up in that."
Dallin, a sophomore transfer from Southern Utah, averages 7.6 points and 6.5 boards per game for the Utes. His brother Jordan, a junior, is scoring 9.8 points with 7.1 rebounds for Arizona State.
"We've always competed against each other," Dallin said. "It's been a while since we've played when we were both at full strength, so it will be fun."
The matchup with Arizona State is just the warm-up for the Utes, as Saturday afternoon they will confront Arizona, ranked No. 3 in the nation.
The Wildcats are off to a perfect 12-0 start, with impressive victories over No. 13 Florida and No. 19 San Diego State. They have also taken down Miami, Texas Tech and Clemson.
Arizona is led by senior guard Mark Lyons, scoring 13.4 points and dishing out 3.2 assists per game. Senior forward Solomon Hill and sophomore guard Nick Johnson each average 12.7 points per game.
Utah fell in both contests against the Wildcats last season. Arizona ran away with a 77-51 victory in Salt Lake City, but Utah played the Wildcats tough in Tuscon before falling 70-61.
The Utes will look to get 2013 started on a high note, with Wednesday night's tipoff set for 8 p.m. MST and Saturday's at 3 p.m. Both games will air on Pac-12 Networks as well as on the radio at 700 AM.
"Two very tough places to play," said Washburn. "We're going to have to bring our 'A' game."
Tyson Maddy has covered the University of Utah football and men's basketball teams as a contributing writer for KSL.com Sports since 2011. Follow his Utes coverage on twitter @Tyson_Maddy
×
Related links
Related stories
Most recent Sports stories