SALT LAKE CITY - Deron Williams is in the center of a media firestorm the likes of which most people haven't seen, most people not named Deron Williams that is.
Williams is again in the center of another media event. With the most recent news of the Brooklyn Nets firing their head coach Avery Johnson the search for a new coach has brought the worst out of a Jazz employee and a name back from Williams' past.
In the NBA there are two names that are popping up with any NBA coaching vacancy, especially a big market, Phil Jackson and Jerry Sloan. Both are interesting hires in their own right for the Nets and both have created quite a stir thanks to Williams' ties to Utah.
The rumors are churning out those two names. ESPN's Marc Stein and Chris Broussard have said that Jackson is the Nets top-target and that Jackson might actually be interested in coaching again and coaching Williams and the slumping Nets.
But, would Jackson really be interested? According to the Utah Jazz Twitter account he might not be, because Williams isn't a good enough player for Jackson. A screen grab was taken of the account saying that Jackson wasn't interested in good players, only great players. The Nets Take Over Twitter account asked if that was the Jazz taking shots at Williams.
Since then the tweet has been removed and the Jazz have issued a statement.
"Yesterday, a member of the Utah Jazz staff posted an inappropriate Tweet to the official Jazz account. This employee no longer has login access to the Jazz Twitter account and further disciplinary action is being taken internally."
"The Jazz does not comment on other NBA teams transactions and furthermore, does not condone any negative comments about any players, coaches, or front office staff throughout the league. It is simply unprofessional and unacceptable."
An unnamed person with access to the Twitter account has lost access to the account, but there was "no comment" as to who, or what else might have happened to that person.
The other part of the story is the rumors that Sloan might actually be in the discussion to coach his former point guard. The interesting scenario is that the man most believe responsible for Sloan resigning is actually pining for the structure that he has as a younger player. Williams said earlier this month the structure helped him as a player early in his career.
This tweet from Broussard's account sums up what anyone knows about Sloan's desires, "I Just spoke with Jerry Sloan. He refused to comment on Nets or D-Will. All he would say is that he's open to coaching in NBA again.
DJ Dunson of The International Business Times wrote a piece called "Brooklyn Nets News: Why Jerry Sloan And Deron Williams Could Be The NBA's Chris Brown And Rihanna" about why the pairing could work a second time around.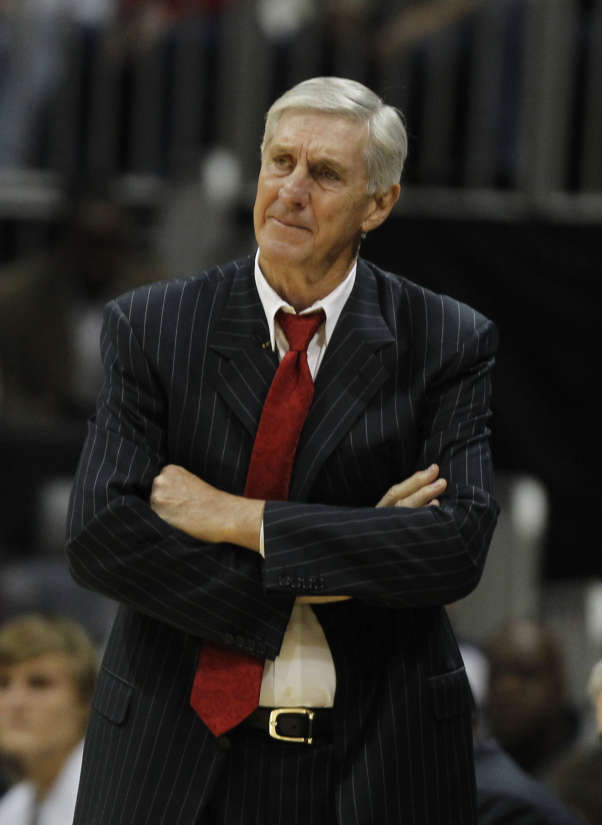 The first go around wasn't perfect, but Williams had great numbers and Sloan lead the Jazz to a Western Conference Finals berth. Here is why Dunson said this could work for Williams and the Nets.
"At his apex in '07-08, 38% of 23-year-old Williams' shot attempts came at the rim. During his final season with Boozer in Utah, in '09-10, 24% Williams attempted 24% of his field goals at the rim. Williams' shots came at the rim. That number has dipped to 17% this season.
"The lack of pick and rolls, off-ball movement and the overabundance of isolation plays forced a frustrated Williams to shoot more long range attempts. In a lockout-shortened 2012 season, Williams' 342 attempts from behind the arc were almost 100 more than he did during any season in Utah. This season, he's on pace to shoot nearly 450 treys for a career-low 29%."
That's why it could work, which should come to no surprise for Jazz fans. Sloan mastered the offense in Utah and Williams ran it at a fantastic pace. The pieces are there for a good team, there isn't a Stockton to Malone, but the Nets have a pretty good roster.
But ultimately could Williams and Sloan actually co-exist? Mike Mazzeo of ESPN put out their speculation for the Nets jobs and included Sloan's name, "D-Will loves his "flex" offense. Then again, wasn't the Nets point guard the same guy who forced Sloan into retirement?"
Currently there are a lot of folks talking about how well he fits and few talking about what Sloan actually thinks about the situation. His name is being floated around, but as for now nothing is solid. There hasn't been any reported conversations with Sloan and the Nets yet.
×
Related Stories