SAN DIEGO — BYU heads back to San Diego finally for their eighth consecutive bowl game. San Diego was the home of bowl games for BYU in past years with 11 of the 30 total games played at the Holiday Bowl. It's been 19 years since BYU has been back to that lovely city. It should be a welcome return for both players and fans.
It is great to go to a bowl game, but it is also the end of the football season. It is so final. Lots of build up, lots of anticipation, then the gun goes off and the game and season are over. That is trouble for many of us college football junkies. It is such a long wait until next September. But, about this game; BYU has a tough opponent playing Mountain West Co-champ San Diego State at their home field.
Let's see what BYU will need to do to win this game to make it four bowl wins in a row.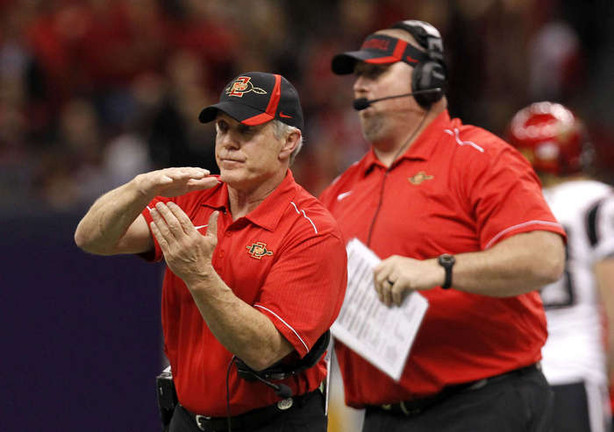 San Diego State is one of those unfortunate teams that doesn't have a real rival. With the loss of the Utah game, BYU might be in the same fix. I mention this because the Aztecs have made BYU the team that is their favorite to beat. The game notes for the Aztecs start with comments stating that San Diego state is facing their long time rival BYU.
Even Wikipedia lists BYU as a rival.
These two teams have played 35 times with BYU winning 27 and there was one great game that was a tie. That 52-52 game was great and many of the games have been entertaining, but a rivalry? I don't think BYU considers the Aztecs a rival. This does lead to my first objective for this game.
#1 OBJECTIVE
BYU must be ready at the start of this game to meet the energy of San Diego. There is talk of hatred that comes from San Diego fans and media and maybe some people in the football program. The Aztec nation doesn't like BYU. Since the two teams haven't played for two years, I don't know how the players feel, but they read and talk to fans, so they will be pumped up for this game.
Even though BYU has beaten SDSU the last five times they have played by a combined total of 88 points, the games have been getting closer. Being ready to go at bowl games is a little more challenging anyway because of the layoff between games. I believe this game is more critical for BYU to be ready at the opening kickoff to avoid trying to fight back from being behind.
#2 OBJECTIVE
We all know that the culture is changing with San Diego State football. They now run the ball first and throw second. They are running the ball extremely well. In eight of the twelve games they played this year,only once did they run fewer than 40 plays. Their leading ball carrier has run for 1,355 yards and even their quarterback ran for 40 yards in their last game. They are ranked 16th in the nation in rush yards.
BYU is really good at stopping the run, limiting opponents to fewer yards in a game than everyone in the nation but one school. This is a good match-up. I don't think BYU will force San Diego out of their desire to run the ball, they will have some success, but they need to limit gains on first down. If BYU can stop first down gains to less than three yards and force San Diego into longer down and distances on 2nd and 3rd downs, BYU will stop drives. If San Diego has lots of 2nd downs of five yards or less, their offense is real trouble.
Cougar Tracks:
This is the key match-up in my opinion, forcing San Diego State to try to gain first downs by throwing the ball. They aren't bad passing, 102nd in the nation in yards, but they are 36th in pass efficiency. This will be a fun strategy of planning to watch in this game.
#3 OBJECTIVE
Unfortunately, this is the last game of the year and the last game of some of these player's careers. I know from my experience, at the end of this game for some players, it is the end. Playing college football is a fantastic experience, and right up there with that experience is the friendships and brotherhood created in the time you have been together. Players have huddled together with one purpose for four or so years. They sweat together, bled together and pulled each other along in good times and bad. The effort each has made to be one team made up of 100 players is not a sacrifice, it is a desire to be your best to support every other teammate.
For many players, that ends at the final gun of this bowl game. You have to be ready to go out a winner. It takes complete effort on every play. This is the final chance to be all that you can be. Players have to take it on the field and come out on top for the school, the team, and every brother on the field.
Go Cougars.
QUICK HITS
San Diego State was created by two schools merging in 1921. San Diego Normal School and San Diego Junior College game together to make San Diego State College. They played football that first year.
This is just the eighth bowl game for San Diego State. They have won three.
San Diego State has received the football in 14 consecutive games, the longest streak in the nation.
Many famous coaches have been part of the Aztec football: Joe Gibbs, John Madden, Don Coryell, Herman Edwards, and Brian Billick.
×
Related Stories