Estimated read time: 4-5 minutes
This archived news story is available only for your personal, non-commercial use. Information in the story may be outdated or superseded by additional information. Reading or replaying the story in its archived form does not constitute a republication of the story.
LOGAN — From that dark, tragic Tuesday at Aggie basketball practice when swingman Danny Berger basically died on the court, to this chilly, snowy start to the second week of December, life in Logan is back to normal. Of course, one life and the thousands it touched, inspired and affected, will never be the same.
USU Trainer Mike Williams is happy and relieved his life is getting back to normal.
"It's all a blur really," Williams said. "When I saw Danny go down I was like 'That's not right. Something's wrong.'"
---
When I saw Danny go down I was like 'That's not right. Something's wrong.'
–Mike Williams
---
USU basketball player (starting swingman actually) Danny Berger's heart stopped. The exact cause and condition doctors still can't fully explain other than knowing it is most likely a one-time event. It will likely never happen again; in no way caused by stress or excessive activity. Danny was standing in a team huddle-meeting on the court in the Spectrum.
"About the only place other than an ER where he could've survived such a random and catastrophic event," said Williams, who was in the process of saving Danny's life within seconds of seeing him collapse. "Stay with me Danny, keep breathing," were Mike's first words to Berger who despite receiving CPR (mouth to mouth and chest compressions) was turning blue. "I said, 'Call 911. Bring me the AED (defibrillator).'"
It was a controlled and calm chaos. 14 years on the job, first time Williams ever had to use the defibrillator. The $1,000 device is practically fool-proof, extremely user-friendly. In life-saving and life-changing events luck (some say divine intervention) always must play a big role.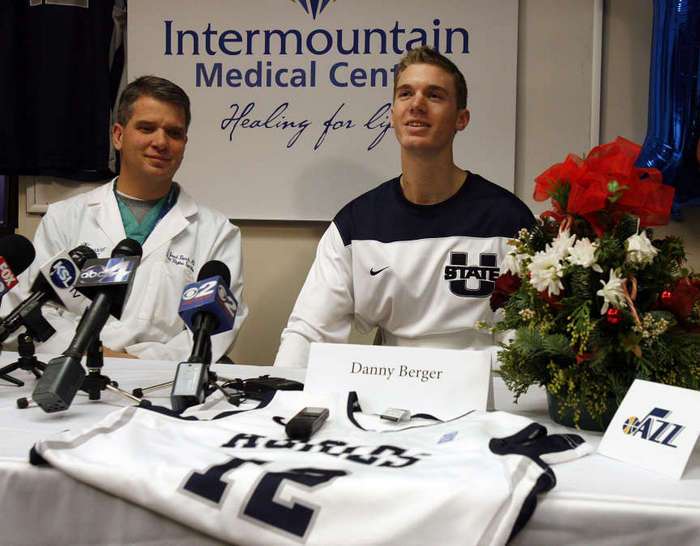 Again, "If this had happened to Danny anywhere else other than maybe an ER," said Williams, "he wouldn't have made it."
Fastest detection and evaluation of this catastrophic event, qualified care-givers right there on-scene, state of the art equipment and a victim in otherwise top physical condition. If Danny isn't at practice, if he's doing any of the umpteen other things college kids do - napping, hiking, strolling across campus - or if it's an hour later, he's on the team bus, riding down to Provo, Danny probably doesn't make it.
Williams' calm implementation of a well-rehearsed protocol saved Danny's life. When he joined KSL on SportsBeat Sunday Williams said the outpouring of gratitude and appreciation for his quick-thinking and meticulous attention to carrying out details that saved Danny's life has humbled him.
"It's crazy; it's just starting to sink in. It's surreal," said Williams. "And a real credit to communication and teamwork under the ultimate stress."
From the fright of seeing Danny turn blue from the initial lack of oxygen in cardiac arrest, to the troubling sight of Danny fighting for oxygen, for survival, before they "froze him," inducing a coma and brining his body temperature down to 92 degrees. All that done with deliberate, methodical and rapid care at Logan Regional Hospital before rushing Berger down to InterMountain Medical Center in Murray where the surgery to implant the tiny defibrillator in Danny's chest was performed.
So the miracle recovery rolls on. Danny's just waiting for the scarring from minor surgery (putting defibrillator in) to heal before he resumes training. Williams and the USU medical staff will monitor Danny's recovery closely, determining (with the Berger family) whether he plays again this season. Getting this season back as a medical redshirt would be a slam dunk as far as NCAA approval goes.
Then Danny's toughest guarding will come from his mom.
"She wants him to back off, slow way down, maybe spend a lot of time in the library" says Williams.
When pointed out that Danny's just as susceptible to (although apparently any such recurrence is highly unlikely) having a heart "event" in the library as he is in the gym, Williams lit up saying "Right. I think I'll use that example with Danny's mom when I make the case for him to play again, if that's what we determine." Williams went on with renewed conviction, "I' point out the safest place for him to be is with us, in the gym!"
One fact that's absolutely undeniable. Safest place for Danny to be? With teammates and Mike Williams and the Defibrillator... in the Spectrum!
×
Related stories
Most recent Sports stories