Estimated read time: 5-6 minutes
This archived news story is available only for your personal, non-commercial use. Information in the story may be outdated or superseded by additional information. Reading or replaying the story in its archived form does not constitute a republication of the story.
PROVO — With the Runnin' Utes trailing BYU 61-58, true freshman guard Justin Seymour tossed up a well-defended, desperation 3-pointer as time expired. The ball bounced off the rim, dealing Utah its seventh-straight loss to the Cougars and third loss of the season.
Utah had led for most of the contest, getting ahead by as many as 12 points late in the first half. But the Utes went ice cold from the field over the game's final seven minutes, shooting 0-for-8 during that stretch. The slump ultimately cost Utah the game, after Matt Carlino's 3-point shooting keyed a late surge that put BYU over the top just in time to clinch the victory.
"As complicated as (the game of basketball) might be, it comes down to us hitting one of those (shots) at any point, and it changes the complexion of the game," said Utah head coach Larry Krystkowiak. "We've got some guys who are willing to lay it on the line and on another night those shots we missed will go in and we'll have a different result."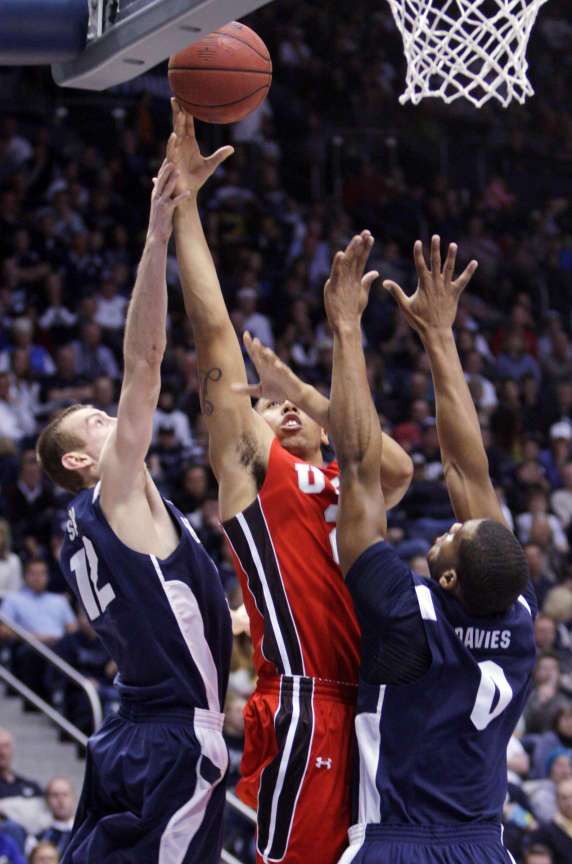 Senior center Jason Washburn had connected on 12-straight field goals over the Utes' last three games, before snapping that record late in the game against BYU. Down by one with 26 seconds remaining, Washburn's jumper rimmed out and the Cougars got the rebound. The Utes were then forced to foul Tyler Haws, who sunk both free throws to give BYU its largest lead of the night, 61-58, and the Utes couldn't respond.
Carlino dished out five assists to go with his game-high 19 points, hitting 5-of-10 from beyond the arc. Fellow sophomore guard Haws scored 14 points and senior forward Brandon Davies added 11 for the Cougars (6-3). Haws and Davies each grabbed six boards.
Krystkowiak had focused his defensive strategy on slowing down Davies and Haws, of which the Utes did a decent job — the two combined to shoot just 6-of-20 from the field. Both were able to get to the free throw line, however, knocking down a combined 13-of-16.
"We knew that we were going to have to give up something," Krystkowiak said. "We didn't want Davies or Haws to beat us, because they were providing 60 percent of BYU's offense. We couldn't stop everyone, and Carlino stepped up and hit some big shots. You have to give him credit for that."
The Utes went on an 18-7 run that began midway through the first half and covered nearly seven minutes, giving them their biggest lead, 31-19.
But the Cougars weren't going down easy on their home court. They chipped away at Utah's lead slowly over the course of the second half, and after junior guard Glen Dean drained a 3-pointer to put Utah ahead 52-46 with 7:05 remaining, BYU went on a 9-1 run to take its first lead since the opening minutes of the game. Carlino hit back-to-back 3-point shots, followed by another by senior guard Craig Cusick.
And after that point, the Utes were unable to convert another field goal and the Cougars snatched the victory.
"We got to make shots," Dean said. "We got to make shots."
Jarred DuBois, Utah's leading scorer coming into the game, had a rough night from the field. The senior guard shot just 1-for-8, including 0-for-6 from 3-point range, finishing with just four points and turning the ball over six times.
True freshman forward Jordan Loveridge led the Utes in scoring for the third time this season, scoring 14 points, while Dean added 10. Washburn scored nine points with seven rebounds, while sophomore center Dallin Bachynski posted seven points and nine boards.
Utah's front court had its way with the Cougars in the first half, scoring 18 points in the paint to BYU's six and outrebounding the Cougars 22-16. But BYU responded with a zone defense in the second half, and the Utes have had troubles when facing a zone this season.
---
A game like this brings us all a little closer as a team. It's tough but we know what we have to work on, and that's closing out games. Two of our three losses have been by one possession, so we know if we just did a better job at the end of games, we could be sitting at 8-1.
–senior guard Cedric Martin
---
"I think their zone stunned us," Dean said. "I feel like we got stagnant, and we weren't moving the ball and attacking the gaps like we should have. I think that really slowed us down because in the first half we were moving the ball, guys were moving, we were bringing their bigs out of the post and finding driving areas. And when they went to that zone, that really slowed us up."
On the other end, Utah played Krystkowiak's signature stifling defense, holding BYU to just 31.1 percent field goal shooting over the course of the game. The Utes shot 46.4 percent in the first half before dropping off considerably in the second, when they shot just 25 percent.
"I was really impressed with our focus and energy coming out," Krystkowiak said. "During the first half, (BYU played) a lot of man defense but we got the ball in the paint. In the second half I think the zone affected us, but still at the end of the day, reviewing a lot of the plays, you know we did have some answers, we had some open looks, and we didn't make them."
Utah falls to 6-3 on the season and will have 10 days to prepare for its next contest, a rematch with Southern Methodist. The Utes finish their nonconference road schedule with a 1-2 record, including a 62-55 loss at SMU, which they will seek to avenge on Dec. 18 at the Jon M. Hunstman Center.
"A game like this brings us all a little closer as a team," said senior guard Cedric Martin. "It's tough but we know what we have to work on, and that's closing out games. Two of our three losses have been by one possession, so we know if we just did a better job at the end of games, we could be sitting at 8-1."
×
Related stories
Most recent Sports stories