Estimated read time: 2-3 minutes
This archived news story is available only for your personal, non-commercial use. Information in the story may be outdated or superseded by additional information. Reading or replaying the story in its archived form does not constitute a republication of the story.
Cancer.
It's not a word that envokes positive feelings. It can be used to describe a poor attitude in the locker room, but when BYU coach Dave Rose uses the word, it has a different meaning.
In June 2009, Rose was diagnosed with pancreatic neuroendocrine tumor cancer. According to Novartis Oncology, it is a form of cancer that five out of every 100,000 people each year are diagnosed with.
"We can do something to try and help awareness, to help find a cure," Rose says in the CNN interview. "It's personal to me, I understand how these people feel."
This year is the second year that the BYU men's basketball team has competed in the Coaches vs. Cancer Classic.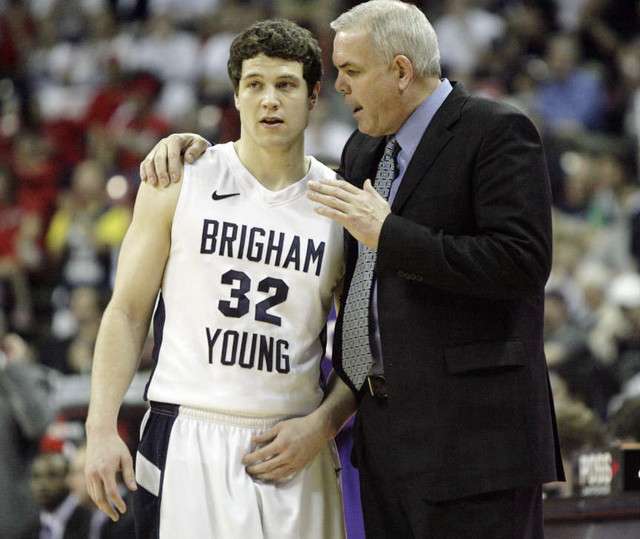 "The cause for the tournament is really special to me and our family and hopefully we can just continue to raise funds and bring awareness and someday we'll have a cure for this thing," Rose said in an interview.
Rose sat down with Dr. Sanjay Gupta of CNN, and shared the story of his experience with cancer.
In the video, Rose explains the night which lead to his discovery of cancer. He also shares the struggle he experienced coming back and coaching the team again.
"I needed to rest, and I needed to stay away from stressful situations, I needed my body to heal," Rose says in the CNN interview. "That was one of the most interesting times of my career, because I don't think I ever remember taking six to eight weeks off."
The Coaches vs. Cancer Classic has raised $85 million since 1993 to fund research, provide up-to-date cancer literacy, advocate for public health policies and deliver services to improve the quality of life for patients and their families, according to the tournament's official website.
To watch the video, click on the play button above.
Daniel Lewis is a student at Brigham Young University studying communications with an emphasis in journalism. He is covering the BYU men's basketball team for KSL.com
×
Most recent Sports stories