Estimated read time: 3-4 minutes
This archived news story is available only for your personal, non-commercial use. Information in the story may be outdated or superseded by additional information. Reading or replaying the story in its archived form does not constitute a republication of the story.
PROVO — When you grow up playing soccer, dreaming about playing basketball and then walk on to a college track team, it almost seems ridiculous to think any other sport could come so naturally.
But then you walk on to the BYU football team.
Two years later every NFL scout knows your name, and you're getting full spreads in Sports Illustrated. Talk about talent, eh?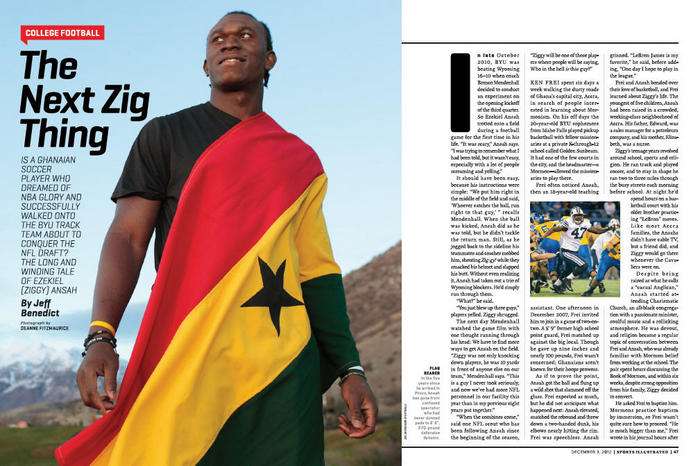 Ezekiel "Ziggy" Ansah may not have known how to put on football pads back in 2010, but those pads have now become a part of who he is — a hot commodity for the 2013 NFL draft.
In his latest article, Sports Illustrated columnist Jeff Benedict introduces Ansah as "The Next Zig Thing," writing about what inspired Ansah back in Ghana in 2007 to get to where he is today.
Back then, there were no college football scouts, nor BYU alumni family members whispering in his ear. No, Ansah was recruited to the Cougar football team by a Mormon missionary.
"He was recruited to BYU by a sophomore serving his Mormon mission in Ghana in 2007, who played pickup basketball with Ansah and thought the Ghanaian's 6-foot-6 250-pound frame would lend itself to football," states the article preview. "Ansah walked on to the Cougars' team in 2010, and over the final nine games of the 2012 season, was third on his team in tackles (48), second in sacks (4.5) and first in tackles for loss (13)."
Benedict's article dives into Ansah's experience in America and with football, and also features the thoughts of people around him.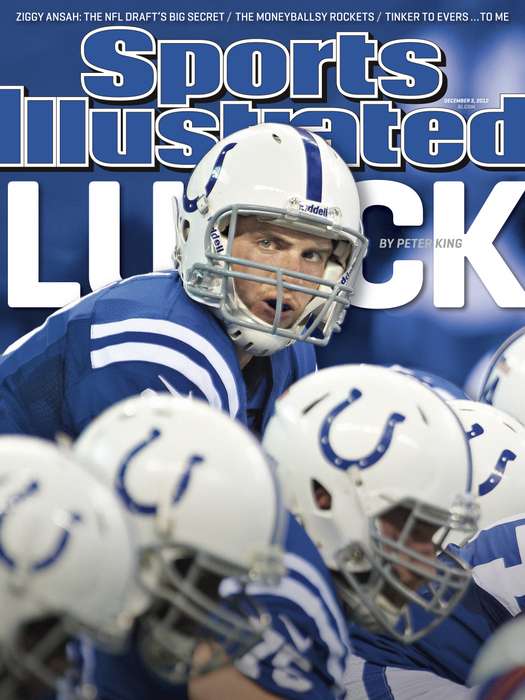 According to the article, Ansah was first played in a game against Wyoming, and during his very first play in college football, he took down three opposing players without even realizing it.
"Ziggy was not only knocking down players," BYU head coach Bronco Mendenhall told Benedict, "he was 10 yards in front of anyone else on our team. This is a guy I never took seriously, and now we've had more NFL personnel in our facility this year than in my previous eight years put together."
NFL scouts have been closely following Ansah since the beginning of the season, and his performances have not disappointed.
"The combination of his height, weight and speed is probably unmatched. Plus, he's so strong. He's got that Jason Pierre-Paul type of physical upside," one NFL scout told Benedict.
"When the combines come, Ziggy will be one of those players where people will be saying, 'Who in the hell is this guy?'" said another scout.
In addition to being a potential first-round pick in next year's draft, as well as apart of the nation's No. 3 defense, Ansah recently gained the honor of being named a semifinalist for the 2012 Burlsworth Trophy, which awards the nation's top player who began his career as a walk-on.
Back in October, after the Cougars beat Utah State 6-3, Ansah's teammate Kyle Van Noy possibly said it best, "I don't think any team was able to hit Utah State's quarterback the way we hit him. Ziggy had him all night. He didn't just hit him, he wrapped him up, swallowed him and dumped him on his head."
Wrapping, swallowing and dumping players on their heads is not exactly in the soccer, basketball or track rule books, so maybe football is meant to be for the Ghana native.
×
Related stories