Estimated read time: 8-9 minutes
This archived news story is available only for your personal, non-commercial use. Information in the story may be outdated or superseded by additional information. Reading or replaying the story in its archived form does not constitute a republication of the story.
SALT LAKE CITY — It was a season to remember.
The 2012 high school football season was perhaps as good as it has ever been in the state of Utah. There are so many talented players in the state that put up impressive numbers and made memorable plays.
We could only choose six players for our Game Night Live postseason awards. Here are the players that made our exclusive list.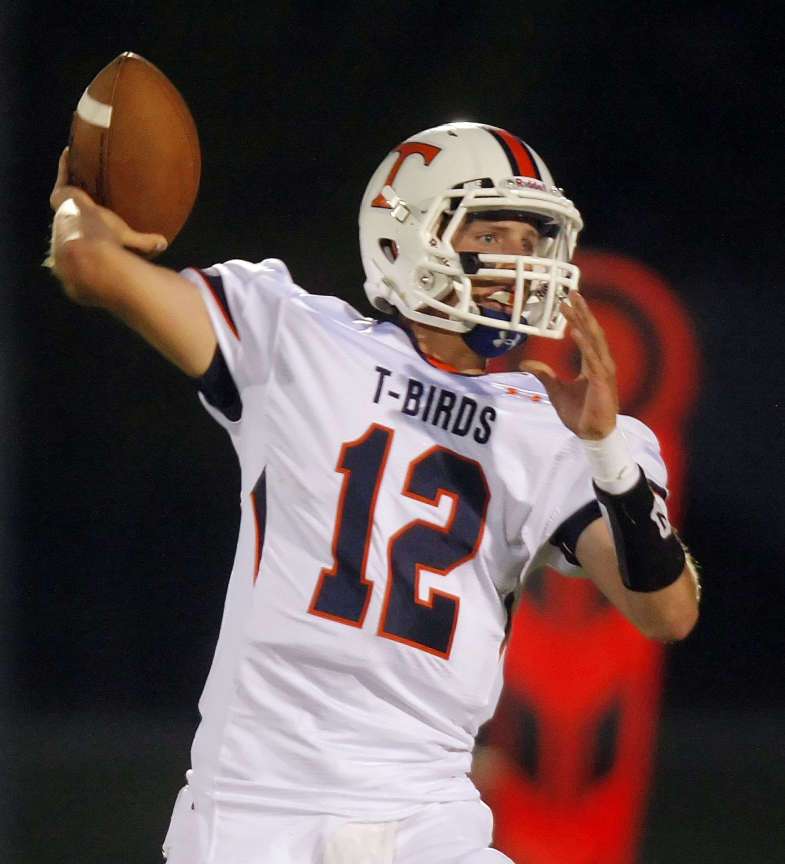 Player of the Year
Jake Lloyd QB Timpview
2012 passing totals
**Comp-ATT**
**PCT.**
**Yards**
**YPG**
**TD**
**INT**
226-359
0.630
3894
278.1
53
7
Career passing totals
**Comp-ATT**
**PCT.**
**Yards**
**YPG**
**TD**
**INT**
388‒643
0.603
6299
242.3
80
19
Timpview faced a daunting task entering the 4A playoffs. UHSAA sanctions for using an ineligible player force them to forfeit four games dropping them to a 3 seed out of Region 8. They had to open the playoffs at defending state champion Logan and crushed the Grizzlies. Then they had to travel to face a ranked Woods Cross team and dominated that game as well. Then came the 4A semifinals where they rallied to defeat an East team that was ranked No. 1 most of the season. Those wins were followed by a matchup with No. 2 Mountain Crest in the state championship game where they rallied again to claim their 5th state title in the last 7 years.They needed a special player to pull off such a feat and that player was quarterback Jake Lloyd.
"We were willing to take the consequences for each other's mistakes, our coaches mistakes, our schools mistakes," he says. "We rallied together in the end and formed a family and fought for those wins."
The younger brother of Stanford quarterback Dallas Lloyd had a season to remember. He completed 63 percent of his passes for 3894 yards, 53 touchdowns and just 7 interceptions. His 53 touchdowns tie Riley Nelson for the state record. He threw 15 touchdowns and just one interception in four playoff games.
As impressive as he was he is still waiting to receive college offers. You have to believe those offers will roll in once coaches learn of his impressive postseason performance.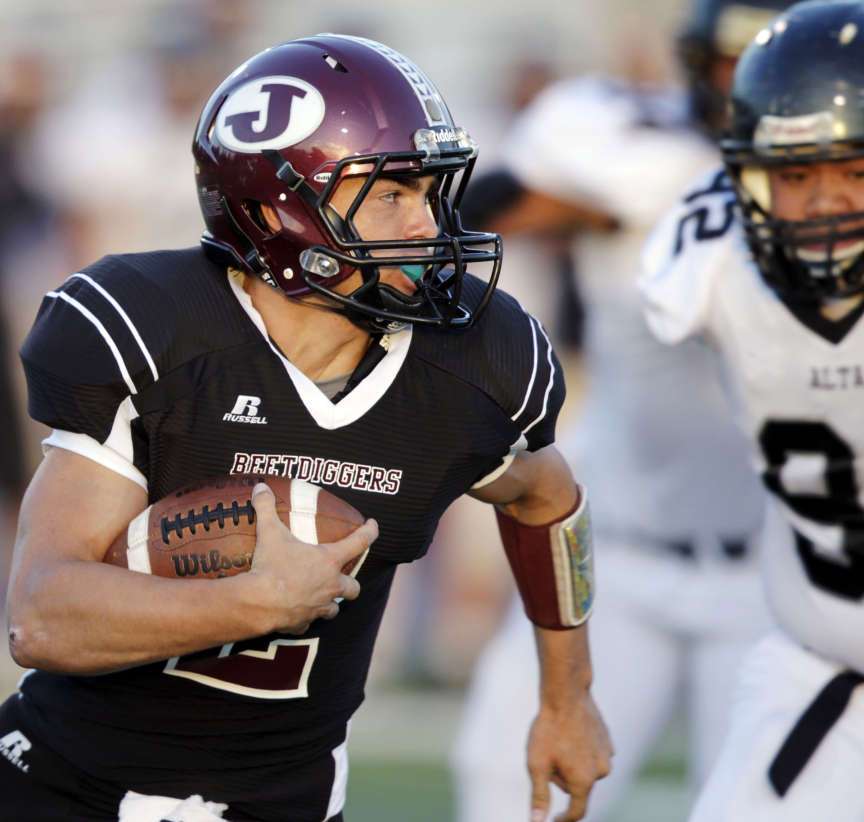 5A MVP
Austin Kafentzis QB Jordan
2012 passing totals
**Comp-ATT**
**PCT.**
**Yards**
**YPG**
**TD**
**INT**
190-294
0.646
2860
220.0
31
11
2012 rushing totals
**Carries**
**Yards**
**YPG**
**TD**
221
1689
129.9
23
If you didn't know Austin Kafentzis was a sophomore while watching him play football you would think he is a senior. He plays with poise and precision that is rare for a player his age. His approach to the game of football one over his senior laden offensive line.
"We know Austin's going to do his job," says lineman BJ Cavendar. "He's a great player, he's a great person in general. He's a hard worker. He didn't miss a day of lifting so we had complete faith and complete trust in him."
Austin showed why his lineman think so highly of him with another spectacular season. He completed 65 percent of his passes for 2860 yards and 31 touchdowns. He was even better running the football. The dual-threat quarterback rushed for 1689 yards and 23 touchdowns for the Beetdiggers leading them to their first state championship in 18 years.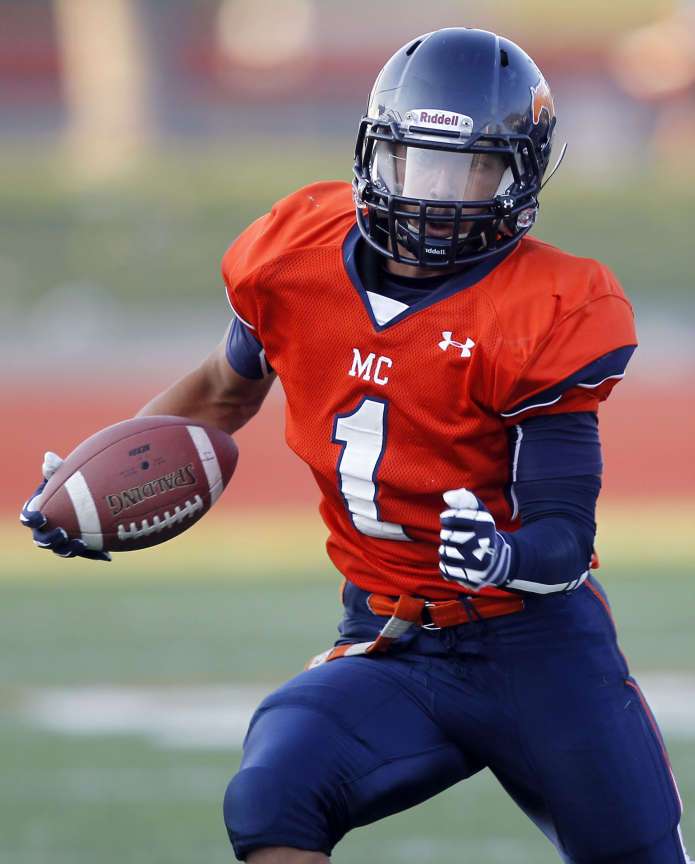 4A MVP
Eddy Hall RB Mountain Crest
2012 rushing totals
**Carries**
**Yards**
**YPG**
**TD**
235
1585
121.9
18
Career rushing totals
**Carries**
**Yards**
**YPG**
**TD**
438
2395
48.9
28
Mountain Crest was just one play short of winning their first state title since 2005 but fell short once again in double-overtime. That fact didn't overshadow a fantastic season for the Mustangs and their running back Eddy Hall.
"It was special to us and to the coaches," Eddy says. "We all came together before the season and lifted hard. We are grateful as a team to get that far."
Hall led the way for the Mustangs by rushing for 1585 yards and 18 touchdowns.
He rushed for 325 yards and three touchdowns in the playoffs despite missing their quarterfinal game due to injury.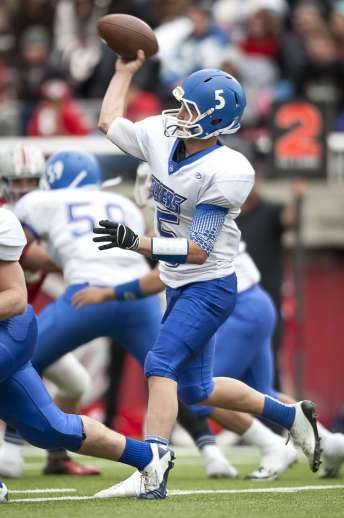 3A MVP
Blake Barney QB Dixie
2012 passing totals
**Comp-ATT**
**PCT.**
**Yards**
**YPG**
**TD**
**INT**
160-283
0.565
2805
215.8
27
6
Career passing totals
437‒812
0.538
7236
226.1
60
26
2012 rushing totals
**Carries**
**Yards**
**YPG**
**TD**
172
1321
101.6
19
Career rushing totals
**Carries**
**Yards**
**YPG**
**TD**
315
1921
60.0
29
There were times when Dixie quarterback Blake Barney made the Dixie offense look like a video game. He had 4126 total yards of offense and a combined 46 touchdowns on the ground and through the air.
"It was just fun playing the whole season," Barney says. "I don't really care about the numbers. It was good to have but it was may more fun winning the state championship."
Dixie did not enter the playoffs as the favorite. They were a 3 seed out of Region 9 and had to go on the road all four weeks of the playoffs.
How much road did they cover? The Flyers traveled more than 2300 miles on a bus during their incredible playoff run. They knocked off two undefeated teams in Stansbury and Juan Diego before their impressive route of Spanish Fork.
Barney led the way as the Flyers claimed their first state title in 14 years.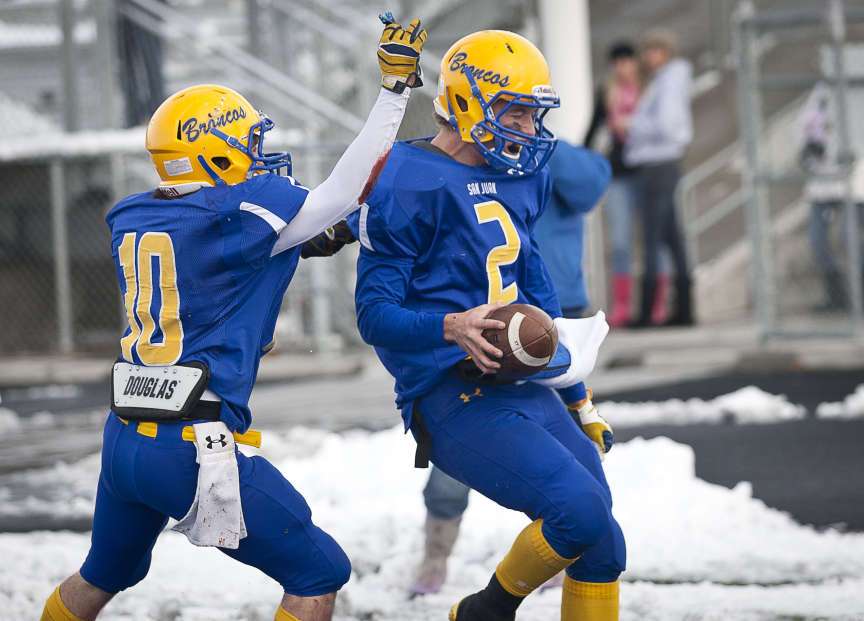 2A MVP
Barkley Christensen QB San Juan
2012 passing totals
**Comp-ATT**
**PCT.**
**Yards**
**YPG**
**TD**
**INT**
150-244
0.615
2000
166.7
22
9
Career passing totals
**Comp-ATT**
**PCT.**
**Yards**
**YPG**
**TD**
**INT**
272‒470
0.579
3936
83.7
42
22
Christensen had an impressive senior season for the San Juan Broncos leading them to another undefeated regular season.
"I was lucky enough to even be starting for two years," he says. "I'm just proud to be where I was and being on the winning side of it too."
Barkley completed 62 percent of his passes for 2000 yards and 22 touchdowns. He led the Broncos to a 11-1 record.
The best example of his great play this season came in the state championship game. The Broncos trailed Manti 13-6 with less than a minute left in the game Barkley led a 65-yard drive, with no timeouts, in 46.7 seconds capped off by a touchdown pass with no time left in regulation.
It took a 54-year field goal in overtime to keep Barkley and the Broncos from hoisting another state championship trophy.
1A MVP
McKade Nielsen TE/DB Duchesne
2012 receiving numbers
**Receptions**
**RPG**
**Yards**
**YPG**
**TD**
27
2.3
616
51.3
10
2012 Defensive numbers
**Tackles**
**TPG**
**Sacks**
**INT**
44
3.7
1
10
The Duchesne Eagles own 1A football.
They have now won 34 consecutive games and 3 consecutive 1A state titles. Tight end/defensive back McKade Nielsen has been an important part of that impressive run.
"It's a mile-marker to three-peat," Neilsen says. "It was important to us seniors especially. It meant a lot to us."
Neilsen had a season rarely enjoyed by a player at the 1A level. He led the entire state with 10 interceptions. He came up big in the state title game against Rich with a 51-yard fumble return for touchdown. His pass defense was only part of his contribution to the top team in 1A. He was a talented tight end who caught 27 passes for 616 yards and 10 touchdowns. One of those receptions was a one-handed touchdown catch in the back of the end zone against Rich in the regular season. He finished his high school career with 24 interceptions.
×
Related stories
Most recent Sports stories