Estimated read time: 2-3 minutes
This archived news story is available only for your personal, non-commercial use. Information in the story may be outdated or superseded by additional information. Reading or replaying the story in its archived form does not constitute a republication of the story.
The Southern Utah football team's first season in the Big Sky fell short of the player's expectations, but that didn't necessarily mean it wasn't successful.
The Thunderbirds finished their season Saturday with a 35-29 triple overtime upset of No. 11 FCS Northern Arizona — two weeks after knocking off then-No. 1 FCS Eastern Washington. NAU was previously undefeated in conference play.
"It was a great way to end the season and a great way for the seniors to go out," SUU Head Coach Ed Lamb said. "Great for the underclassman just to understand our team is really close to compete week in and week out with some of the best teams in the country … just to have this feeling, to have this momentum will spring us onto an excellent offseason."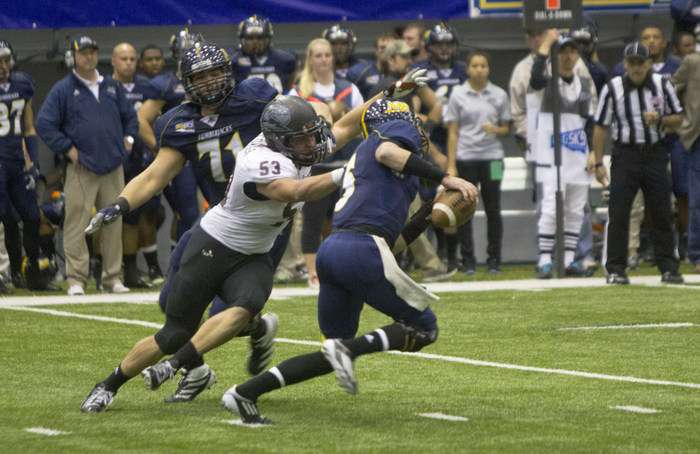 SUU concludes its inaugural Big Sky season with a 5-6 record and 4-4 in conference play, including wins over Portland State and Montana — in addition to its big wins over EWU and NAU.
However, three home conference losses hampered any chance of the postseason, as well as a 33-29 loss at North Dakota last week. SUU lost by a total of 18 points in its four conference losses, and didn't lose more than one possession in each of those losses.
For the many returning starters, like defensive end James Cowser, Saturday's win heads SUU for a better 2013, where the T-Birds can figure out how to make the adjustment needed to make SUU a playoff threat — not just a spoiler.
"We wanted to end on a positive note so we can set ourselves up on track for next year," he said. "We know we can be good; we just have letdowns every once in awhile."
In Saturday's win, SUU quarterback Brad Sorensen ran for one touchdown and threw for two more in the three overtime periods. Sorensen became the first T-Bird quarterback to throw for 60 touchdowns in a career, in addition to the first to 9,000 total yards of offense.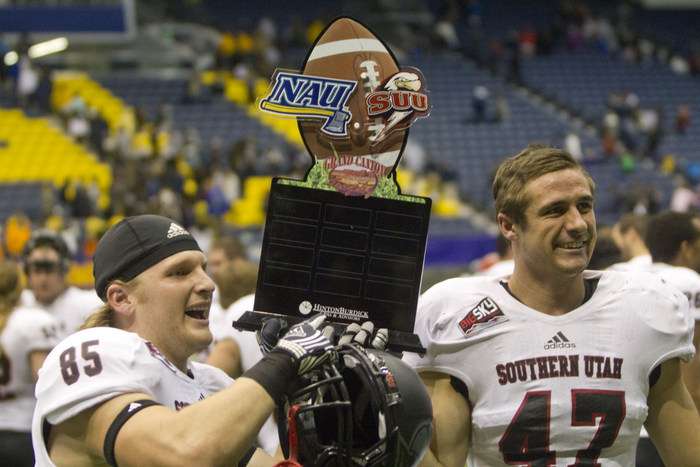 Sorensen ends his season with a personal-best 23 touchdown passes, and 3,139 yards passing — completing 62 percent of his passes. He ends his career with a school-record 9,451 yards passing and 61 touchdown passes.
Sorensen has had numerous NFL scouts attend SUU's practices and games, while he's considered a pro prospect. He said he plans on savoring his final game as long as possible before heading toward a possible next level.
"I'll enjoy the victory for the rest of the weekend or for however it lasts," Sorensen said, Saturday afternoon. "Then I'll get right back to work. I'm going to keep training, keep training to better myself as a quarterback and we'll see what's in the future." As for the returners, Cowser said Saturday's win gives the team a boost to the beginning of the offseason.
"Coming off a win against a very good NAU team, it just excites you into the offseason," he said. "The potential we have — it just makes you want to work that much harder and become that much better."
×
Most recent Sports stories