Estimated read time: 2-3 minutes
This archived news story is available only for your personal, non-commercial use. Information in the story may be outdated or superseded by additional information. Reading or replaying the story in its archived form does not constitute a republication of the story.
SALT LAKE CITY — Blake Barney had 472 yards of total offense and 6 touchdowns leading the Dixie Flyers to a 49-21 win over Spanish Fork to claim the 3A state championship.
Barney passed for 299 yards and three touchdowns along with 173 yards and three touchdowns on the ground for the underdog Flyers who won the championship as a No. 3 seed.
"All the hard work is paying off right now," Barney said after celebrating Dixie's first state championship since 1998. "It's the best experience and best feeling ever."
Dixie found the end zone on their first offensive possession. Blake Barney connected with Tanner Webster for a 24 yard touchdown giving the Flyers a 7-0 lead.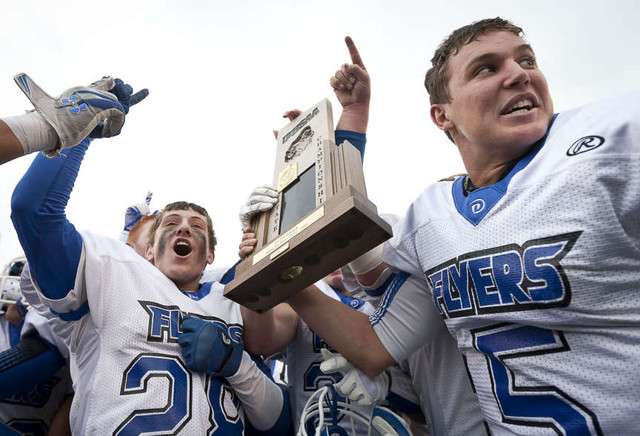 Spanish Fork would tie the game in the 1st quarter with an 88-yard drive capped off by a 3-yard touchdown run by fullback Gunnar Beus.
The Flyers would take back the lead in the 2nd quarter when quarterback Blake Barney kept the ball and ran into the end zone from 8-yards out.
The key sequence in the game came late in the 2nd quarter. After completing a 49 yard pass to Cameron Money, Spanish Fork quarterback Jason Money threw a pass that was intercepted by Dixie defensive back Lukas Hildebrandt who returned it to the Dons 34 yard line. One play later, Barney threw a 34 yard touchdown pass to Andy Appel giving the Flyers a 21-7 lead at the half.
"I saw the ball in the air and I thought I'm gonna go get it," Hildebrandt recalls. "Then Andy and Blake connected in the end zone and I've just got to give all the credit to them."
Hildebrandt also had a big day as a receiver. He caught 7 passes for 203 yards including a 78 yard touchdown in the 2nd half. His 203 yards receiving is a state record for a championship game.
Hildebrandt's touchdown gave Dixie a 28-14 lead but Spanish Fork came right back with a touchdown of their own.
---
All the hard work is paying off right now. It's the best experience and best feeling ever.
–Dixie QB Blake Barney
---
Money connected with tight end Braden Bennett who ran over a Dixie defensive back on his way to the end zone. The score cut the Flyers lead to 7.
Barney would respond on Dixie's next possession with a 63 yard touchdown run and added a 36 yard touchdown run with 8:07 left in the 4th quarter to put the game out of reach.
"We're a brotherhood," says Barney. "It was the greatest thing. All those road wins made us closer."
The Flyers had to travel more than 2300 miles during the playoffs. They had to win on the road at North Sanpete and Stansbury in the first two rounds before upsetting No. 1 and undefeated Juan Diego in the semifinals.
This is Dixie's 7th football state title and their first since 1998.
"We loved being underdogs," says Hildebrandt. "No one expects anything of us and we come in and blow them out. We came in and surprised everybody and its great."
×
Photos