Estimated read time: 5-6 minutes
This archived news story is available only for your personal, non-commercial use. Information in the story may be outdated or superseded by additional information. Reading or replaying the story in its archived form does not constitute a republication of the story.
PROVO — YouTube videos begin as snowflakes. They are countless and each is unique, but all snowflakes are not created equal. Some become wildly popular. Friends and family share these public links and if they are sufficiently interesting they spread quickly, like a virus. Once they achieve a certain level of success these videos are considered to be viral videos.
This is the current path of a late night/early morning fight at a restaurant in Utah County. Two BYU football players, Zac Stout and Joe Sampson, were involved in the incident and the video is provocative. It doesn't last long, but several individual fights break out, including a young woman being punched and falling to the floor.
When the incident was brought to BYU head coach Bronco Mendenhall's attention, the two players were suspended from the football program. Both players have since withdrawn from school.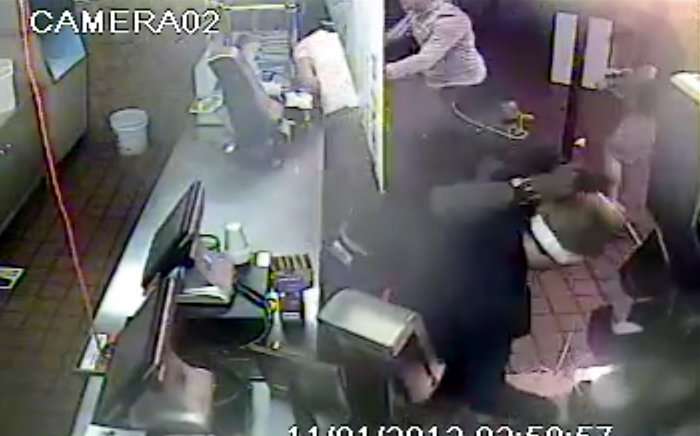 Tolerance for misbehavior is low in the BYU football program and it starts with their head coach.
In 2010, BYU was in Colorado Springs to play Air Force on 9/11. I was covering the game and although I've never enjoyed watching my team lose, if one of the armed forces academies beat you on Patriots Day, I'm okay with it.
There's a couple things that I remember from that trip. The atmosphere at Falcon stadium was outstanding, Riley Nelson and Jake Heaps got blasted and defensive coordinator Jaime Hill was overmatched with the triple option.
It was a memorable trip, but the thing that has stuck with me the most was what happened the day before the game. BYU held a fireside at the Cadet Chapel. There were a few opening talks, Walter Kahaiali'i played the piano and sang a beautiful song, but what I remember most was head coach Bronco Mendenhall's talk.
Having covered Bronco his entire career as BYU head coach, I've had countless opportunities to interview him, as have my fellow media members. Collectively, I think we would agree that Bronco is not the most willing participant in media sessions, but in this fireside he was a fountain of information.
Bronco recounted his hiring as head coach of the football program. He was originally brought to Provo as Gary Crowton's defensive coordinator from the University of New Mexico.
Under Crowton's watch, BYU ran into some major problems off the field. Honor code violations were rampant and when players were investigated by the police for sexual misconduct, allegations of rape, theft and assault, BYU cut ties with Crowton.
The incoming coach was given the express mandate to clean up the program.
Mendenhall was hired as a young (38 years old) and inexperienced head coach. He embraced the BYU culture, even quoting scripture at his press conference. Instead of minimizing the effects of the honor code to recruits, he began championing its principles as a reason to choose BYU over other universities. All the while, Mendenhall harbored the feeling that he was given the job to clean up the program and once that was accomplished, he would be let go to bring in a more experienced head coach.
But it wasn't an either/or proposition for Mendenhall. He cleaned up the program and over the past eight seasons has compiled the highest winning percentage in BYU history (72% to Lavell's 71%).
Mendenhall has the reputation for being a strict disciplinarian. So it came as little surprise that when senior defensive back Joe Sampson and sophomore linebacker Zac Stout were involved in a 3:00 a.m. brawl at a mexican restaurant on Halloween night, that Mendenhall dismissed them from the team.
After a 52-13 blowout victory against Idaho on Saturday, Mendenhall said he was saddened by the situation. But the sadness wasn't for how it would negatively affect the team, but that it derailed these players personally. Sampson is a senior and has withdrawn from school. Stout left as well.
As a college football coach, you must wear many hats. At time you'll be required to be a surrogate father, mentor, coach and disciplinarian to 123 young men. Mendenhall understands that mistakes happen, but he teaches his team that he can't help them unless they inform him. "But that ultimately is up to the player." said Mendenhall.
One of the biggest differences in the college game, as opposed to the pro game, is that you recruit these players. You enter their homes, you attend their games and you make promises. Playing time, an education, and the foundation to grow into a man are the staples of a college football coach. Sometimes a coach isn't able to fulfill these promises, but there is an investment in the player beyond the on-field commitment. And despite this setback to these former players Mendenhall is resolute in honoring those promises, "if anything, I'm more committed."
For the players, the suspension must be a hard pill to swallow. It didn't take long for video of the fight to appear on YouTube. The incident lasted less than a minute, but may take months, years or possibly a lifetime to rectify. Only time will tell, how far this derails the plans of Stout and Sampson. Stout is a sophomore and can reapply after a year. He has plenty of eligibility remaining, but Sampson does not. He is a senior that has not finished his degree. His path to graduation is murky, but Mendenhall expressed his desire to help Sampson complete his degree.
A criminal investigation is still underway, criminal charges have not been made, but initial consequences have been strong.
Mendenhall has made it clear that attending BYU and living the Honor Code is not for everyone. He doesn't apologize and he does not make exceptions.
When he was introduced as the head coach eight years ago he said, "I coach by the spirit, and it's been said that I ask a great effort from my players. I don't think it's possible to give great effort unless they're right inside."
Mendenhall will welcome back these prodigal players, but it will be on his terms and under his conditions. If they choose his path, it will be difficult and humbling, but as Bronco so often teaches, "This is a learning opportunity."
×
Related stories
Most recent Sports stories