Estimated read time: 3-4 minutes
This archived news story is available only for your personal, non-commercial use. Information in the story may be outdated or superseded by additional information. Reading or replaying the story in its archived form does not constitute a republication of the story.
PROVO — Raul Delgado stands at 6-foot-2 and Agustin Ambrosino checks in at 6-foot-8, but after combining for 76 minutes in BYU's Cougar Tipoff Wednesday night, the BYU basketball newcomers have good reason to stand a little taller.
Delgado and Ambrosino are in their first years with the Cougars, both players having transferred from junior colleges to play at BYU. Delgado, a Springville native, transferred from Western Nebraska, while Ambrosino tranferred from Salt Lake Community College.
Delgado, a former Utah defensive player of the year, will see most of his minutes off of the bench in relief of senior captain Brock Zylstra, while Ambrosino will look to provide quality minutes in the post.
BYU coach Dave Rose and Co. undoubtedly hope those two new guys can progress as quickly as possible for the Cougars to have a chance to succeed this season.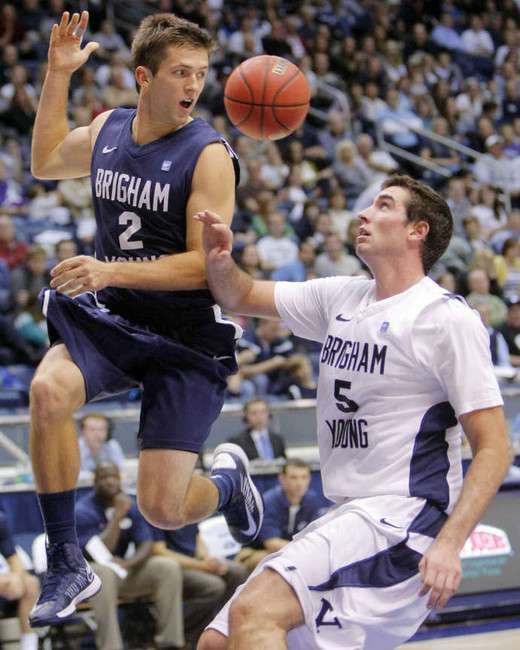 "I believe that the beauty of junior college guys is that you can bring them in here and they can make the transition a little bit quicker and we'll need them to be able to do that," Rose said after the game Wednesday. "They are still trying to learn our system."
Ambrosino and Delgado both started for the White team, joining Josh Sharp in playing 38 minutes in the scrimmage. Ambrosino showed off his athleticism with a slick left-handed drive to the rim, finishing with his right hand for two of his 17 points. He showed a little rust on his jump shot, going 1-6 on 3-point shots, but gathered in seven rebounds to go along with a block and a steal.
Delgado shot 38-percent from behind the arc on his way to 14 points and spent a majority of the evening running curls from the baseline and shooting from the wing. Delgado showed off his strength, scrapping for a loose ball on offense and earning a timeout near the end of the game.
While the two new guys only combined for three turnovers, they two did have a few moments during the game when they were out of position or gave up a big play. Ambrosino was on the wrong end of what was likely the play of the game — a monstrous hammer dunk from Sharp that brought the fans to their feet and the players bouncing off the bench.
When the coaches had a chance to talk with the players, they were instructing. When Delgado was subbed out at the 8:02 mark of the second half, assistant coach Mark Pope beckoned him over, sat him down next to him, and starting talking in his ear, helping him understand the offense and defense in-game.
"They made a lot of defensive mistakes. They made a lot of offensive mistakes," Rose said when asked to describe their evenings. "But they made shots. They are confident in their ability to attack and score."
Their level of performance left the veterans impressed.
"I thought they played well," senior center Brandon Davies said. "There is a lot of learning that takes place on both sides."
BYU fans will hope that that education continues to progress rapidly. With the announcement that forward Stephen Rogers is retiring from basketball, the Cougars are thin in the front court and will need help in multiple places.
BYU has another opportunity to see the new players in action Friday when Southeastern Oklahoma State comes to Provo for the Cougars' first preseason game.
×
Related Stories