Estimated read time: 6-7 minutes
This archived news story is available only for your personal, non-commercial use. Information in the story may be outdated or superseded by additional information. Reading or replaying the story in its archived form does not constitute a republication of the story.
PROVO — It was fourth down and Ole Miss needed 10 yards to move the chains. Only moments before, Kyle Van Noy had stripped quarterback Zack Stoudt of the ball, recovered it, and ran into the endzone for the score to put BYU up by one point. But now, Ole Miss was driving. With just under four minutes remaining in the game, the Rebels had already picked up two first downs and were approaching midfield. A field goal would win the game and, given how easily the Rebels had just gotten to midfield, it looked like the game would hinge on the leg of the Ole Miss kicker.
Stoudt took the snap, made his first read on the right side of the field, but no one was open. The play soon broke down and Stoudt began to scramble, first to the right and then to the left. As Stoudt broke containment, it looked as if he could easily run or pass for the first down. My heart sank, as it appeared that Stoudt had 20 yards of green grass in front of him. But just before Stoudt took off, Spencer Hadley came into the screen: he had stayed home. Stoudt was forced to dump the ball to his tight end, and Hadley immediately made the tackle. The game was essentially over.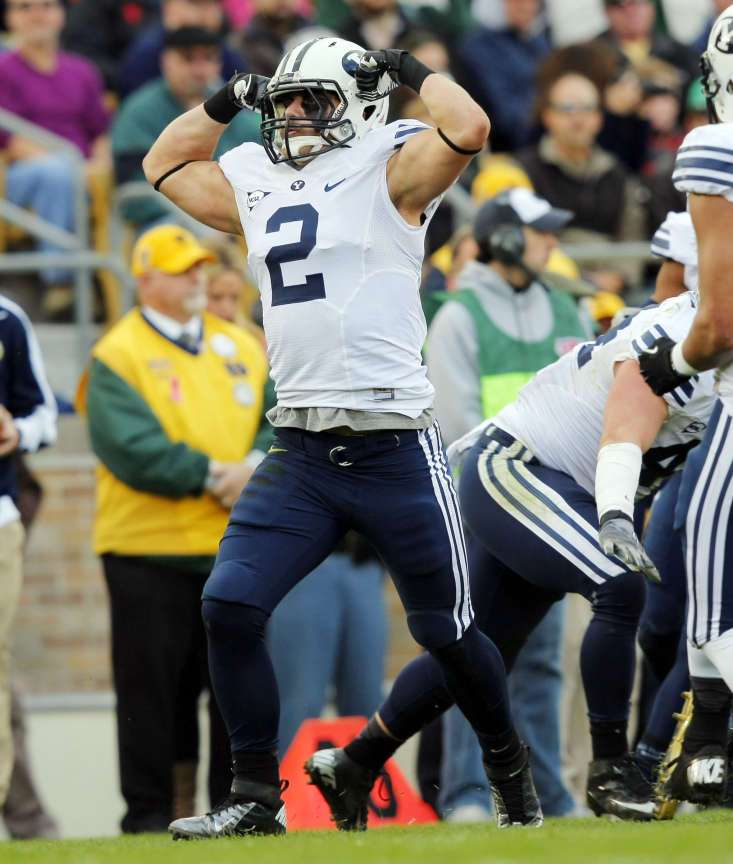 Just as Michael Alisa made a big impression on me earlier in the game, so now had Hadley. Seniors have a hard enough time "staying home" when the play runs away from them. The last thing I expected was for a sophomore to make that play in the season opener with the game on the line in SEC country. I was impressed. Granted, it was just one play — but it was one of the biggest plays.
**********
The following week BYU found itself in Longhorn country playing in front of the largest crowd to ever watch a Cougar football game. BYU's starting middle linebacker, Brandon Ogletree, was sidelined with an injury and Hadley was called on to make his first start in Blue and White. I wondered how he would perform against the Big 12 power. And, how would he respond to the 100,995 fans in attendance?
My questions were put to rest on the opening kickoff. As the BYU cover team raced down the field, Texas return man D.J. Monroe caught the ball in the endzone and raced toward the charging defenders. He did not make it far, however, and was abruptly upended by Hadley at the 11 yard line, forcing the Longhorn offense into their second-worst field position of the game. He was back in the zone and the tackles kept coming.
I was not in attendance at the game, but watched it on TV with Matt Bauman, the former team captain and middle linebacker for the Cougars. Bauman was especially impressed with Hadley, who was flying around making plays all over. At the conclusion of the game, Hadley had made more tackles than any player for either team — 12 total with seven solo. Not bad for a sophomore in his first collegiate start on one of college football's biggest stages. Hadley had one more tackle than Texas senior linebacker Emmanuel Acho (a 2012 NFL draft pick) and two more tackles than Texas linebacker Jordan Hicks, the 2009 Butkus award winner (the 2008 winner was Manti Te'o).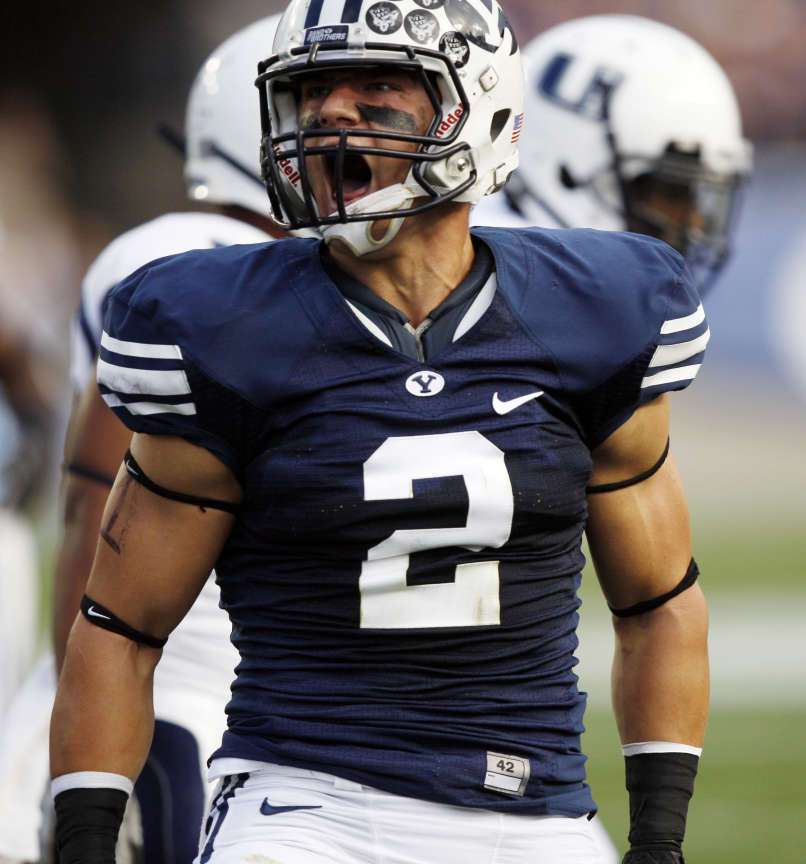 I was now a full-fledged Hadley fan.
***********
Growing up in rural Washington, Hadley dealt with pressure throughout his childhood — not the screaming stadium variety, but rather the relentless, round-the-clock pressure of the ranch. When it was time to brand the cattle, Hadley's job was to hold the kicking bovine still. When the cows got out of their pen, they didn't put themselves back in. Saturdays were not spent hanging out with friends, they were spent dehorning bulls, delivering calves, building fences and baling hay. The pressure of a football game was real, but it was just a game, after all. Holding down an angry 250-pound calf, covered in blood, while your brother branded it — that was life. And so was the Tom Selleck mustache that every farmer (and Sheriff) worth his salt has to sport.
But Hadley doesn't see a ranch in his immediate future: his sights are set on the NFL. What was once a fantasy is now a potential reality. At 6-foot-1 and 230 pounds, Hadley is the same height as pro-bowlers Ray Lewis, Jonathan Vilma, Patrick Willis and James Harrison. Hadley's 4.5 speed puts him in good company; Vilma ran a 4.65 40 at the NFL combine and Harrison's 40 time was 4.85. On a top-ranked defense featuring headliners Van Noy and Ziggy Ansah, Hadley is fourth on the team in tackles, ahead of both Van Noy and Ansah. On one particular play against Washington State I watched Hadley take on the pulling guard, followed by the running back, only to spin back toward the line of scrimmage, dive for the ball-carrier and trip him up. It's that versatility and athleticism — whether he's taking on linemen or guarding slot receivers — that has caused sports agents to take notice. Multiple agents have contacted Hadley in the last few weeks.
When asked to describe Hadley's play, his brother Richard unhesitatingly responded "relentless." Hadley's linebacker coach Kelly Poppinga chose the words "gritty, a farmer-like work ethic." Utah State quarterback Chuckie Keeton can vouch for both descriptions. On second down of Utah State's first possession of the second half against BYU, Daniel Sorenson held Keeton upright while Hadley unloaded on him, dislodging the ball and taking Keeton to the ground hard. What happened next was typical of what happens in most piles. In fact, it probably looked a lot like branding day on the farm. Only Keeton was much smaller than a 250-pound cow. You can take the boy out of the farm, but you can't take the farm out of Hadley. And for Hadley, that mentality just might be his ticket to the NFL.
But first, Hadley is focused on the present — this week's game in ACC country at Georgia Tech. Fifteen years ago, Hadley couldn't have imagined himself on this stage. In fact, as a child, he was terrified that he would die before he ever got to play in his first football game. Whether that says more about life on the ranch or more about Hadley's love for the game is up for debate. Regardless, against the Yellow Jackets this week, look for the patented give-me-some-love sign and you will likely see No. 2 sending the signal. It's his new brand — the farm boy from Washington once again making his mark.
×
Related stories
Most recent Sports stories