Estimated read time: 8-9 minutes
This archived news story is available only for your personal, non-commercial use. Information in the story may be outdated or superseded by additional information. Reading or replaying the story in its archived form does not constitute a republication of the story.
SALT LAKE CITY - The world loves lists and before the NBA season the Jazz players have been placed in a list so everyone can now argue and try to decide how they could have done it better.
How someone ranks a player in the off season doesn't impact how they actually play on the court. Rankings are fluid and won't change the outcome of any game or influence a trip to the playoffs. But, it's also no coincidence that last year that the two teams with three top-20 rated players were in the NBA Finals.
#poll
With that in mind does the national media think the Jazz stand a chance to make the finals, or any playoff run or even the playoffs with the players they have? This is a look at a few of the rankings for all of the Jazz players.
The order will go from high to low and be using the main ranking from ESPN's top-500 list, a list that includes every player.
Al Jefferson: "Big Al" is ranked 44 overall in the NBA according to ESPN's ranking. Jefferson being the top-rated Jazz player might not sit well with Jazz fans, but he is highly though of all around the nation. All he did last year was go 19 and 10 with 1.7 blocks per game, leading the Jazz in each category, and placing him top-15 in each category in the league.
Could he actually be underrated? His 22.88 PER is 12th in the NBA, his estimated wins added is on the same level as... wait for it... Kobe Bryant. For that he moves up 8 spots from last year.
No, he isn't the defensive presence that Jazz fans want him to be and he doesn't pass very well, but his stats show what he can do.
He is a top-10 center according to Sportingnews.com, who says that ultimately his downfalls come in areas that here are no stats for. Such as his help defense, the pick-and-roll and his inability to move laterally.
But, like most Jazz fans know it's not that no one wants him to succeed, it's just that he seems to possess so much talent that hasn't completely clicked. That is why "Bleacher Report" has him on the list of most frustrating players in the NBA. Their ranking is about his defense. It includes this excerpt from the article.
"Jefferson's defense is the most mind-numbingly frustrating thing about him. It drives me up a tree to watch this incredibly talented basketball player act like a revolving door to NBA big men."
But, sometimes the grass can be greener somewhere else. Sunngun.com, a Suns fan blog, has him as the fifth best center in the league, saying, "Al Jefferson isn't as known as some of these other guys but Jefferson is a baller and he is the best low post scorer the league's got today."
Paul Millsap: The big man entering his seventh-year in the league and just keeps on scrapping his way up lists, this year ESPN has him at 53. He is another player that might be rated too low. From Sportingnews he is the seventh most-underpaid players in the league.
His PER is top-20 and his downfalls come from a lack of talent, he is a little too short and doesn't possess great skills, but everything that he lacks is made up for in his ability to work. He gets better at something every year.
He ended the season fourth in steals in the NBA, as a power forward. He actually had a down year last year, finishing under 50 percent shooting for the first time in his career, but his ability to play multiple positions let the Jazz play with match-ups for their playoff push late in the season.
Derrick Favors: The up-and-coming 21-year-old is ranked 89 after a year that started to see him come into his own. He is entering his third-year and his biggest issue has been his lack of playing time. He is a top-15 rebounder per 48 minutes and top-30 in blocks per 48.
He needs more offense and experience, but if he gets playing time this ranking should be up next year. He moved up 50 spots from last year.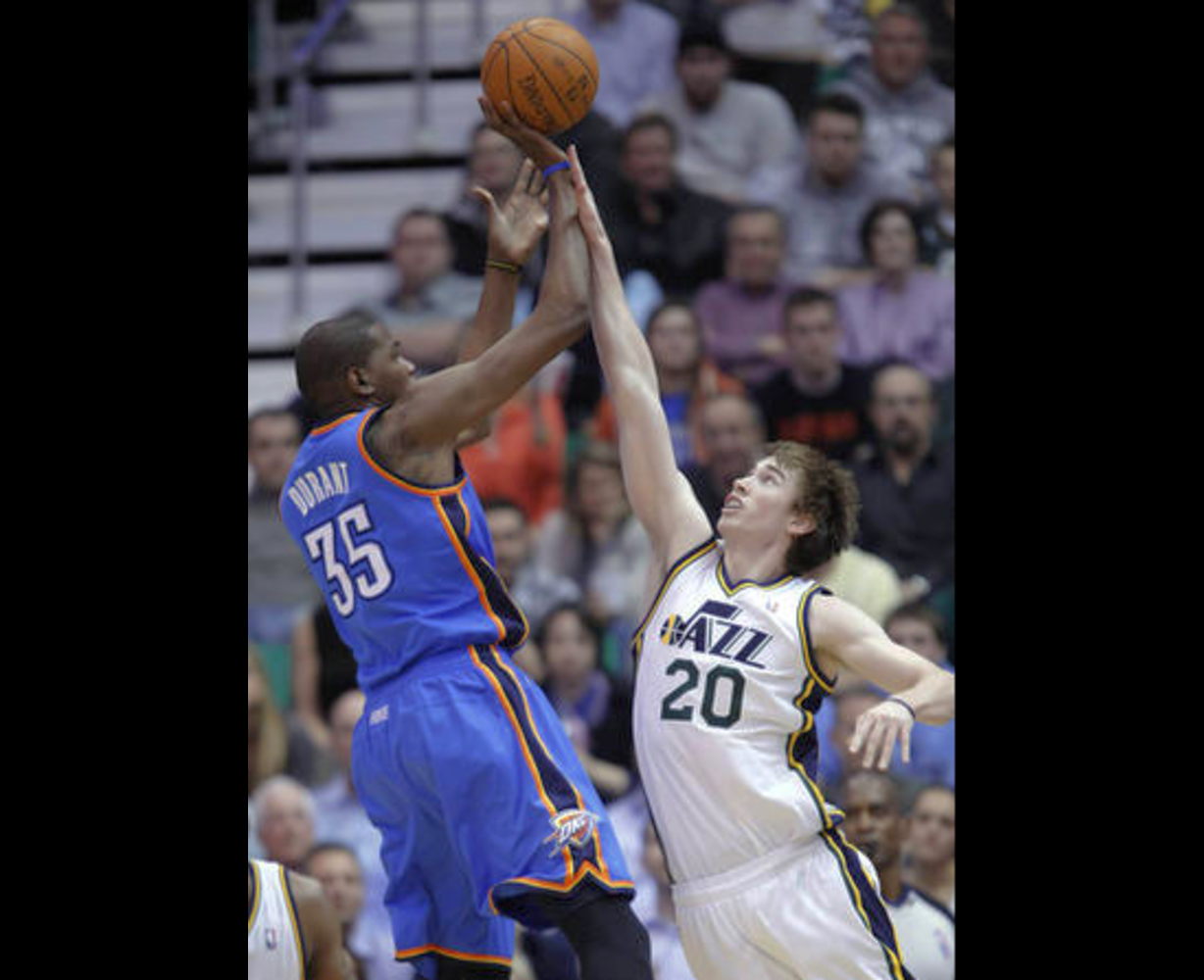 Gordon Hayward: Hayward will be entering his third-year along with Favors, who should be the building blocks for years to come for the Jazz. He is ranked 123, but should absolutely be trending up. The "Bleacher Report" has him on their "All-NBA Up-and-Coming Team" as the backup small forward.He was placed on the team as an up-and-comer because of what he has shown his upside to be, "After the All-Star game last season, he averaged 14.1 points with 4.2 boards and 3.1 assists while playing 33 minutes per game." They also include a 42 percent 3-point shot during that time.
His downside is all in his confidence or consistency, or a mixture of the two. He plays up to competition on the defensive end, whether it is Kobe or Kevin Durant, he steps up big time.
Mo Williams: The first newcomer on the list for the Jazz at 125. He backed up and played alongside Chris Paul as a Clipper last year and now he is going to be the starting point guard. He adds 3-point shooting and a knock-down free throw shooter. He is now an 8-year veteran and will need to distribute to take the next step.
Marvin Williams: The other new Williams should round out the starting lineup with four of the first five on this list. He is ranked 163 after being the second-overall pick in 2005. In order to improve his stock he must find a niche and play it well.
If he could somehow live up to the hype he once had he would be a top-50 player, and the trade with Atlanta would be a steal.
Randy Foye: Another new player and a shooter makes the list for the Jazz at 201. He will play both guard spots for the Jazz and will try to continue improving his 3-point game. Last year he finished with 38 percent.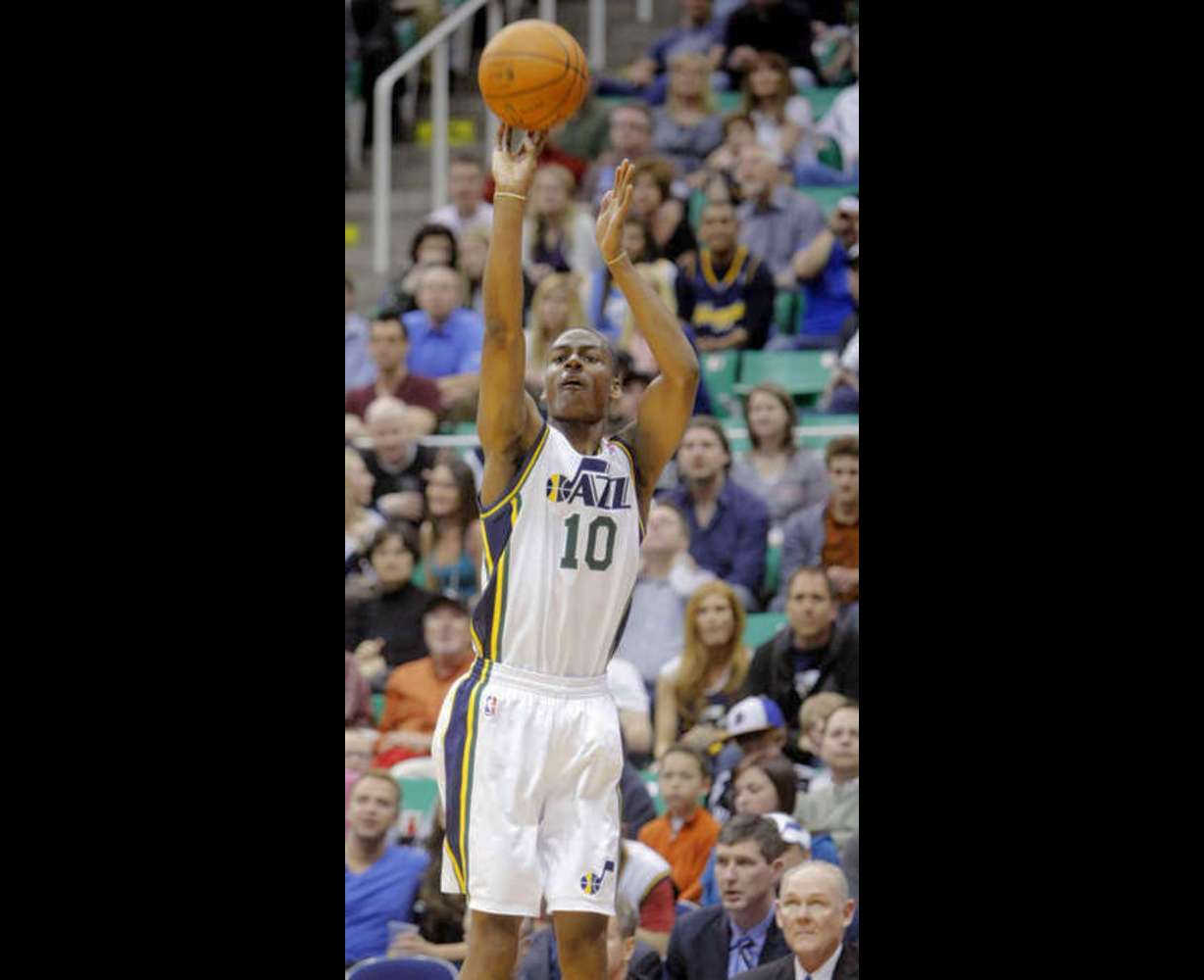 Enes Kanter: "Big Turkey" is ranked 205 after his rookie season coming off of missing a year at Kentucky. His big body and vice-grip hands make him a rebounding machine. He was top-10 rebounds per 48 minutes last year and much like Favors his improvement will come from whether he gets playing time. His offseason workouts have his body in great shape, but he is the fourth big man no matter how it gets sliced. He has a few post moves and has some touch, but his offense isn't polished. He could make a big leap if he is able to establish a consistent shot from 15-feet.
Alec Burks: The other rookie from last year is ranked 242. He showed last year that he wasn't afraid of any situation. He drove the lane and got the free throw line 2.5 times every game despite playing only 16 minutes per.
While the Jazz juggled time between C.J. Miles, Hayward, Burks and Raja Bell the majority of minutes should go to Burks off the bench. If he continues his progression he should not just get, but earn minutes late in games.
Raja Bell: The currently still employed Bell cracks the Jazz list at 310. This ranking is on quite a bit of reputation seeing how he missed a majority of last season. The buyout is still being worked on, and it would be surprising to see Bell log any minutes this season in a Utah uniform.
Earl Watson: The backup last year was one of the more popular players for the Jazz until he got hurt. He comes in at 323. He might be another 75 spots higher if he had kept up his pace from the first half of last season. He had about 4 points per game and around 4.5 assists in limited time off the bench until he got hurt.
After his injuries started taking their toll and Jamaal Tinsley grabbed the backup spot he was closer to 2 points and 3.5 assists. His biggest issue was his lack of shooting, where he was only a 34 percent shooter from the field.
Jeremy Evans: The Slam Dunk Champion is ranked 342, which is up from 430 last year. He sits on the end of the bench and only played a total of 29 games last year, but he did produce in the small times he got in. He's still too light, but he is fun to watch and in his 9 minutes per game he has a 19.66 PER. Jamaal Tinsley: This might be the first clearly too low ranking at 347. Of course "Mel Mel the Abuser" made a jump from not ranked to that, but he still is rated too low. Once he took over the second team for the Jazz they started taking off.
He is a true pass first point guard, who should still figure prominently in the Jazz's team this year. But there is a very nice correlation between his games played and the Jazz wins, especially late in the season.
DeMarre Carroll: Going from jobless, to riding the bench to being the being a starter and spark plug for the Jazz's season places Carroll at 380. He took over with injuries to Bell, Miles and Howard, but made the most of it. He is a high energy guy that doesn't show up in every stat book.
Kevin Murphy: The rookie from Tennessee Tech just received his contract and comes in at 484. Because he is a... rookie?There isn't much to say about this, but at least he is mentioned.
Shan Foster: The other player that came over in in the Mo Williams trade slides in the top-500 at 498. The 2008 draftee has yet to play an NBA game, but still has some cred from his days at Vanderbilt. He isn't actually under contract, but the Jazz own his rights.
×
Related stories
Most recent Sports stories