Estimated read time: 3-4 minutes
This archived news story is available only for your personal, non-commercial use. Information in the story may be outdated or superseded by additional information. Reading or replaying the story in its archived form does not constitute a republication of the story.
PROVO — BYU announced Monday that sophomore forward Chris Collinsworth will have career-ending microfracture ankle surgery.
"I can't imagine the disappointment that Chris and his family must be feeling at this moment," BYU head coach Dave Rose said in a press release. "I wish him the very best with this latest setback and hope his ankle can be repaired and heal with a full recovery. Chris is a wonderful competitor and a great teammate and we will miss him very much. I will always respect and admire his desire, dedication and passion to return to the court to help his teammates. I wish Chris, Tatum and their families the very best in this difficult time."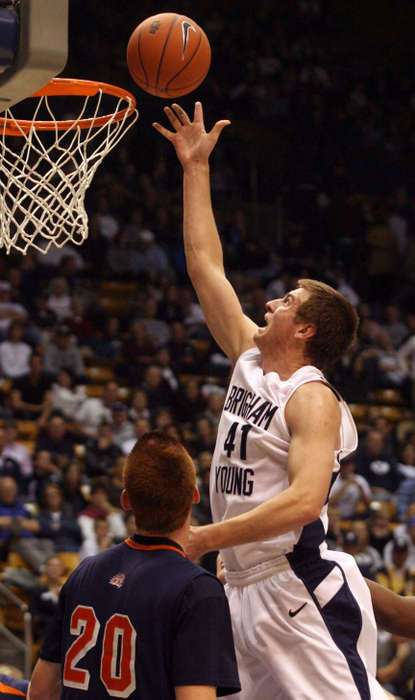 Collinsworth joined the Cougars in 2007 after a successful high school career at Provo High School. In his first season with BYU, he averaged 4.8 rebounds and 3.2 points per game in 15.9 minutes. He led the team in rebounding seven times while registering double-digit boards in three separate games.
After the 2007 season, Collinsworth served a mission for the LDS church in Australia. After returning, Collinsworth began to work to recover from a knife injury suffered while in Australia, only to suffer knee injuries prior to his recent ankle injury.
"He was stabbed when he was on his mission, which caused some physical problems, but he got back and just worked so hard to get back," Craig Drury, Collinsworth's high school coach at Provo High School, said in a phone interview. "He blew his knee up, then hurt the same knee again, and now he is having ankle problems."
Collinsworth had microfracture surgery on his right knee in January 2011 after playing in nine games during the 2010-11 season. After undergoing therapy and diligent work to return to playing form, he was able to play in two games in the 2011-12 season before his right knee flared up again and microfracture surgery was required once more.
"This will be my third-straight year having surgery and all have been pretty serious," Collinsworth said in a press release. "It's been really hard physically and mentally and it's time to move on. When the door on one opportunity closes, others open and I'm ready to move on and explore those other options.
Collinsworth also expressed gratitude to the support system surrounding him at Brigham Young University during his playing career.
"I'm very grateful to my coaches, the medical staff, my teammates and the fans who have supported me the past two years and who will continue to support me through this," Collinsworth said. "It's frustrating because I've been a part of such great teams and had such great teammates but I haven't been able to fully contribute since my freshman year. I wish them all the best."
Collinsworth will undergo surgery later this week, with a scheduled recovery of eight months.
"He's a well rounded kid, and I know he'll succeed whether he is digging ditches or operating on hearts, whatever he decides to do, he'll succeed," Drury said.
There will still be a member of the Collinsworth family taking the court for the Cougars in the future, as Chris's brother Kyle will return from a LDS mission in Russia next spring. Kyle was on the 2010-11 roster, averaging 5.8 points and 5.1 rebounds in 25.7 minutes per game as a guard.
×
Related stories
Most recent Sports stories