Estimated read time: 3-4 minutes
This archived news story is available only for your personal, non-commercial use. Information in the story may be outdated or superseded by additional information. Reading or replaying the story in its archived form does not constitute a republication of the story.
SALT LAKE CITY — The BYU Utah rivalry game came down to an amazing finish that you had to see to believe.
A sloppy undisciplined game came down to not one, not two, but three final plays.
Utah struck first and went most of the first half up 7-0.
"Great TD catch by Utah's Westlee Tonga. Utes lead BYU 7-0," tweeted @uthathletics.
While BYU seemed to rack up penalty after penalty and constantly get stopped on offense they finally found a stride and found the end zone.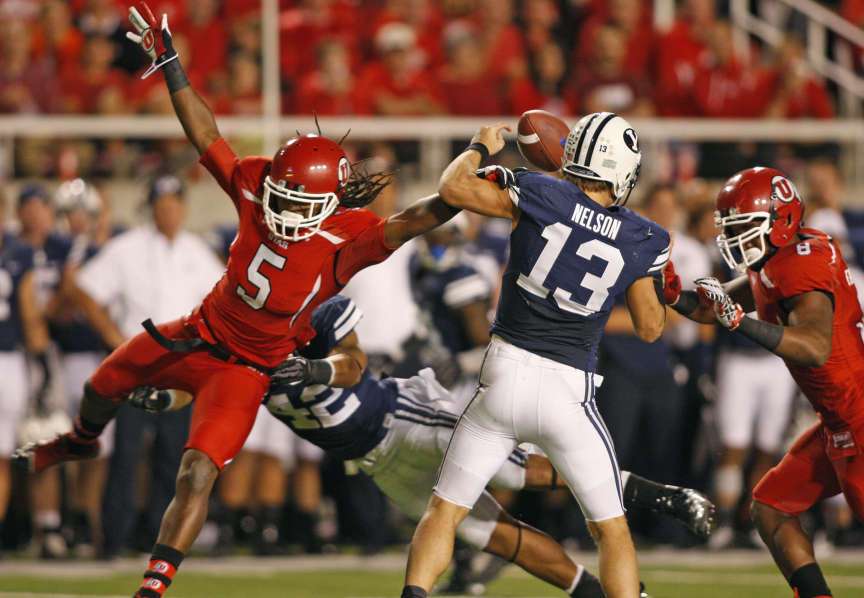 "BYU TD Nelson to Hoffman!" tweeted @BYUcougars. "Cougars take advantage of the great field position."
The Utes and Cougars went into halftime tied up at 7, but the third quarter was all Utah.
After a long field goal for Utah, BYU found themselves in the redzone and then a bad snap that went by Nelson was the turning point of the game.
"Ouch! #BYU driving for go-ahead score, bad shotgun snap is returned for a #Utah TD," tweeted @ESPNcfb. "Ute CB MoLee hits paydirt, puts UU up 17-7, late 3rdQ."
Utah then got back on the field and Hays threw a quick TD to
"#Utah's Jonny Hays just hit Dre Anderson on a 39-yard TD pass. 24-7," tweeted Post_RickSilva. "Hays has two TDS on the night. Pretty ball."
For a moment it looked like Utah was about to roll to another win like last year's, but BYU started to fight back.
Freshman Jamal Williams ran in for a TD just minutes into the fourth and then Riley Nelson found Friel in the end zone to get the score to 21-24. This is when things started to get crazy.
BYU managed to force Utah to punt and on a fourth and 12 Nelson found an open Hoffman for a huge gain and eight seconds. Riley's pass was defected and it fell to the ground and time seemed to expire, and Ute fans stormed the field, but they were escorted off when the refs realized there was still one second on the clock.
BYU kicked a filed goal which was blocked and the Utah team and fans rushed the field again, but the ball was still live and Utah got a 15-yard penalty. Which means BYU got one more chance to hit a 36-yard field goal to send the game to overtime.
Riley Stephenson put up a kick that looked good until it hit the upright and the Utah fans rushed the field one more time.
"Anybody else just see BYU vs Utah!? craziest ending ever. The groundhog day of college football," tweeted @alanritchson.
"This Utah vs BYU game was NUTS!!!!!! Wow," tweeted @jtthekid.
"That BYU-Utah finish was unbelievable, not to mention stressful if you had Utah & the points," tweeted @cougsgo. "Football gods like to mess with you sometimes."
The game was insane and nearly unbelievable. While the game was a mess it was still fun to watch and KSL's Alex Cabrero posted a tweet that most of us were thinking.
"Did the #BYU #Utah game really end at 11:59pm, preventing BYUfrom playing on a Sunday? Maybe God DOES care about sports results!"
×
Most recent Sports stories