Estimated read time: 5-6 minutes
This archived news story is available only for your personal, non-commercial use. Information in the story may be outdated or superseded by additional information. Reading or replaying the story in its archived form does not constitute a republication of the story.
SALT LAKE CITY (AP) - A year ago at this time, Utah quarterback Jordan Wynn was dancing with joy, celebrating a blowout win over rival BYU and seemingly dispelling critics who wondered if he could come back from yet another shoulder surgery.
On Tuesday, a disappointed yet composed Wynn was saying goodbye to the game that brought so many highs and lows - the last being a fourth shoulder injury that forced him to retire.
"Obviously it's not ideal how it ended, but I have no regrets and I'm walking away with my head held high," said Wynn, his left arm in a sling during Tuesday's news conference. "I went out and tried the best I could and worked hard. In the end, it was just not meant to be. In the end my shoulders just couldn't hold up."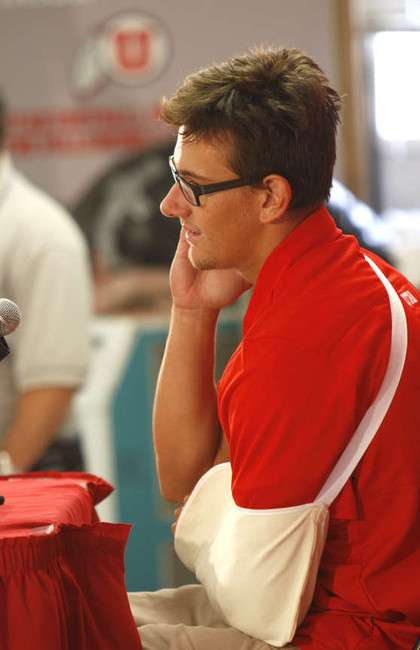 Wynn said he expects to have surgery on his left shoulder - the third on the non-throwing arm and fourth overall - as soon as possible.
Wynn was hit hard with 1:04 left in the first half of an eventual 27-20 overtime loss Friday night to Utah State and knew immediately it was serious.
"That was the one that jarred it loose," Wynn said. "I watched it on tape and it was not a huge hit. But I got hit in the right spot for it to come out."
He said the shoulder dislocated in a different way than before and "what's holding it in place now is pretty shattered."
Wynn, 22, said he was grateful for the opportunity to play Division I football, which allowed him to earn a degree in economics this spring after 3 ½ years.
He finishes eighth on Utah's all-time passing charts with 4,637 yards - one of 11 quarterbacks in school history to throw for 4,000 yards. His 33 touchdowns are sixth-most by a Utes QB.
While many will remember the injuries, there were good times, especially early in his career.
Wynn arrived from Oceanside (Calif.) High School as a two-time all-state selection, and took over the starting job as a freshman in 2009.
In his first collegiate appearance, he rallied Utah to a victory over Wyoming by completing 9 of 14 passes for 82 yards and a touchdown.
The season would be the best ever for a Utah freshman as Wynn completed 104 of 179 passes for 1,329 yards, with eight touchdowns. He capped it by earning MVP honors in the Poinsettia Bowl, completing 26 of 36 passes for a season-high 338 yards and three touchdowns in the win over Cal.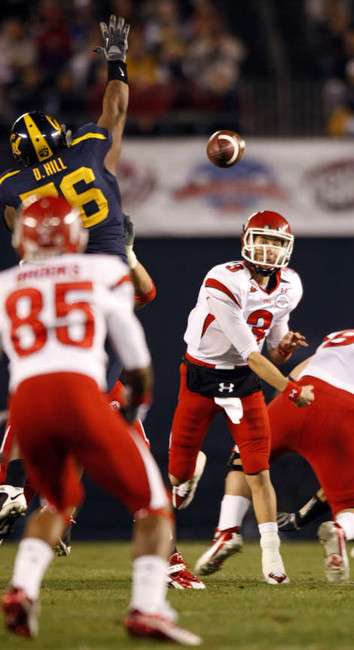 The MVP trophy still sits on his nightstand.
As a sophomore, he threw three touchdown passes against Pittsburgh and passed for 325 yards against Iowa State.
Injuries struck that year, first to his thumb then to his right shoulder, the latter requiring season-ending surgery in December 2010.
His 2011 season would end in October with surgery to the dislocated left shoulder.
But not before that 54-10 victory over BYU in which he passed for two touchdowns then joined his teammates in a raucous locker room celebration.
"We lost to them down there my true freshman year then to get a win of that magnitude was icing," Wynn said. "It was fun. I was coming off another shoulder injury, but that was one of the games I had the most fun in my career."
Now he'll watch Saturday's from the sideline, helping the two players battling to replace him - senior Jon Hays and freshman Travis Wilson.
"Either of them can get the job done," Wynn said. "Jon went through the grinder last year. He has that experience and even got better this offseason."
Hays stepped in when Wynn underwent his second straight season-ending shoulder operation in October, and had a 6-3 record as a starter.
The 6-foot-7 Wilson, who has seen spot action in various wildcat packages, is considered the future and has as much arm strength but even more athleticism than Hays. He is 3 for 3 passing this season, with one passing TD, and two rushing touchdowns.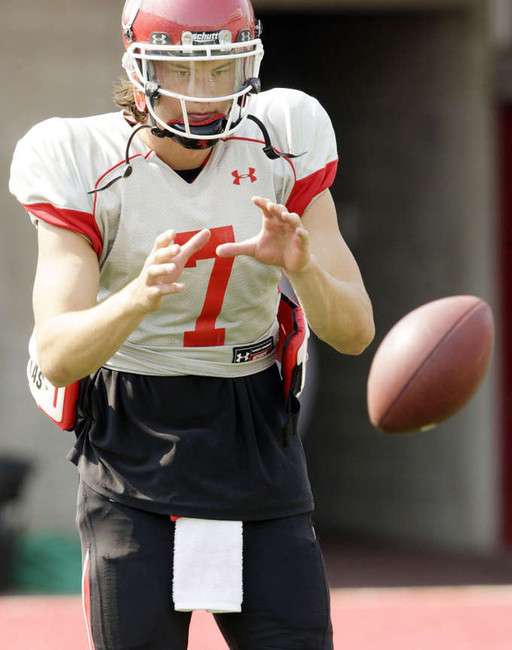 Whoever wins the job this week won't have it easy with rival BYU coming to town with a defense ranked No. 10 nationally (and tied for fourth in sacks with nine).
"The main thing is to try to stay poised," Wynn said. "I'll be on the sideline making sure they stay calm."
Wynn hopes to get into coaching, and would love an opportunity to remain part of Utah's program if that opportunity arises.
First, he had to get through the last four days.
"All weekend was kind of tough, off and on," he said. "I'd try to stay busy with my roommates and take my mind off it, but no doubt there were times when I'd sit in my room and it would set in that I'm never going to play football again."
Tuesday, he joked before the news conference that "I better not cry."
"But I have no regrets, no hostile emotions toward anyone," he said. "I can sleep at night. It's disappointing and saddening, but there are other things to life, one of them being my health."
He said he'd like to be able to use that left arm in the future, whether it's holding a clipboard, or continuing with his favorite hobby, golf.
After the news conference, he walked out with a smile after getting a slap on the other shoulder from a teammate. Then he thought back to the last prepared speech he had given, at his grandmother's funeral in May 2011.
"That was a lot tougher," he said.
(Copyright 2012 The Associated Press. All rights reserved. This material may not be published, broadcast, rewritten or redistributed.)
×
Photos
Related stories