Estimated read time: 3-4 minutes
This archived news story is available only for your personal, non-commercial use. Information in the story may be outdated or superseded by additional information. Reading or replaying the story in its archived form does not constitute a republication of the story.
PROVO — There is nothing like a good cougar fight and on Thursday college football fans will get just that when the Brigham Young Cougars take on the Cougars of Washington State to open their respective seasons.
This will only be the fourth time these two teams have met and the first time since 1990. The BYU Cougars own a 2-1 record against Washington State in the those three games.
BYU vs. Washington State
Game Notes
BYU (0-0) vs. Washington State (0-0)
Date: Thursday, Aug. 30
Time: 8:20 p.m. MDT
Site: LaVell Edwards Stadium
TV: ESPN
Radio: 102.7 FM, 1160 AM (Pregame on 103.5 FM)
Series Record: BYU leads 2-1
Last Meeting: BYU won 50-36, 9/15/90
Kickoff Weather: Partly cloudy, temps in the lower 80s
Mike Leach will be entering his first season at the helm with Washington State after taking a two-year hiatus. He coached the past 10 seasons with Texas Tech (2000-09). This will also have a sense of homecoming for Leach, a graduate of BYU (class of '83).
The game will take place at the LaVell Edwards Stadium in Provo. Kickoff is set for 8:15 p.m. and will be nationally televised on ESPN.
Leach met with the media earlier this week to talk about his expectations for the game and his feelings on returning to BYU. Thiss is what he had to say:
On the challenges BYU present to Washington State:
"Good team like they always are. They are a team that has a tradition of winning for several decades. They're not trying to reinvent the wheel. They're just doing the same stuff they have done over the years. They play hard. They have a lot of seniors. Well coached. Great tradition. Great setting."
On BYU's offense vs. WSU's defense:
"You always worry about explosives and big plays. You don't want to put a bunch of good plays together on defense and then have them get loose on you. We want to get turnovers and put pressure on the quarterback but he moves his feet pretty good. I don't know how fast he is but he moves his feet pretty good. He's a guy that can get out of the pocket. The biggest thing we have to do is play consistently and steady. They're a good offense. They run the ball good and they can throw the ball some. We just have to play good on defense against them."
On his relationship with Bronco Mendenhall off the field: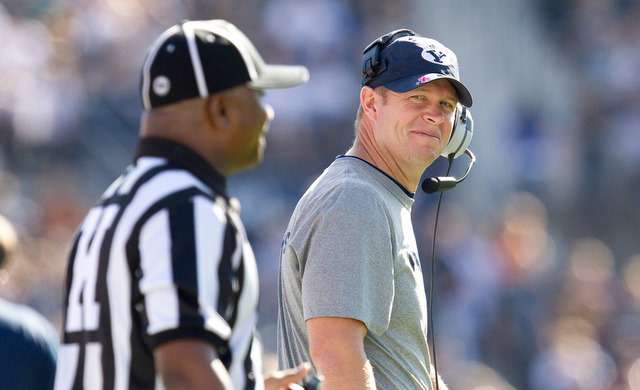 "Bronco's a good guy. I've known him over the years. I don't know him real well, but I've met him several times in coaching gatherings and conventions. He's a good guy. We also know quite a few people in common.
"Probably one of the more interesting things about Bronco is that he's a really good surfer. Getting some points of view from him on that subject is interesting. I've seen all his football stuff. We've watched thirteen games worth to the point where we're really not interested in seeing blue Cougars. We're only really interested in seeing red Cougars. Bronco's an interesting guy and he does a lot of interesting things and I'd be more interested in talking about surfing than football at this point."
On how Washington State's offense is more like LaVell Edwards' coaching style than BYU's offense:
"Football wise it is very hard to imagine what BYU would be like without LaVell Edwards and then also football in America would be like without Lavell Edwards. I'm not the only person that LaVell Edwards influenced on throwing the football and I think the argument can certainly be made that offensively, we might make -- well I think offensively we may look more like BYU than BYU does if you reflect on the LaVell Edwards days. I mean there are plays out there that we're running watching film the other day that we got from the golden age at BYU when LaVell Edwards was there and we run it like they did back then except maybe we adjusted this route or that route."
×
Most recent Sports stories