Estimated read time: 2-3 minutes
This archived news story is available only for your personal, non-commercial use. Information in the story may be outdated or superseded by additional information. Reading or replaying the story in its archived form does not constitute a republication of the story.
SALT LAKE CITY — Michelle Jenneke is a 19-year-old Australian hurdler, who recently took fifth in the 100 meter hurdles at the IAAF World Junior Championships in Barcelona.
It's not her performance during the competition that has everyone buzzing. It's what she does before the race. Whether it's a way to calm nerves, limber up or a way to just have fun, her dancing warmup seemed to work in this heat, which she won with ease.
The video has gone viral and made her an internet sensation. She may have become the most recognizable track athlete in the world over the weekend thanks to her pre- race ritual and she's not even racing in London.
That's right; sorry guys, you won't see her next month in the Olympics, but she is expected to represent Australia at the 2016 Olympic games in Rio.
Not so great Scott
Golf is a cruel game. We were reminded of that during the final four holes of the 2012 British Open.
Adam Scott had a 4-shot lead with four holes left to play. He went on to bogey all four holes, suffering one of the worst collapses in open championship history. It's hard to imagine how Scott felt in that moment when his par putt on 18, which would have forced a playoff, missed to the left.
Then Scott had to endure a painful interview as a reporter poured salt on his wound.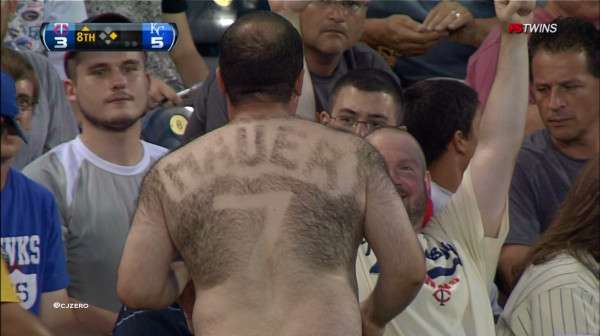 "That run of three bogeys, that didn't help you at all, did it?" one reporter asked.
Ouch. Really?
You have to give Adam Scott credit. He handled that question, the interview, and the entire difficult situation with class.
Devoted fan
How far would you go to show the world how devoted you are to your favorite team or player?
This fan went so far as to shave Joe Mauer's name and number into his back and wore it proudly like a jersey.
Yes, this really happened.
×
Related stories
Most recent Sports stories