Estimated read time: 3-4 minutes
This archived news story is available only for your personal, non-commercial use. Information in the story may be outdated or superseded by additional information. Reading or replaying the story in its archived form does not constitute a republication of the story.
What a time for the kid from Black Creek, BC. Eh?!
Cam Levins grew up running through the woods outside his home in the tiny town on the eastern shore of Vancouver Island. Wild animals were all around, but Cam kept running.
He was by his own admission an adequate distance runner in high school but nothing special — Hardly recruited except for Eric Houle at Southern Utah, who learned about Levins' times and training online at RecruitMe.com.
Cam loved Cedar City. "The big city compared to where I grew up," says Levin. Running at altitude provided him with immediate training benefits.
Then Cam read the radical runner's thesis "Once A Runner". The gist of this FICTIONAL work was by piling on the training miles (unheard of at worst, unorthodox at best) way up and over the distances of your events you could improve and reach highest potential.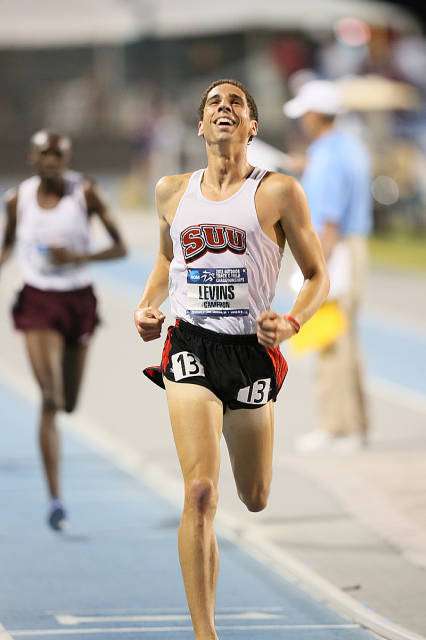 Now Coach Houle calls Cam "the Rudy of collegiate Track and Field." Out of nowhere, off the grid to Southern Utah University. Stir in the recent radical training regimen and this T-Bird's soaring.
He's run the second fastest 10-thousand meters in NCAA history. Topping that (not in time) in the record books by becoming the first Southern Utah athlete to win a National Championship, then two of 'em by winning the NCAA's 10-thousand meters and 5-thousand meters championships. He did the 10k by reeling in the field and blowing by 'em at the end, and stole the 5k by holding off a charging challenger.
"Everything came together at the right time," Cam told me Wednesday. "It's my final year, it's pretty exciting to have all this support, kind of like a send off toward the Olympics."
Now Cam's poised to take this experience and confidence gained in Des Moines all the way to London where he'll run for his native Canada in the 2012 Summer Olympics.
Suddenly he's got thousands of new fans from Cedar City up to Salt Lake City. "It's almost been overwhelming. I just go into the races trying to do it for the school and achieve my own personal goals, and it's just amazing, you don't realize all the people that are watching, it's been a cool reaction."
Thursday in Cedar City Cam's career month is completed when he's honored in the morning at SUU before he lights the torch to open the Utah Summer Games at Eccles Coliseum.
"It's still very, very cool to me. I have no thoughts this is just some small ceremony, I know how big this is."
His T-Bird Track teammate and girlfriend Lizzy Butler (SLC Brighton High School) adds, "I used to run in the Summer Games as a kid, so it's fun to see him sort of carry on this tradition for our family, to expand what we know, we get to watch him on TV and be excited that he gets to participate in something we loved too as a family."
As for Cam's Olympic Medal hopes? He's ranked in the top 30 but since the Kenyans and Ethiopians dominate these events, and they can only bring three from their country for each race, Cam feels he's much closer to top 20. And you know the Olympics, "on any given day or night" anything can happen.
I'll certainly be following Cam at the Summer Olympics in London, reporting on his progress in the 5,000 and 10,000 races for you on KSL-5 TV and NBC.
Follow me on Twitter @tksportsbeat or if you need more than 140 characters, respond directly to me tom.kirkland@ksl.com. Love any/all feedback!
×
Most recent Sports stories