Estimated read time: 3-4 minutes
This archived news story is available only for your personal, non-commercial use. Information in the story may be outdated or superseded by additional information. Reading or replaying the story in its archived form does not constitute a republication of the story.
SANDY, Utah (AP) - Real Salt Lake has the New England Revolution's number.
The Revolution did several things right against Salt Lake. New England scored first. It played aggressive for 90 minutes, trading blows with Salt Lake on both ends of the field. None of it proved enough to shake a lingering jinx the Revolution has experienced in recent seasons.
Alvaro Saborio scored twice and Salt Lake ran its unbeaten streak against New England to five games, beating the Revolution 2-1 on Saturday night. The victory also boosted RSL into a first-place tie with San Jose and Seattle atop the Western Conference.
Salt Lake (7-3-1) has dealt the Revolution two of their worst losses in club history during the unbeaten string that stretches to 2009 - winning 6-0 in 2009 and 5-0 in 2010.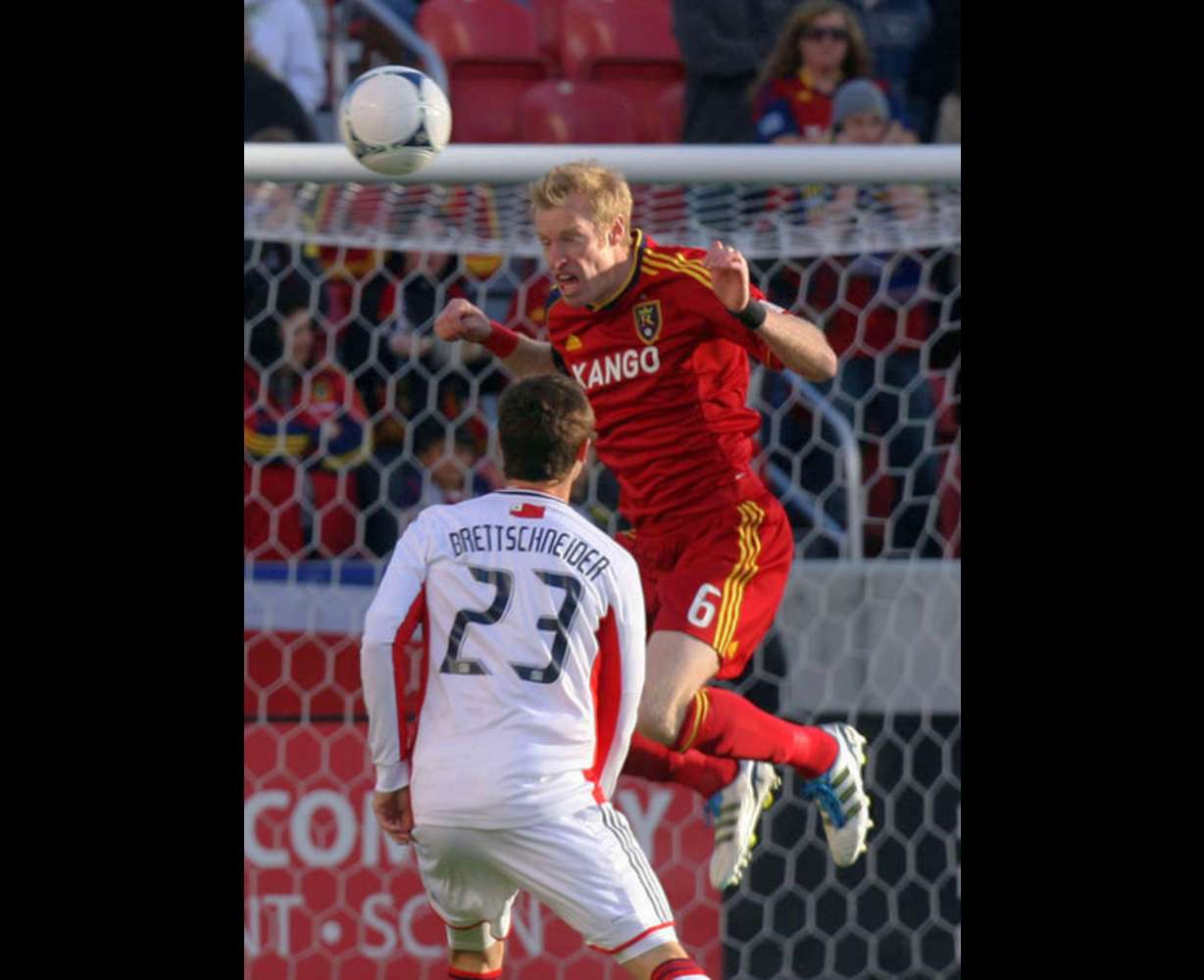 Given that history, trailing by a single goal was no insurmountable obstacle.
"We don't stop believing," midfielder Kyle Beckerman said. "Tonight we went down a goal and there wasn't any doubt in our mind that we were going to win this game."
RSL claimed its latest victory even while playing part of the second half a man down. Salt Lake yielded the man advantage when Will Johnson was shown a red card in the 59th minute for a foul on Clyde Simms. The Revolution lost the man advantage when reserve forward Fernando Cardenas was given a red card in the 82nd minute for a foul on Jamison Olave.
Being forced to play only 10 players could have resulted in a negative momentum shift for RSL. It did not play out that way. Salt Lake stayed aggressive and kept pounding the ball at the goal, forcing New England goalkeeper Matt Reis to make several incredible saves.
"We're unfazed," RSL coach Jason Kreis said. "This team has probably been through literally every tactical situation there could be. Everybody probably even knows what we're doing. We don't have to tell them what the shape is going to be. We go into that shape and carry on."
New England (3-6-0) struck first on Blake Brettschneider's goal in the 22nd minute. He dribbled into the left side of the box and blasted a right footed shot past RSL goalkeeper Nick Rimando into the right corner.
It was exactly the kind of start the Revolution hoped to get against their league nemesis.
"We definitely felt confident going forward," Brettschneider said. "It's a tough place to play with altitude and the environment. They're just a good team in general."
Salt Lake began tied it in the 34th minute. Beckerman dropped the ball in the middle of a cluster of players outside the goalmouth, Javier Morales knocked it down with his head and it fell at Sabario's feet for an easy goal into an empty net after Reis dived for the ball.
Saborio put Salt Lake ahead in the 55th minute. Morales booted a free kick over a three-man defensive wall and sent a cross toward Saborio near the far post. He outjumped the closest New England defender and headed the ball into the net.
Morales thought Salt Lake had several more goals left in the tank, but said the complexion of the game changed entirely once Johnson left with his red card. From that point on, it was simply about survival.
"Down a man, it's hard to play," Morales said. "We scored the second goal and we were playing pretty good. Then another red card changed the game."
Johnson will serve a mandatory one-game suspension when Salt Lake plays the Chicago Fire on Wednesday night. Cardenas will sit out New England's home match against the Vancouver Whitecaps next Saturday.
(Copyright 2012 The Associated Press. All rights reserved. This material may not be published, broadcast, rewritten or redistributed.)
×
Photos
Related links
Most recent Sports stories