Estimated read time: 2-3 minutes
This archived news story is available only for your personal, non-commercial use. Information in the story may be outdated or superseded by additional information. Reading or replaying the story in its archived form does not constitute a republication of the story.
Press releaseSALT LAKE CITY - The Ute gymnasts held on to beat Stanford 196.300-196.100 on a night when a mixture of great performances and falls from both teams had 14,756 fans on the edge of their seats until the last score was entered. It was the sixth-straight win for the Utes, who are now 6-1. Stanford dropped to 7-3.
Utah's depth played a huge role in the victory since Kailah Delaney missed the meet with a sore Achilles and All-America arounder Corrie Lothrop withdrew from two events after hurting both arms during pre-meet bar warm-ups. Both will be evaluated this week to determine their status for next Friday's meet against Oregon State.
Getting the call as replacements for Delaney were Kassandra Lopez (9.75) on vault and Nansy Damianova (9.825) on floor. Replacing Lothrop at the last minute on bars was Mary Beth Lofgren (9.675), while Tory Wilson (9.775) filled in on floor.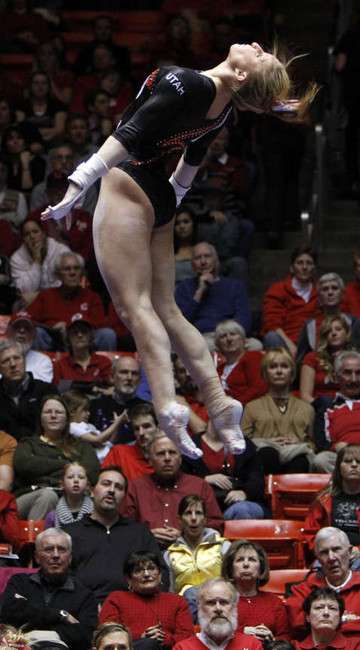 Utah coach Greg Marsden said after the meet, "There were many very good performances tonight, but it certainly was not a complete meet for us. The judges were not responsible for our poor performances."
Among the routines he cited was Kyndal Robarts' career-best 9.975 on vault, noting, "Kyndal has done that vault that way a lot of times. I'm happy for her. I hope she gets a 10.0 before her career is over."
He also reserved praise for the freshman Wilson, saying, "Tory's vault was great and when I told her I needed her to go into the floor lineup (for Lothrop) and lead us off, I thought she rocked it."
Utah eased out to a first-rotation lead with assistance from Robarts' 9.975 vault and Wilson's 9.90 effort, scoring a 49.300 to Stanford's 49.000 on bars.
Stanford moved past the Utes 98.175-98.100 in round two when the Utes stumbled through bars. Minus the injured Lothrop's typically big score from the No. 5 position, Marsden turned to Mary Beth Lofgren to lead off and moved everyone else down one spot. When Hailee Hansen fell from the third position, the Utes had to count Lofgren's 9.675 score. However, no one was sharp and Utah's 48.80 was its worst since the season-opening meet at UCLA.
Lothrop attempted a beam routine, but did not fare well, suffering her first fall of the season and just the third of her career. The other five Utes picked up the slack and Robarts closed a 49.150 set with a 9.875 score.
Stanford charged back on the beam while Utah struggled to get a score on the floor. Not until Ashley Morgan fell as the Cardinal's final competitor was Utah assured of a victory.
×
Photos
Most recent Sports stories