This archived news story is available only for your personal, non-commercial use. Information in the story may be outdated or superseded by additional information. Reading or replaying the story in its archived form does not constitute a republication of the story.
SALT LAKE CITY — Steady play at home is the one thing that's been consistent with this year's Jazz team.
After 86ing the 76ers and swatting the Hornets, the Jazz are looking to do a little hunting at EnergySolutions Arena, and if they remain true to form, will walk from Tuesday's game having bagged the Bucks.
The Jazz (2-3) are looking to extend their home winning streak to three when former Utah Ute Andrew Bogut and the Milwaukee Bucks (2-2) come to town.
The Jazz, who won 94-90 over the New Orleans Hornets Monday night, are looking to improve as the season progresses.
"We're getting better," said Jazz coach Tyrone Corbin following the win over the Hornets. "We're doing things in the two wins that could've gone the other way, but we're fighting our way back into games."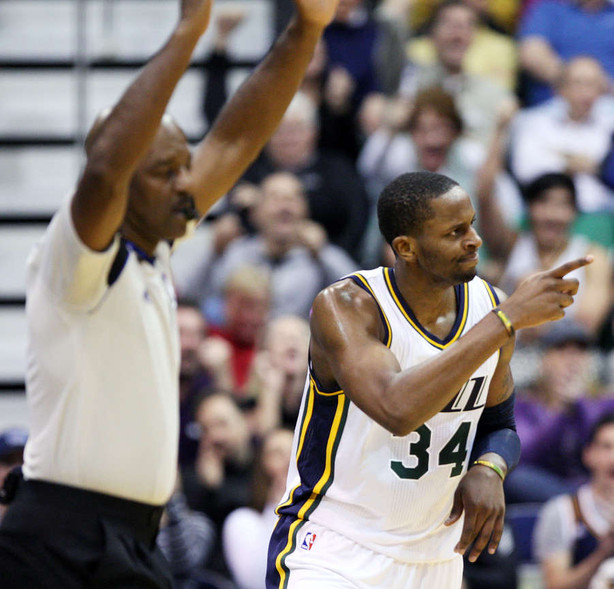 The Jazz wins have been close contests: They beat the Sixers by three and the Hornets by four. The losses, all to playoff teams from a season ago have been ugly, by 15 points or more.
CJ Miles believes effort is the key to victory.
"For us we're going to have to play hard every night, and that's the way we're going to have to get it," he said. "Nobody's going to give it to us. I'm down for that. I know the rest of these 13 guys are too."
The Bucks enter Tuesday's contest after dropping a close 91-86 game in Denver. Milwaukee had its chances down the stretch, but was unable to pull out the victory in the final minute.
"We had a chance to get it," guard Stephen Jackson, who missed a game tying shot in the final minute, told the Milwaukee Journal Sentinel. "I had a good look. We've just got to get better on our execution at the end. We had a chance to win."
The Jazz know that building on the success they've had at home this season is critical in their match-up against the Bucks.
"You've got to win games at home," Corbin said. "Traditionally, in this league if you take care of home business and do decent on the road, you've got a chance."
Miles doesn't understate the importance of the game with the Bucks.
"It's as big as it gets," he said.
The game tips at 7 p.m. MST and can seen on Root Sports.
You can follow Jarrod Hiatt on Twitter at @jarrodhiatt.
×
Related Links
Related Stories