This archived news story is available only for your personal, non-commercial use. Information in the story may be outdated or superseded by additional information. Reading or replaying the story in its archived form does not constitute a republication of the story.
SALT LAKE CITY -- Less than an hour before the Jazz tipped off for their first home game of the season against the 76ers the news came down that big man Al Jefferson wouldn't play with an inflamed ankle. This pushed young Derrick Favors back into the starting lineup and forced him to respond.
And respond he did.
After two straight games spending more time on the bench than on the court Favors kept his fouls down and his productivity went up. He played alongside Paul Millsap, who was set to replace him in the starting lineup. He ended the night playing 39 minutes, doubling his season total, and only three fouls. More importantly the Jazz came out with a 102-99 win.
Favors played center and guarded a taller player in Spencer Hawes, but was still able to contribute a double- double to the tune of 20 points and 11 rebounds.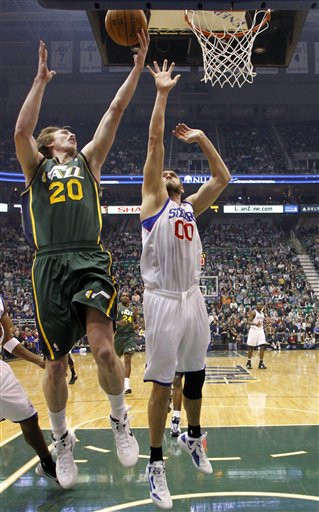 "I found out right before the game," Favors said about when he was told he was starting. "[Coach Tyrone Corbin] came in and told us our matchups and I found out."
Corbin aided Favors by playing him in lineups with fellow youngsters Gordon Hayward and Enes Kanter. The lineup with Hayward and Favors helped the Jazz climb out of an eight point deficit with 6:40 left in the half to end the half up 53-51.
"I think I played good," Favors said. "I came out and played a lot better. I'm a basketball player and I do whatever coach wants me to do."
Favors was huge in the fourth quarter as the Jazz were trying to protect a tenuous lead, including a big put-back when Paul Millsap missed a contested shot. And while it won't show up on the stat sheet, Favors contested two game tying shots by Lou Williams forcing misses on both occasions.
"He gave us a huge lift," Corbin said about Favors night. "We know he can score some points for us, but he had some huge rebounds and the effort he had on defense for us [was huge]. Even that last shot by Lou Williams, he came across and made him shoot it a little higher."
Hayward added a clutch jumper that put the Jazz over the 100-point mark with a little over a minute left. Hayward spent a lot of time with the ball in his hands and finished with 15 points.
"[Favors] can be a monster down there," Hayward said. "He's tough to handle when he plays like that."
Kanter played more than 15 minutes and finished with eight points and six rebounds.
×
Related Stories