This archived news story is available only for your personal, non-commercial use. Information in the story may be outdated or superseded by additional information. Reading or replaying the story in its archived form does not constitute a republication of the story.
PROVO - This game has been a long time coming for BYU. After they lost two games early and won their sixth against Idaho State in October they were locked into the Armed Forces Bowl. There is still a reason to play hard. This will be a chance to get 10 wins in the season, Tulsa has the second best record of any opponent for BYU, so it would give them a chance to show against a better opponent and they might be able to break into the polls, they are currently sitting at 26 in the USA Today Poll.
Tulsa will be playing for pride of their own. They have four losses. Each loss to teams ranked No. 8 or higher in the polls. They will want to show that they can beat non- Conference USA teams.
Here is what to look for this Friday in the Bell Helicopter Armed Forces Bowl:
What did we learn from last week?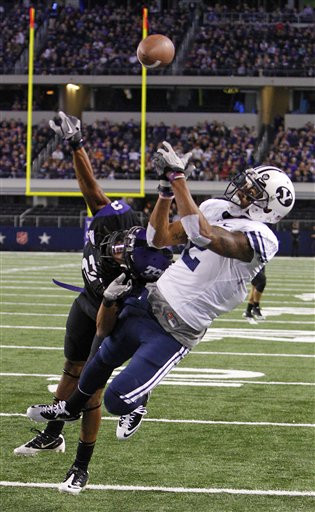 This is Riley's team: Between the end of the Hawaii game and the start of the bowl game the headlines went to Jake Heaps again regarding his transfer. For anyone that forgot the Hawaii game, all Riley Nelson did was pass for 363 yards and three touchdowns with no interceptions. That was his best passing outing by 144 yards. He also did it without having to use his legs. He ended with -3 yards on seven carries. Without Heaps on the roster, this team will go as far as Nelson will take them in the bowl game and through next season. Eleven catches, 178 yards and three touchdowns: That is the stat line for receivers Cody Hoffman and Ross Apo in the last game. They are concluding sophomore and freshman years that started slowly and have had bumps in the road, but they can produce and they are a big reason for Nelson's success. As they continue to learn and this offense improves that should be a minimum stat line each week.
Another statement on defense: The focus of the season has been on a few big names, especially the quarterback battle, but the defense has made this a successful season. They are now 16 in total defense in the country, giving up 315 yards per game. They are giving up 22 points per game, which is No. 23, if the outlier, Utah's 54, isn't there or more in line with the rest of the games they are a top-10 defense. They held Hawaii to 299 total yards, after they were averaging 312 yards passing alone. They also allowed 17 yards on the ground. Take away one 79-yard touchdown and that number looks even better. Joe Sampson scored on defense, but this was a team defense game, no big plays, just solid defense throughout.
What lingering questions do we still have?
Will Heaps departure bring distractions? Heaps is now gone, transferred to Kansas, but will his shadow linger over this game. The team has rallied around Nelson, but Heaps did bring some players to BYU. Apo and Kyle Van Noy were both convinced to come to BYU by Heaps; how will they play? They are two of the more important players on the team, if they are distracted it could hurt the team's chances for a tenth win.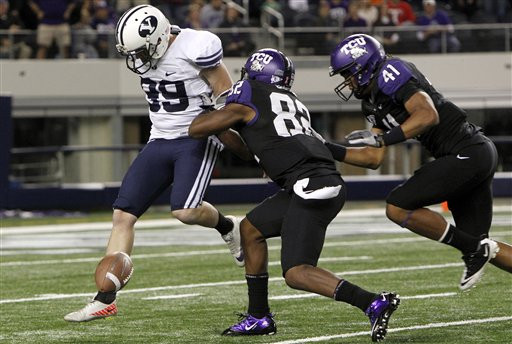 Can the break help the kicking game? Football is the ultimate team game, but the kicking game rests squarely on the foot of the kickers. Justin Sorensen is 5 for 12 since Oregon State in October. He started the season 9 of 11. If the bowl game comes down to a late field goal, BYU fans will be on pins and needles after the recent woes. Riley Stephenson had a nice game, finishing with three punts, a 41 yard average and all of his punts ending inside the 20. What is the drop off if Nelson gets hurt? Despite anyone's feelings about Heaps, he would have softened any blow if Nelson lost playing time due to injury. Now that falls on the shoulders of James Lark. He has nine career passing attempts and has mostly played in cleanup time handing off the ball. Nelson plays with a style that leads to injury. If he does miss time and the ball is handed off to Lark what will be going through his mind? He is a junior, but adding up his total minutes played might not get one full game played. Lark was highly recruited out of high school, so he has skills, but will they translate if needed?
What can BYU expect from Tulsa?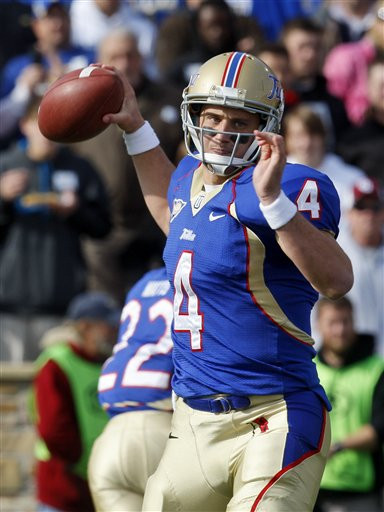 A high-octane offense: The Golden Hurricane is 23rd in the country in total offense with 456.3 yards per game. They are also very balanced. They average 250 yards passing and 206 yards rushing. They put up 34 points per game. The offense is lead by G.J. Kinne, a senior quarterback, who has thrown for 2,859 yards this season with 25 touchdowns and 12 interceptions. He has also added 405 yards on the ground. He has had two bad games this season, Boise State and Houston, where he had two touchdowns and six interceptions. He was hurt in their loss to Oklahoma State. In their wins he isn't spectacular, but makes good decisions and keeps a high completion percentage. Two good young running backs and a bruising backup: Ja'Terian Douglas and Trey Watts will carry the bulk of the time on offense. They are both sophomores and complement each other. Douglas is a smaller back that is a home-run threat averaging over eight yards per carry. Watts gets more carries, but is more of an inside runner. They have 901 and 843 rushing yards respectively. They don't score many touchdowns however, they have seven combined. Their team leader is Alex Singleton with eight touchdowns. He is 6-foor 1-inch and 250 lbs. He will get the short-yardage carries.
Curnelius Arnick: Tackling Machine: Arnick is a senior linebacker that is currently sixth in the nation in tackles with 142, and third with 91 solo tackles. He has three games this season with 18 or more tackles. He only has 1.5 sacks and one interception, but his strength lies in tackles and he does it very well.
Porous defense that forces lots of turnovers: The Golden Hurricane is giving up 245 passing yards per game, which is 89th in the country. They do have 16 interceptions on the season, so they play a risk-reward style of defense. They are No. 30 in the country overall in turnovers forced with 26. They are solid in rush defense, which forces teams to throw especially late in games when they have been up by big margins. They are probably a better defense than the statistics show when looking at strength of opponents - Houston, Oklahoma, Oklahoma State and Boise State - and their margin of victory over bad opponents forcing teams to throw to catch up. They will force mistakes and try to keep the game close to let their offense run the ball.
What can we expect from BYU against Tulsa?
Same old story on offense: Run the ball to set up the pass. Rinse and repeat. Despite Tulsa's better run defense the Cougars have an identity to run the ball. Between Michael Alisa, JJ Di Luigi, Bryan Kariya and Nelson they will look to run the ball. It was the game plan coming into the season and it won't change. Hoffman and Apo can be so dangerous in single coverage once the rushing attack has brought an extra man into the box. They will try to run and let their big offensive line go to work.
Bend but don't break: This is the common reference to BYU's defense and this week it will be the focus again. Tulsa puts up a lot of yards, but they don't have a ton of points to show for it. BYU's defense could be as good as any defense they have seen this year. Their offense is too good to not get any yards, but BYU should keep the points down. BYU has given up very few long drives for touchdowns this season and Tulsa tries for long drives. It will be a battle of two strengths. Tulsa is a Top 30 team in total plays on offense and BYU is Top 10 in fewest plays on defense. Winning without mistakes: The Cougars were awful with ball control and penalties early in the season. They have climbed out of the funk and are now only a minus-2 in turnovers. In their losses they are at a minus-8. The last three weeks they have won both turnovers and penalties. If they can win both or even keep it close their talent should be able to win the game.
Misc:
This will be the eighth meeting between these teams. BYU currently leads the series 6-1, Tulsa won the last meeting 55-47 in 2007.
In their previous six match ups the winner has put up at least 38 points and they have averaged 924 yards per game. For more info on the high scores read Greg Wrubell's Cougar Tracks.
This will be BYU's 30th bowl game appearance. They are 11-17-1 overall in bowls.
The Armed Forces Bowl will be their third different bowl in three years after five straight years at the Las Vegas Bowl. It is also the 14th different bowl they will have played in.
Tulsa and BYU have one common opponent in UCF. They both beat the Knights 24-17.
A win will give BYU 10 wins for the fifth time in six years, and their 16th overall ten-plus win seasons.
Cody Hoffman needs 179 yards receiving for 1,000 yards on the season. Ross Apo needs one touchdown for 10 on the season.
Riley Nelson needs 157 yards of total offense to reach 2,000 on the season. He needs 98 to tie the single season rushing record for a quarterback, Virgil Carter had 474 in 1965.
JJ Di Luigi needs nine catches for 100 in his career and 50 yards receiving for 1,000.
Justin Sorensen needs five points, 92 total to have a Top 10 points scoring season at BYU. The record is held by Luck Staley in 2001 with 170.
Conclusion: BYU is the more talented team top-to- bottom. The difference is a lot closer than some of their more recent games however. The quarterback and running back position for both teams are good and nearly equal. BYU has a lot better receivers in Apo and Hoffman. The Cougar offensive line is better as well.
The reason BYU should win this game is the disparity between the defenses. Tulsa has a decent defense with a great player in Arnick. BYU's defense is next to great with a bunch of playmakers and a lot of support. Van Noy is a special player and their defense has a lot of leaders. Tulsa will have a hard time running against this defense, they will still get over 100 yards because their running attack is good, but they won't put up their regular 200 or more.
BYU's ability to force opponents into kicking field goals on long drives should give them this game. The only way Tulsa has an advantage is their kicking game. If BYU has to kick field goals then this game will be close. BYU has to win turnovers and penalties to have a big win. They can win close, but for a convincing win they need to play sharp.
Prediction: BYU 31 Tulsa 21
×