Estimated read time: 2-3 minutes
This archived news story is available only for your personal, non-commercial use. Information in the story may be outdated or superseded by additional information. Reading or replaying the story in its archived form does not constitute a republication of the story.
BOISE -- The Utah State Aggies traveled to Broncos Stadium to take on the Ohio Bobcats in the Aggies first bowl game in 14-years and all eyes were on Robert Turbin. It was a USU running back that shined for the Aggies, but it wasn't Turbin.
The first half of the Famous Idaho Potato Bowl was slow at best. The high-powered running game of the Aggies was stifled for most of the first half and the Bobcats struggled to get their stats into positive yards. By halftime the Aggies led 9 -7 and Turbin had 43-yards on 12 carries. Fast forward to the third quarter and suddenly it's not Turbin that everyone's talking about. Instead it's Turbin's fellow Aggie running back, Michael Smith.
Heading into half Smith had 6 carries for 32 yards. Just four minutes into the fourth Smith had 95-yards on 7 carries. Smith broke for a 63-yard TD run and he sparked the Aggie offense. But Smith wouldn't stop there. With 6 minutes remaining in the third Smith had carried it 3 more times and had 149 yards and averaging nearly 15-yards per carry.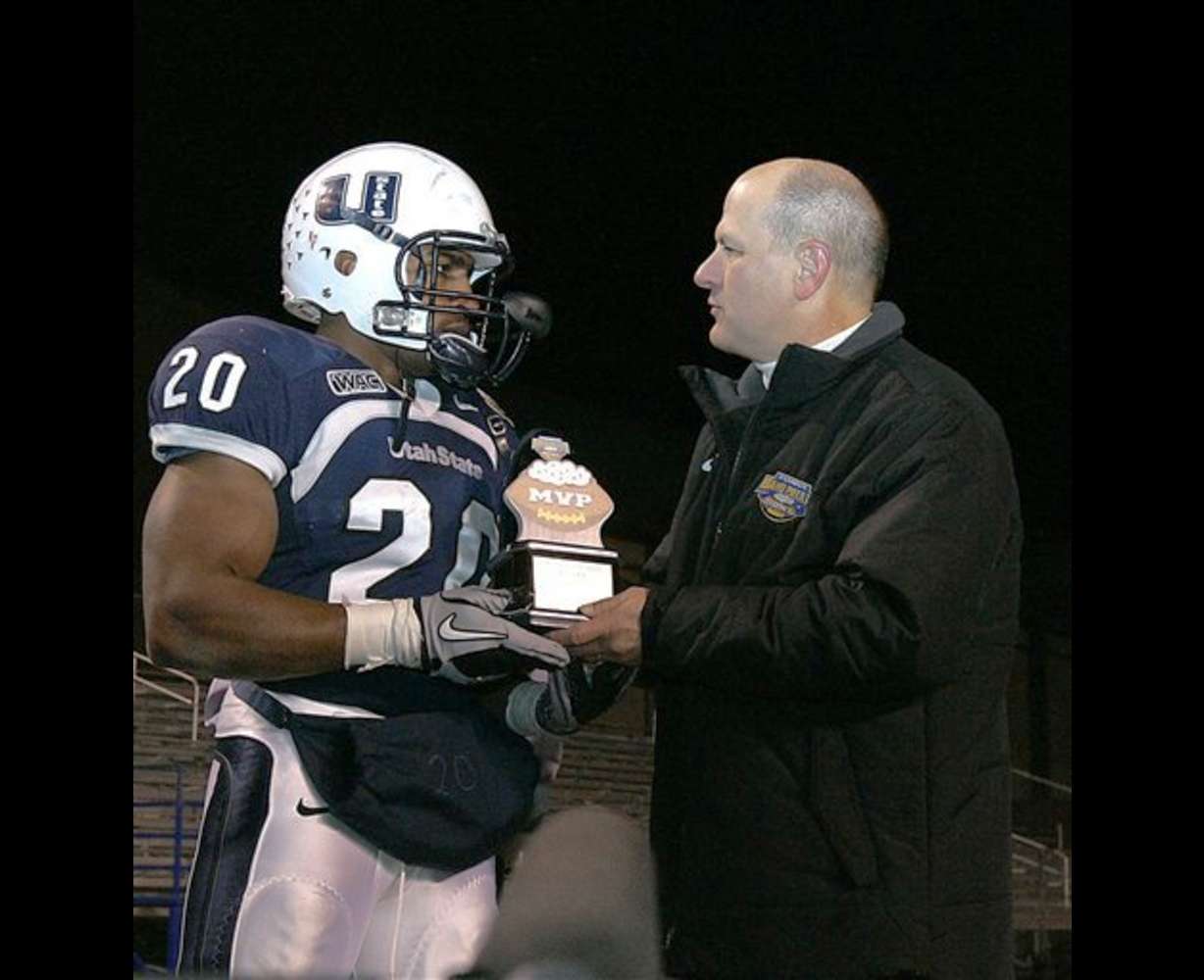 The Ohio defense quieted Smith and the rest of the Aggie offense in the fourth quarter and Smith only had two more carries for 7 yards finishing the day with 157 yards on 12 carries boasting an average of 13 yards per carry. He also had 2 touchdowns with a long run of 63 yards.
Don't let this fool you, however, USU's big back Robert Turbin had an OK night as well. Turbin gained 101 yards on 20 carries and averaged just over 5 yards per carry. Turbin ended the season with 1,517 yards on 229 carries.
Smith played his last game for USU on Saturday night in Boise finishing his career with 1,202 rushing yards in three seasons and 1,616 all purpose yards.
Despite a tough loss that came like most of USU's during the season, in the final seconds of the game, Smith had an incredible night that ended his tenure with the Aggies on a positive note.
"All I can be is just grateful that I'm here to play this game," said Smith in the press conference following the game. He went on to say that he felt the Aggie were the better team, but they faced adversity and didn't make the plays to overcome it.
Smith said the pain and sadness of the loss hasn't really hit him yet. But that also means the impact he had on his team and how well he played in the Aggies first bowl game since 1997 probably has not hit him yet either.
Smith helped put his team in a bowl game for the first time this decade. He also helped put them in a position to win said bowl game and was unanimously voted as the USU MVP of the Famous Idaho Potato Bowl.
Despite a heart-breaking loss, the Aggies finished a season they can be proud of and Michael Smith can look at his last game with the Aggie faithful as a victory.
E-mail: jclyde@ksl.com
×
Related links
Related stories
Most recent Sports stories