This archived news story is available only for your personal, non-commercial use. Information in the story may be outdated or superseded by additional information. Reading or replaying the story in its archived form does not constitute a republication of the story.
POCATELLO, Idaho — After falling to Texas A&M- Corpus Christi 58-55 in overtime Tuesday night, the Utah State men's basketball team (2-2) will look to cure their road woes Saturday night when they travel to Pocatello, Idaho, to take on the Idaho State Bengals (1- 3).
The game tips at 7:05 p.m. MT.
USU struggled to get points from players other than senior guard Brockeith Pane and senior forward Morgan Grim against the Islanders. Besides the two leaders, only four other Aggie players scored, and none of those scored in double figures.
The loss of senior forward Brady Jardine was painfully obvious in the Aggies' game against TAM-CC. While Grim set career-highs in points (20) and rebounds (12) and Pane scored 15 points of his own, the rest of the USU squad managed just 20 points.
Aggie head coach Stew Morrill is still looking for the piece of the puzzle that will connect his senior leadership to the inexperienced bench players. At times several players have shown the potential to be the missing link: specifically junior forward Kyisean Reed and freshman guard Steven Thornton.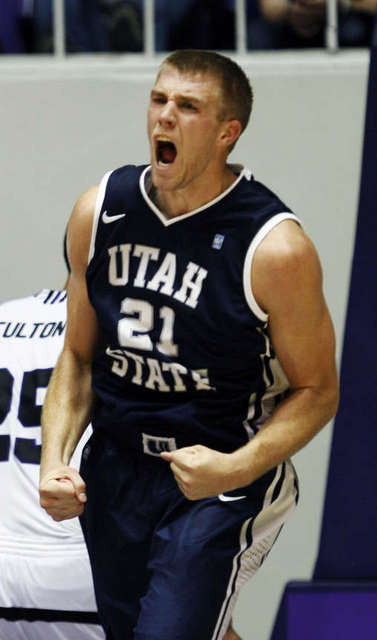 Against SUU earlier in the season both Reed and Thornton poured in 13 points and showed potential to be threats off the bench, but the first-year letter winners struggled to find a rhythm in Texas and scored a combined six points against the Islanders.
The WAC is not an easy basketball conference and Morrill will need someone to step up and be the player he can rely on if one of USU's version of the "Big Three" is in foul trouble or is having an off night.
The Bengals are coming off a loss to Loyola Marymount, a team that beat No. 20 UCLA in its season opener. Idaho State played well before falling 79-76 in overtime.
While ISU has a losing record, it is still a difficult team to take down at home in the Holt Arena. This doesn't look good for the Aggies as they have struggled on the road the past few seasons and are still looking to put together a consistent team this year.
The biggest challenge for Utah State will be containing senior guard Chase Grabau, who leads the Bengals in points, rebounds and assists. Grabau had a season-high 22 points against the Lions including four three-pointers. Pane will need to up his scoring output to keep up with Grabau and help the Aggies come away with a win.
Morrill has steered the Aggies to several postseason tournaments, but he will need to find a way to win on the road. His Aggies are a very young and inexperienced but with the surprising strong play of Grim and with Jardine's eventual the Aggies will have a chance to make a run in the WAC.
Justin McKissick is a KSL.com contributor originally from the San Francisco Bay Area. He is currently seeking a communications degree. Justin has been covering USU sports since 2011. Follow him on Twitter: @justin_sr.
×