This archived news story is available only for your personal, non-commercial use. Information in the story may be outdated or superseded by additional information. Reading or replaying the story in its archived form does not constitute a republication of the story.
SALT LAKE CITY — The University of Utah basketball team went out of the Mountain West Conference with a bang — a bang that left them near the bottom of the conference, and their second-worst record in 27 years; a bang that sent them looking for a new coach, who in turn went looking for enough players to fill out a roster that only retained four players. Transitioning into a new conference, there are surely more bangs to come.
The Utes are preparing for their inaugural Pac-12 season, joining a conference rich in basketball tradition. From a history standpoint, Utah will fit in just fine. Of the 12 programs in the conference, only Arizona and UCLA have more NCAA tournament appearances or victories than the Utes, and UCLA alone boasts more Final Fours and NCAA championships (tallying 18 and 11, respectively) in its storied history.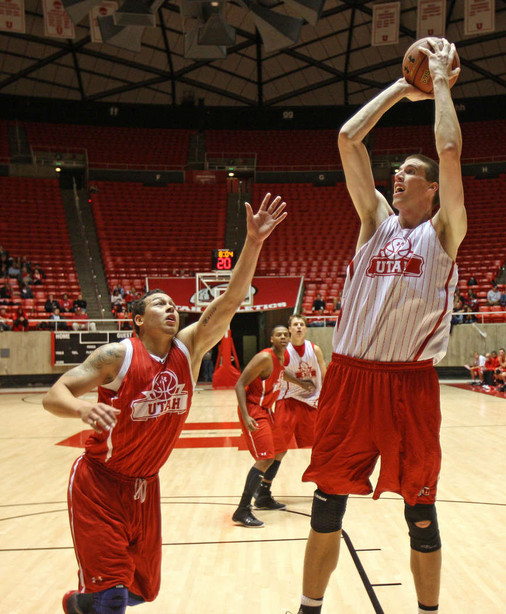 But the past won't help Utah this year. Its 27 tournament appearances, 35 tournament wins, four Final Fours and one championship won't score any points, grab any rebounds or snag any steals in 2011. The Utes face a tall order, and they'll have to pull it off with new faces everywhere: new coach, new players and new opponents.
New head coach Larry Krystkowiak returns to coaching college ball for the first time since leading Montana to back-to-back NCAA tournament appearances six years ago. Washington State head coach Ken Bone, who coached Montana's Big Sky Conference rival Portland State, described Krystkowiak as "intense": "He gets his kids to be extremely intense, and they play relentless basketball. I mean, they bring it."
That intensity makes Krystkowiak a commanding presence. During practice, several assistants and trainers shout drills to the players, but when the head coach speaks, a powerful aura of leadership pulses about him, uniting and inspiring his players. Each player holds a deep respect for Krystkowiak, which he reciprocates.
Despite the Utes' potential intensity, they were voted to take dead last in the Pac-12 preseason media poll. Nevertheless, Krystkowiak remains optimistic about his squad's progress.
Season Preview
Mike Grant and Randolph Fairbairn break down the state's basketball programs
"I'd be really surprised if a team made more progress than we have in the last 10 days," he told reporters at the Pac-12 media day in Los Angeles. "Our goal is to try and get better from one week to the next and one month to the next. Whatever that happens to be, when the time comes, it's hard to say. Let's just try to get a little better today and we'll see where it all ends up."
There will be plenty of room for progress, with a roster consisting of 13 new players. Point guard Josh "Jiggy" Watkins and center David Foster are the team's only seniors and will be key in providing veteran leadership to a young roster. During the Red-White scrimmage, the two demonstrated their veteran chemistry by connecting on an alley-oop, drawing loud cheers from the sparse Huntsman Center crowd.
Aside from those two and juniors Chris Hines and Jason Washburn, the Utah roster is entirely made up of freshman and transfer students, three of whom will have to redshirt due to NCAA transfer regulations — guards Glen Dean and Aaron Dotson, transferring from Eastern Washington and LSU, respectively, and forward Alexander Ricketts from Simon Fraser.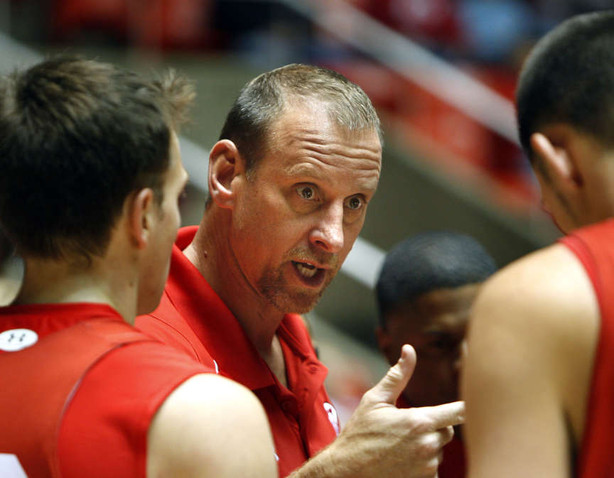 What can we expect from some of the new guys this season?
If Krystkowiak coaches intensity, he already has the ideal pupil in Javon Dawson. The big, physical forward from Gulf Coast Community College plays like a wrecking ball in the lane. Nicknamed "Big Country," it's no surprise that he was highly recruited in football coming out of high school. Dawson is sure to make a name for himself with his hustle and energy.
Dijon Farr, from Indian Hills Community College, brings athleticism and versatility with the potential to fill multiple parts of a stat sheet. Other transfer students who will be eligible to play immediately are Corbin Green from Snow College, Cedric Martin from Lee College, and Kyle Perkins from the University of Colorado-Colorado Springs.
Five freshmen round out the roster, including forward George Matthews from Phoenix and guard Anthony Odunsi from Fort Bend, Texas. Matthews brings a lot of athleticism while Odunsi brings quickness and a solid shot, and he nabbed a couple steals in the Red-White scrimmage. Baltimore native Kareem Storey and in-state recruits Alex Mortensen (Springville High) and Blake Wilkinson (Viewmont High) have put in hard work as well.
It will take time for such a diverse group to come together, a growing process that will continue throughout the season. Fortunately, the early schedule favors the Utes with reasonable non-conference matchups, the toughest being the Huntsman Center showdown with rival BYU on Dec. 10 — a team Utah hasn't beaten since January of 2009. Other notable non-conference games include the Nov. 14 opener vs. San Diego Christian, a Dec. 3 trip to Fresno State, and a pre-Christmas trip to Ogden to take on Weber State. Utah will also participate in the "Battle 4 Atlantis" tournament, a Thanksgiving event that will take place in the Bahamas Nov. 24-26.
Utah then opens the Pac-12 season in Boulder against fellow conference newcomer Colorado on New Year's Eve. On Jan. 5, Washington State comes to town for Utah's first Pac-12 home game with Washington arriving later that week. At the end of January, the Utes make a trip to Los Angeles to play both UCLA and USC; however, neither will come to Salt Lake City this season, and Utah will not visit Washington or Washington State, but they will play the other seven Pac-12 teams both at home and on the road, ending the regular season at Oregon on Mar. 3.
The Pac-12 schedule won't be easy, especially given the circumstances, but Krystkowiak's focus on progress and intensity will go a long way toward rebuilding a future as bright as the past. More bumps — and a few more of those bangs — are sure to appear along the road, but Krystkowiak will do everything in his power to put the program in a position so that, in the future, the Utes can be the ones making the bang in the Pac-12.
×
Related Stories