This archived news story is available only for your personal, non-commercial use. Information in the story may be outdated or superseded by additional information. Reading or replaying the story in its archived form does not constitute a republication of the story.
SALT LAKE CITY — Storylines abound entering Utah's first Pac-12 conference game ever — and the first Pac-12 conference game ever, for that matter. Because of USC's postseason probation, the game doesn't mean much for the Pac-12 South Division standings, but it is a statement game for both teams. Here are five storylines entering Saturday night's Utah-USC game:
1. A statement game For the Utes, this is a statement game as they enter the big boy ring for the first time as a full-time heavyweight. Many people around the country will be keeping their eyes on the Utes throughout the season to see if they can make a seamless jump into a BCS conference. This game will be the Utes' opportunity to burst onto the scene. For the Trojans, they will be out to rudely welcome the Utes to the conference. They will also be looking to prove that they are still capable of competing on the highest level, despite all their NCAA penalties.
2.Norm Chow's old stompin' grounds Chow knows USC very well, having coached there for half a decade. He also knows Lane Kiffin very well after having been his mentor while he was at USC. The flip side to that is that Kiffin knows Chow well, too. Who will get the better of the other on Saturday, the wily veteran or the clever protégé?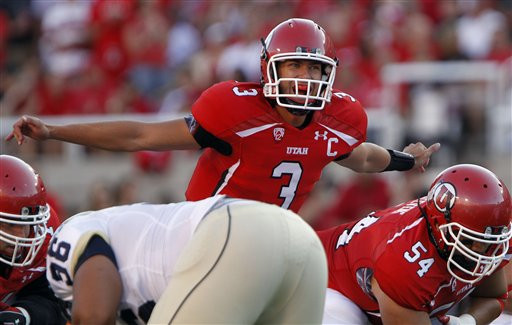 3. …And what exactly was Chow holding back for SC? Kyle Whittingham has acknowledged that Chow and the Utes' offense was holding some things back for this game. The Utes never really threw the ball downfield against Montana State, but that should change in the Coliseum this weekend. What else will Chow unleash on his former team?4. Matt Barkley vs. the Ute secondary This is the matchup to watch. The Utes' secondary was tested by DeNarius McGhee in the team's opening game, but this week will make last week seem more like a third-grade spelling quiz. Barkley is a legitimate Heisman Trophy candidate with a quick release and precision-like accuracy. He will test the very young Utah secondary, and so will the NFL-level athletes in the USC receiving corps. Kiffin likes to use the passing game as an extension of his running game by using short, quick passes, allowing his superior athletes to slip tackles and make big plays. Will the talented but young Ute secondary be up to the challenge?
5. Can Jordan Wynn rebound from his performance last week? Abysmal. Disappointing. Worrisome. All have been used to describe Wynn's play last week against Montana State. Against a faster defense, can Wynn rebound when Chow lets him loose a little bit? Wynn looked like he has changed his mechanics during the offseason, but we didn't really get to see him throw the ball downfield at all. It will also be key to see whether or not the Utes' pass block can give Wynn enough time to step into some throws against one of the best defensive lines in the country.
Trevor Amicone is the sports director at 88.1 Weber FM "Ogden's Radio Station" and host of the sports talk radio show, "Fully Loaded Sports with Trevor Amicone". To check out more blogs, go to trevorstoptens.com.
×
Related Stories