Estimated read time: 2-3 minutes
This archived news story is available only for your personal, non-commercial use. Information in the story may be outdated or superseded by additional information. Reading or replaying the story in its archived form does not constitute a republication of the story.
Dr. Kim Mulvihill ReportingWhen it comes to dieting, we often talk about cutting calories, but what about a plate that does the cutting for you? New research says it even works.
Some say it's not what you eat, but how much you eat that makes a difference. We've talked about visual cues as reminders to keep portions under control; this study is all about visual cues to help keep control of portions.
As American waistlines continue to grow, so do the portions on our plates.
Greg Critzeer says, "It's rational to be obese in America today. Why is that? Calories are cheap. It's cheap to eat. And food is everywhere."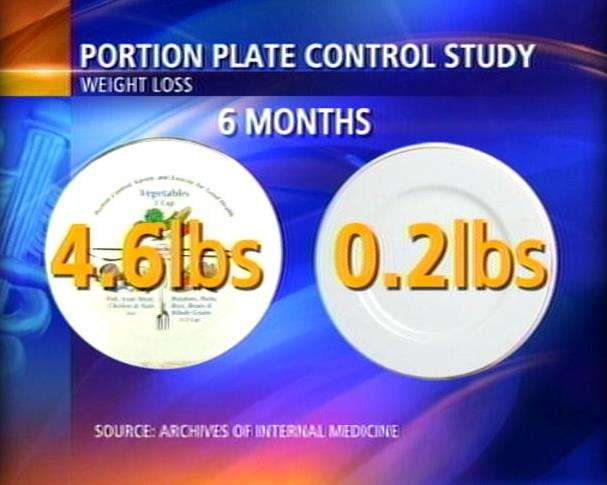 So cheap, you can afford to pour it on. You can even double or triple the portion size. So downsize the portions, and you'll lose weight - right? Well, it's not so easy.
The problem is, with so much supersizing, for so long, it may be tough to know what's a normal serving. New research shows a simple, inexpensive tool can do the work for you. They're calibrated plates and bowls, designed to hold preset amounts of protein, carbs, cheese and sauce, with the rest of the plate open for veggies.
In a study, researchers tracked 130 obese patients with type two diabetes. Six months later, those using the portion plates lost significantly more weight - 4.6 pounds versus 0.2.
In fact, among the plate users, 17% lost at least 5% of their body weight, compared to only 5% in the control group. More than twice as many in the portion plate group were able to decrease the amount of drugs needed for their diabetes.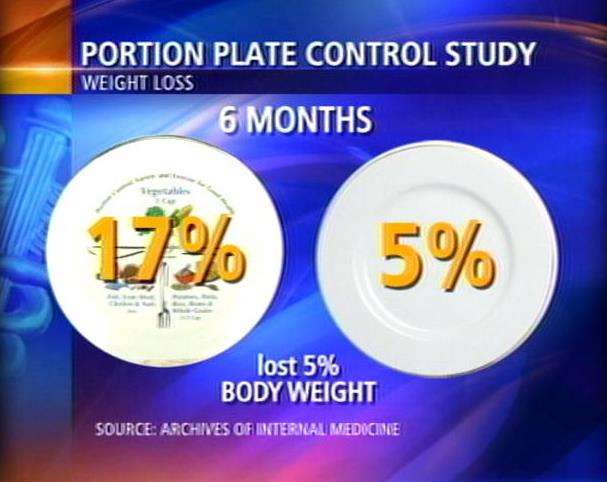 The plates are also sex-specific. "his" holds about 800 calories, "hers" 650.
The really great news from this study is that the patients taking insulin did even better, averaging a 2.5% weight loss over six months. Studies show that insulin treatment often makes weight loss more difficult.
So, the key is knowing what's too much. Studies show people tend to finish what's on their plates, even when there's way too much food.
×
Related links
Most recent News stories