Estimated read time: 2-3 minutes
This archived news story is available only for your personal, non-commercial use. Information in the story may be outdated or superseded by additional information. Reading or replaying the story in its archived form does not constitute a republication of the story.
Dr. Kim Mulvihill reportingMillions of Americans suffer from Alzheimer's, a degenerative, incurable brain disease.
The victims desperately need innovative therapies. A new method is being tested right now.
This new experimental method targets a protein. This protein - called amyloid - gunks up the brain and is thought to play an important role in Alzheimer's.
It's been six years since James Turk was diagnosed with alzheimer's disease.
James Turk/ Alzheimer's Patient: "I'm just talking about my feelings right now. I'm about to cry."
Robin Turk/ James' Wife: "And that's okay. You're going through a lot." "He was always losing his keys, his sunglasses, forgetting where his bowling ball was. It is hard I remember the things he used to do that he can't do anymore."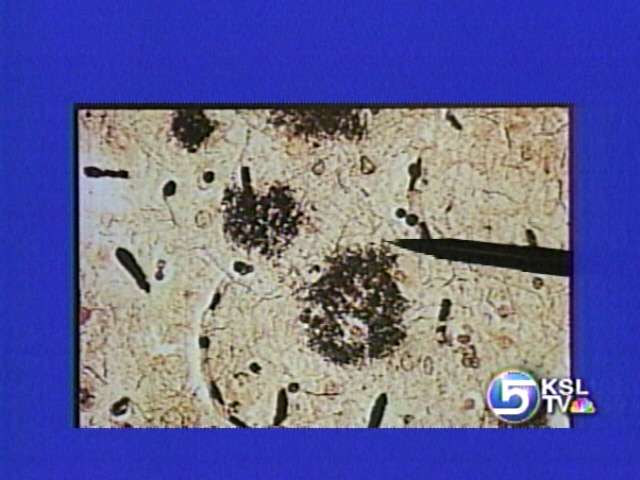 The underlying cause of Alzheimer's may be seen here. Black clumps indicate a build up of abnormal proteins in the brain called amyloid.
Adam Boxer, M.D., Ph.D./ UCSF Alzheimer's Disease Specialist: "Little bits of it clump together and then stick to the nerve cells, and then cause them problems."
Problems that may lead to brain cells dying and not being replaced. Alzheimer's patients have too much amyloid - this gunk - in their brains - a buildup that can begin years before symptoms appear.
Researchers at UCSF are testing a new experimental treatment, a monoclonal antibody designed to clear amyloid from the brain.
In animal studies, the antibody dramatically removed amyloid. This experimental drug is now being tested in humans.
Dr. Adam Boxer heads up the trial at UCSF. He believes the treatment will change the course of the disease.
Dr. Boxer: "It's going to prevent some of the damage, some of the brain shrinkage that we see in this disease, some of the cognitive problems. It's going to help stabilize people over time."
James is part of the phase two clinical trial. He hopes it works on him.
Several drugs now on the market treat symptoms of the disease. This experimental treatment aims at preventing the underlying damage, and that could make a world of difference.
×
Related links
Most recent News stories