Estimated read time: 4-5 minutes
This archived news story is available only for your personal, non-commercial use. Information in the story may be outdated or superseded by additional information. Reading or replaying the story in its archived form does not constitute a republication of the story.
ST GEORGE -- Dixie State College took a 22-hour bus ride up through the Redwood forests of Northern California early Friday for a Saturday evening contest against conference foe Humboldt State University in Arcata Calif.
The Red Storm (1-5) will try to upset the Great Northwest Athletic Conference's top football team, the Lumberjacks 5-1 (3-0 GNAC). It will be the second meeting this season, and the tenth in the series. Humboldt State holds a 5-4 series advantage and has won the last two games, including a 49-32 victory on Sept. 11 in St. George.
Dixie lost its homecoming game last week to Western Oregon University 40-27 in a game where the Red Storm held a 20-16 halftime lead for the first time this season. Dixie had been bitten this season by falling behind in games and creating difficult deficits to overcome. However, against the Wolves, who are a quality opponent, the Red Storm had leads of 14-0, 20-6 and showed they can explode on good defenses.
They could not sustain control of the game though, and relinquished 31 unanswered points to the Wolves and ultimately took the loss.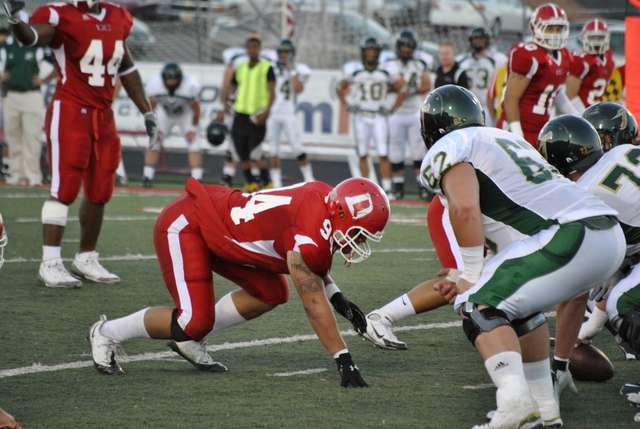 The Lumberjacks beat Azusa Pacific University (4-2) near Los Angeles Calif., last Saturday 49-14. Humboldt has won five games in a row since losing its first game of the season to respectable No. 13 Cal Poly. An example of six degrees of separation is the Mustangs of Cal Poly playing at Southern Utah University this Saturday.
Humboldt State is riding an impressive turnaround from last season's results. In 2009 the Lumberjacks were the GNAC's cellar dwellers with a 1-5 conference record (5-5 overall).The Jacks have become road conquerors this season too. They have wins in Oregon, Utah and Southern California, which sets them up for a favorable second half of the season. Starting with the game against Dixie, Humboldt plays three of its final five at home. Third year coach Rob Smith says the town of Arcata is starting to buzz about their Lumberjacks team.
"People are excited, they are starting to take notice," Smith said. "Four of the six games we have played thus far have been road games. We have traveled probably as much as anyone. We are excited to be at home against Dixie, and excited about it being our homecoming game."
Even though the Lumberjacks are enjoying success and have the experience of hammering the Red Storm last time out, Smith said he does not take anything for granted.
"We are pleased to be where we are it, but there is a lot of football left," Smith said. "You start that second round of play now; I've been at this long enough to know that teams are going to come at you harder, and with a little bit different plan. We need to continue to respect each opponent, take it one game at a time, and try to be at our best come Saturday."
The Humboldt coach always refers to three of the GNAC's top tacklers and sackers, (Keauntea Bankhead, Nick Cragin, and Nick Rocco) when talking about Dixie.
"The first thing you can't do is look at the records," Smith said. "We can't get caught up in their situation. We know from previous experience that they have good athletes and they will come with effort. They have a good and getting better quarterback. The linebackers they have in Bankhead and Cragin, and Rocco on the edge, those players pose problems."
Dixie's defense will have to deal with the conference's leading rusher Lyndon Rowells. The junior tailback has rushed for 900 yards and averages 150 yards per game. He got 168 yards against the Storm last time out.
Smith said his team must keep their sights forward on the present challenges and not let any of the works completed already fall wayside.
"Everything we have accomplished in the first half of the season goes away very quickly if we don't continue to work hard and do the little things that have enabled us to get to this point," Smith said.
The game will be Humboldt's homecoming and if Dixie could put together the complete game against the Lumberjacks, maybe they could send a homecoming crowd home disappointed two Saturday's in a row.
Dixie and Humboldt State kick- off at 7 p.m. Mountain time. Red Storm games are local radio broadcast on Classical 91.3 FM.
(Photo courtesy Levi Arnone/ Dixie Sun)
×