Estimated read time: 4-5 minutes
This archived news story is available only for your personal, non-commercial use. Information in the story may be outdated or superseded by additional information. Reading or replaying the story in its archived form does not constitute a republication of the story.
SOUTH BEND, Ind. (AP) -- Brady Quinn threw for 467 yards and a school-record six touchdowns, four to Maurice Stovall, to lead No. 9 Notre Dame to a 49-23 victory over Brigham Young on Saturday that ended a four-game home losing streak.
The Fighting Irish (5-2), who were beaten by BYU last season when they were held to 11 yards rushing, didn't try to run the much against the Cougars (3-4), instead depending on Quinn's passing to open up the BYU defense.
Quinn broke the mark of five TD passes he set in an overtime loss against Michigan State earlier this season. He was 25-of-30 passing in the first half for a school-record 287 yards, and finished 32-of-41 passing.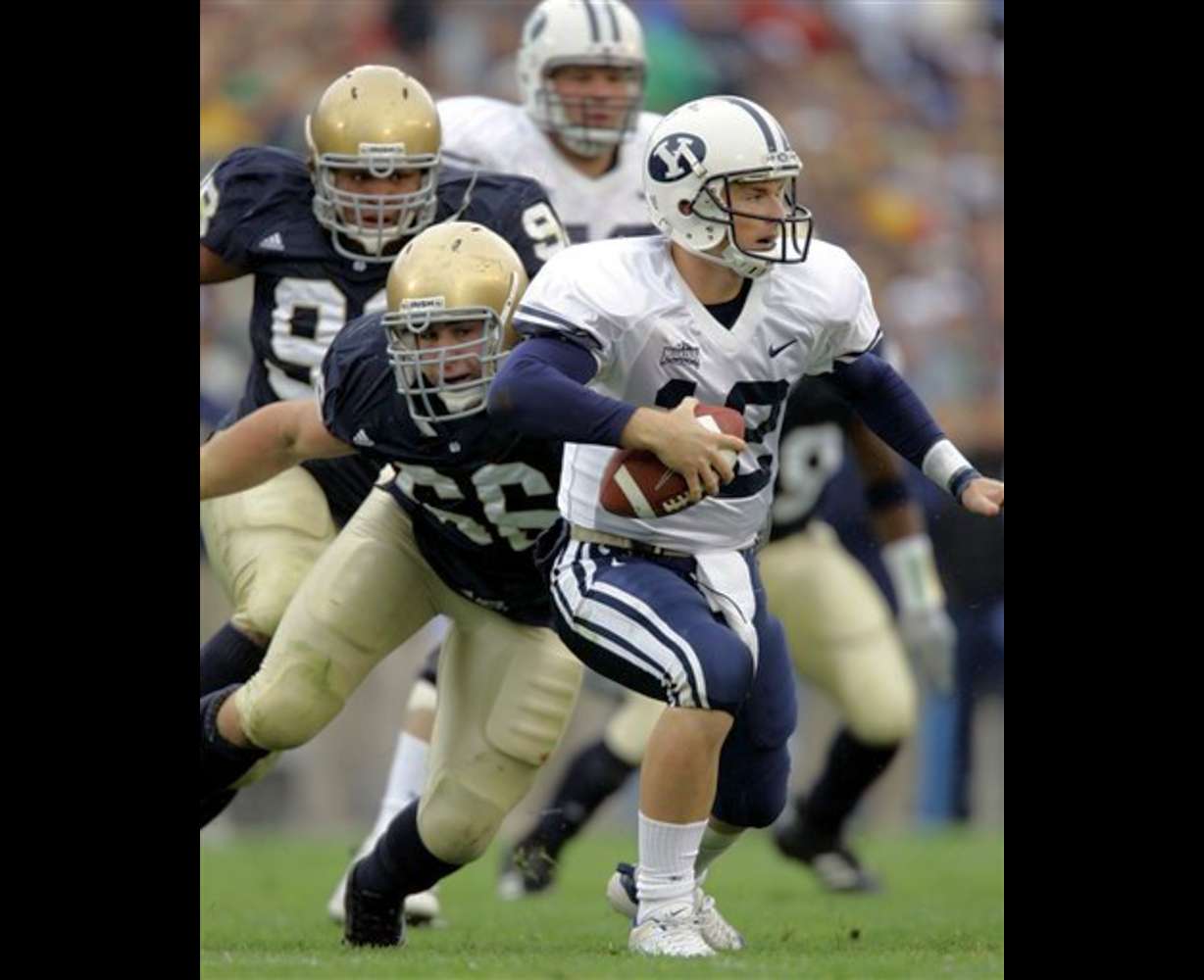 It was the first home win for Charlie Weis, who was the first Irish coach to lose his first two home games since Frank E. Hering in 1896.
Stovall, the first Irish receiver with four TD passes in a game, caught a career-high 14 passes for 207 yards. Jeff Samardzija had 10 catches for 152 yards and two touchdowns. Stovall and Samardzija, who are both 6-foot-5, became the first Irish receivers to each have more than 10 catches in the same game, repeatedly going over smaller BYU defenders to catch passes.
More important than the records, though, was that after four straight home losses, each in the final minute, the Irish finally won at home. The losses included falling to Michigan State in overtime and a defeat last week when top-ranked USC scored with 3 seconds left to win 34-31. The other two losses were to Boston College and Pittsburgh last season.
The game lacked the drama of the previous week's near-miss against USC. With students out of school for fall break, there wasn't the buzz around campus there was the week before. The crowd of 80,795 was enthusiastic, but nowhere near as raucous. Friday's pep rally was held inside and had about a quarter as many fans as the 45,000 who showed for the USC pep rally. There was no Joe Montana, no Tim Brown, no Rudy, nowhere near as many media and no green jerseys.
BYU, which saw its two-game winning streak come to an end, lost its 12th straight to a ranked opponent.
After falling behind 28-10 early in the third quarter when Quinn threw a 21-yard TD pass to Samardzija, the Cougars rallied briefly to make the game interesting. John Beck threw a 24-yard pass to Jonny Harline to set up a 10-yard scoring run by Beck.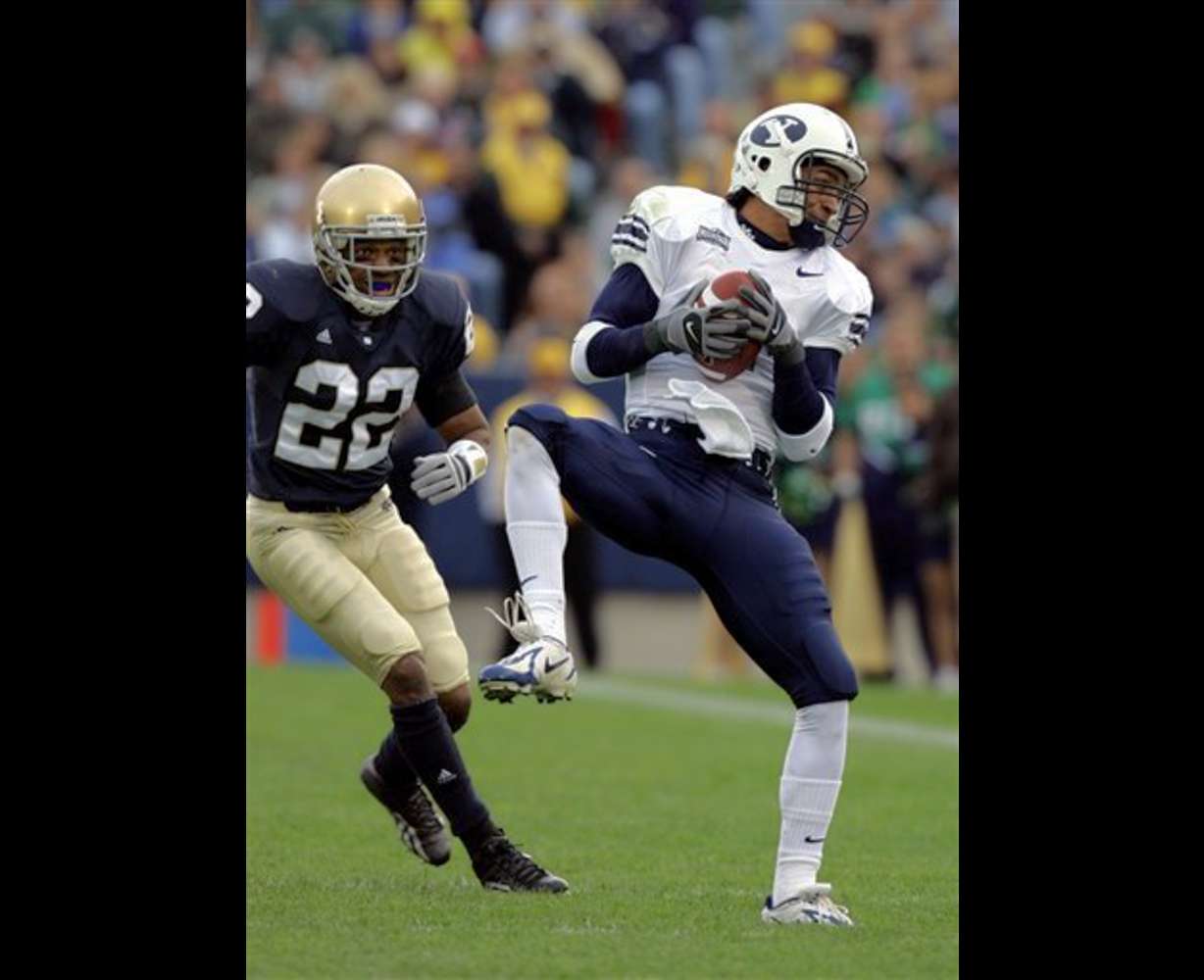 After holding the Irish three-and-out, Nathan Meikle returned a punt 22 yards to the Notre Dame 33 to set up BYU's next score. Beck threw a 10-yard scoring pass to Todd Watkins to cut the lead to 28-23. BYU went for the 2-point conversion, but Beck's pass was intercepted by safety Tom Zbikowski.
Quinn quickly regained control, throwing a 42-yard touchdown pass to Samardzija and a 24-yard scoring pass to Stovall to give the Irish a 42-23 lead. The pass to Stovall gave Quinn 19 TD passes for the season, tying the school mark set by Ron Powlus in 1994.
Zbikowski intercepted a pass by Beck and returned it 83 yards for Notre Dame's final touchdown.
Beck was 26-of-45 passing for 317 yards with two interceptions. Harline finished with eight catches for 100 yards.
Quinn, who extended his record of consecutive games with TD passes to 12, also moved ahead of Steve Beuerlein into second place on Notre Dame's career passing yards. Quinn has thrown for 6,769 yards. Powlus is the school career leader with 7,602.
Samardzija, who had TD catches of 14 and 21 yards, became the first Irish receiver to have TD catches in seven straight games, breaking the mark set by Malcolm Johnson in 1998. He also tied the school record of 11 TD catches in a season set by Derrick Mayes in 1994.
The Irish finished with 44 yards rushing, 37 yards of it in the final quarter.
(Copyright 2005 by The Associated Press. All Rights Reserved.)
First Quarter
   BYU--FG McLaughlin 44, 9:51.
   ND--Stovall 10 pass from Quinn (Fitzpatrick kick), 7:12.
   BYU--Harline 12 pass from Beck (McLauglin kick), 2:48.
Second Quarter
   ND--Samardzija 14 pass from Quinn (Fitzpatrick kick), 10:33.
   ND--Stovall 15 pass from Quinn (Fitzpatrick kick), 4:18.
Third Quarter
   ND--Samardzija 21 pass from Quinn (Fitzpatrick kick), 12:50.
   BYU--Beck 10 run (McLauglin kick), 9:11.
   BYU--Watkins 10 pass from Beck (pass failed), 5:38.
   ND--Stovall 36 pass from Quinn (Fitzpatrick kick), 4:47.
   ND--Stovall 24 pass from Quinn (Fitzpatrick kick), 2:16.
Fourth Quarter
   ND--Zbikowski 83 interception return (Fitzpatrick kick), 9:24.
   A--80,795.
   ------
                           BYU    ND
First downs                     26            27
Rushes-yards              34-75      23-44
Passing                       317          467
Comp-Att-Int          26-45-2  32-41-0
Return Yards                    51          101
Punts-Avg.                  6-43        5-44
Fumbles-Lost                  0-0          3-2
Penalties-Yards             9-80      11-77
Time of Possession        33:39      26:21
   ------
INDIVIDUAL STATISTICS
   RUSHING--Brigham Young, Tahi 14-63, Brown 12-23, Tonga 1-1, Beck
7-(minus 12). Notre Dame, Schawapp 8-27, Walker 7-17, Samardzija
1-9, McConnell 1-3, Stovall 1-1, Thomas 1-(minus 3), Quinn 4-(minus
10).
   PASSING--Brigham Young, 26-45-2-317. Notre Dame, Quinn
32-41-0-467.
   RECEIVING--Brigham Young, Harline 8-100, Tahi 5-73, Brown 5-52,
Watkins 4-63, Collie 1-11, Meikle 1-8, Coats 1-7, Tonga 1-3. Notre
Dame, Stovall 14-207, Samardzija 10-152, Fasano 5-55, Walker 1-37,
Grimes 1-8, Shelton 1-8.
<p>
   (Copyright 2005 by The Associated Press.  All Rights Reserved.)</p>
×
Most recent BYU Cougars stories