Estimated read time: 5-6 minutes
This archived news story is available only for your personal, non-commercial use. Information in the story may be outdated or superseded by additional information. Reading or replaying the story in its archived form does not constitute a republication of the story.
By LARA JAKES JORDAN
Associated Press Writer
WASHINGTON (AP) - Federal Emergency Management Agency Director Michael Brown, the principal target of harsh criticism of the Bush administration's response to Hurricane Katrina, was relieved of his onsite command Friday.
He will be replaced by Coast Guard Vice Adm. Thad W. Allen, who was overseeing New Orleans relief, recovery and rescue efforts, Homeland Security Secretary Michael Chertoff announced.
Earlier, Brown confirmed the switch. Asked if he was being made a scapegoat for a federal relief effort that has drawn widespread and sharp criticism, Brown told The Associated Press after a long pause: "By the press, yes. By the president, no."
"Michael Brown has done everything he possibly could to coordinate the federal response to this unprecedented challenge," Chertoff told reporters in Baton Rouge, La. Chertoff sidestepped a question on whether the move was the first step toward Brown's leaving FEMA.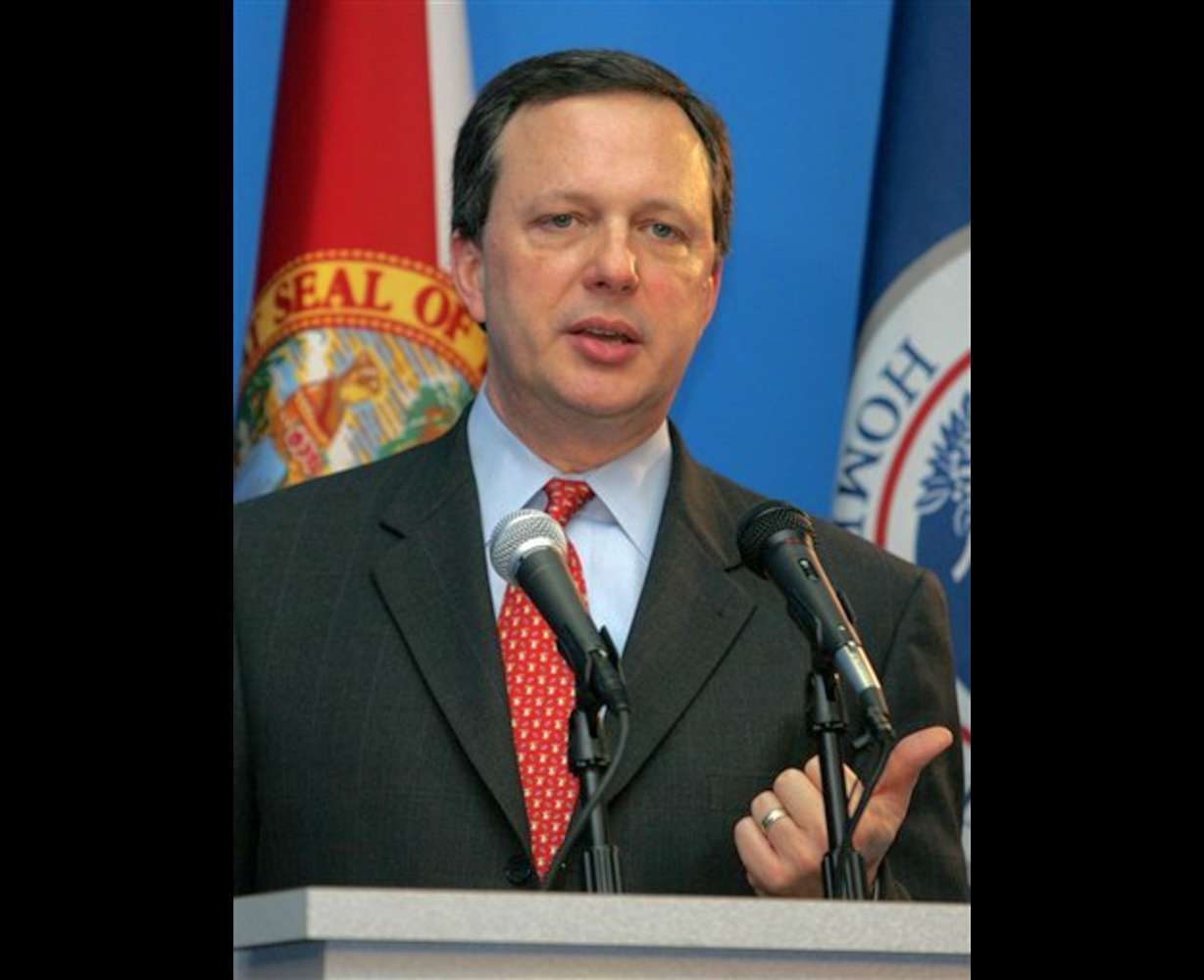 But a source close to Brown, speaking on condition of anonymity, said the FEMA director had been considering leaving after the hurricane season ended in November and that Friday's action virtually assures his departure.
Brown has been under fire and facing calls for his resignation because of the administration's slow response to the magnitude of the hurricane. On Thursday, questions were raised about whether he padded his resume to exaggerate his previous emergency management background.
Less than an hour before Brown's removal came to light, White House press secretary Scott McClellan said Brown had not resigned and the president had not asked for his resignation.
Democratic lawmakers weren't satisfied with the move; they immediately demanded Brown's ouster from FEMA.
"The events of the last ten days have shown that Mr. Brown has repeatedly exercised poor judgment and has failed in his basic responsibilities," said a letter to Bush from Senate Democratic Leader Harry Reid and Sens. Dick Durbin, Debbie Stabenow and Charles E. Schumer. "His continued presence in this critical position endangers the success of the ongoing recovery efforts. ... It is not enough to remove Mr. Brown from the disaster scene."
Republican Sen. Trent Lott, whose Pascagoula, Miss., home was destroyed in the storm, said he, too, had concluded that FEMA "was overwhelmed, undermanned and not capable of doing its job" under Brown's leadership.
"Michael Brown has been acting like a private, instead of a general," Lott said.
Chertoff suggested the shift came as the Gulf Coast efforts were entering "a new phase of the recovery operation." He said Brown would return to Washington to oversee the government's response to other potential disasters.
"I appreciate his work, as does everybody here," Chertoff said.
In a telephone interview with AP, Brown said he was "anxious to get back to D.C. to correct all the inaccuracies and lies that are being said." Asked if the move was a demotion, Brown said: "No. No. I'm still the director of FEMA."
He said Chertoff made the decision to move him out of Louisiana. It was not his own decision, Brown said.
"I'm going to go home and walk my dog and hug my wife, and maybe get a good Mexican meal and a stiff margarita and a full night's sleep. And then I'm going to go right back to FEMA and continue to do all I can to help these victims," Brown said. "This story's not about me. This story's about the worst disaster of the history of our country that stretched every government to its limit and now we have to help these victims."
The White House had insisted publicly for days that Bush retained confidence in his FEMA chief. Last Friday, Bush praised Brown during a tour of Alabama, telling him, "Brownie, you're doing a heck of a job."
But there was no question that Brown's star was fading in the administration. In the storm's early days, Brown was the president's primary briefer on its path and the response effort, but by the weekend those duties had been taken over by Chertoff.
Even before Chertoff's announcement, the beleaguered Brown was facing questions Friday about his resume.
Bush administration documents have credited Brown with overseeing emergency services while working for the city of Edmond, Okla., in the mid-1970s. Brown's official biography on the FEMA Web site says he served as "an assistant city manager." But a former mayor of Edmond, Randel Shadid, told AP on Friday that Brown had been an assistant to the city manager _ never assistant city manager.
"I think there's a difference between the two positions," said Shadid. "I would think that is a discrepancy."
Asked later about the White House news release that said Brown oversaw Edmond's emergency services divisions, Shadid said, "I don't think that's a total stretch."
A longtime acquaintance, Carl Reherman, said Brown was very involved in helping set up Edmond's emergency operations center and assisting in the creation of an emergency contingency plan in the 1970s. At the time, Reherman was a city councilman, and he later became mayor.
FEMA deputy strategic director Nicol Andrews said a report in Time magazine, which first detailed the discrepancies, was "very inaccurate."
Similarly, a January 2003 White House announcement of Brown's nomination to head FEMA lists his previous experience as "the Executive Director of the Independent Electrical Contractors," a trade group based in Alexandria, Va. Two officials of the group told Newsday this week that Brown never was the national head of the group but did serve as the executive director of a regional chapter in Colorado.
___
Associated Press writers Ron Fournier, Pete Yost and Ted Bridis in Washington and Richard Green in Oklahoma City contributed to this story.
(Copyright 2005 The Associated Press. All rights reserved. This material may not be published, broadcast, rewritten or redistributed.)
×
Related links
Most recent News stories