Estimated read time: 5-6 minutes
This archived news story is available only for your personal, non-commercial use. Information in the story may be outdated or superseded by additional information. Reading or replaying the story in its archived form does not constitute a republication of the story.
NEW ORLEANS (AP) - Across miles of ravaged neighborhoods of clapboard houses, grand estates and housing projects, workers struggled to find corpses Thursday and persuade this swamped city's last stubborn residents to leave. Fears grew about the risks posed by putrid floodwaters, and officials braced for what could be a staggering death toll by preparing 25,000 body bags.
"Right now, human life is paramount so I'm concentrating all my power on getting out people who want to leave," Police Chief Eddie Compass said on NBC's "Today" show.
Michael Keegan, spokesman for U.S. Immigration and Customs Enforcement, said rescuers were finding more and more residents willing to leave. "Some are finally saying, `I've had enough.' They're getting dehydrated. They are running out of food," Keegan said.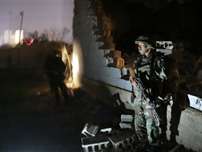 Government tests confirmed that the floodwaters are thick with sewage-related bacteria in amounts at least 10 times higher than acceptable safety limits. The muck is believed to contain E. coli, certain viruses and a type of cholera-like bacteria.
"If you haven't left the city yet, you must do so," said Dr. Julie Gerberding, director of the Centers for Disease Control and Prevention. She urged anyone coming into contact with the water to scrub up with soap and water.
At least four deaths among storm evacuees have been attributed to infected wounds, said Tom Skinner, spokesman for the CDC.
Bob Johannessen, spokesman for the state Department of Health and Hospitals, said officials have 25,000 body bags on hand in Louisiana. Asked if authorities expected that many bodies, he said: "We don't know what to expect."
Mayor C. Ray Nagin had earlier said New Orleans' death toll could reach 10,000. Already, a temporary warehouse morgue in rural St. Gabriel that had been prepared to take 1,000 bodies was being readied to handle 5,000. The official death toll in Mississippi climbed to 201 Wednesday, but more than 1,000 are feared dead there, too.
In Mississippi, efforts to restore power to residents along the battered coast were moving along. Gov. Haley Barbour said Thursday on "Today" that power would be restored by Sunday to all homes and businesses able to receive it.
Katrina victims could also soon get federal money in their pockets _ and even in the mail.
The Federal Emergency Management Agency, stung by criticism that it failed to act fast enough when Katrina hit, was prepared to hand out $2,000 debit cards for each household affected by the storm. At the Houston Astrodome where many New Orleans evacuees are being housed, long lines formed to register.
"The concept is to get them some cash in hand which allows them, empowers them, to make their own decisions about what do they need to have to start rebuilding," said Michael Brown, FEMA's head.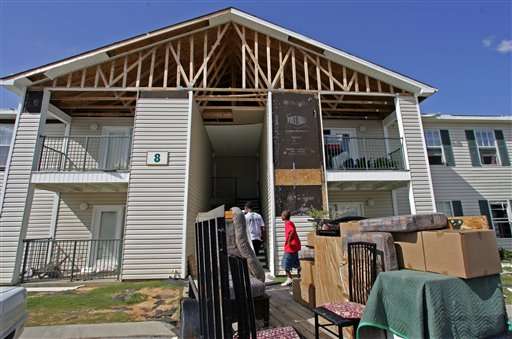 In addition, the Postal Service has delivered some 15,000 Social Security checks to collection points in areas affected by Katrina, despite being unable to locate 2,000 of its own workers.
Postmaster General John Potter vowed to get the checks to customers.
"Regardless of where they are, we'll move their mail to them," Potter said. "My message to everybody is, if they are relocated, please inform us."
The Bush administration on Wednesday asked Congress for $51.8 billion in Katrina relief and recovery expenses, in addition to $10.5 billion already approved, calling it the latest installment _ but not the last.
"We will in fact need substantially more," said budget director Josh Bolten, estimating that the money would cover expenses for a few weeks.
The need to move on with their lives has refugees in shelters across Texas slowly moving out. Some are staying in the state. Others are catching buses or taking flights elsewhere.
In Houston, the number of refugees was down Wednesday to a total of 8,096 among four shelters, including the Astrodome, said Coast Guard Lt. Joseph Leonard.
Yvette Herbert, one of the Astrodome's refugees, said buses were leaving for cities all over the country Wednesday. Among them were Chicago, Atlanta, Detroit and numerous cities in California.
"Everywhere except New Orleans," the 19-year-old said. "I want to go back home, but we can't right now."
Nagin has ordered law officers and the military to evacuate all holdouts in the city _ by force if necessary. There were no immediate reports of anyone being physically removed and it was not clear how the order would be carried out.
The stepped-up evacuation began as workers trying to restart essential services came under sniper fire. More than 100 officers and seven armored personnel carriers captured a suspect in a housing project who had been firing on workers trying to restore cell phone towers, authorities said.
"We're putting a lot of people on the street right now and I think that we are bringing it under control," said Capt. Jeff Winn, commander of the police SWAT team. "Eight days ago this was a mess. Every day is getting a little bit better."
The floodwaters continued to recede, though slowly, with only 23 of the city's normal contingent of 148 pumps in operation, along with three portable pumps. The water in St. Bernard Parish had fallen 5 feet.
John and Cathy Nost rode out the storm in their French Quarter home. Now they are unwilling to evacuate even though they say they are suffering from high fevers they attributed to heat exhaustion.
Military units supply them with food and water. They bathe in water from a nearby swimming pool laced with bleach as a disinfectant and lug buckets back to flush their toilet.
"It's not that you get used to it, but you don't want to walk away," said John Nost, 59.
___
Associated Press writers Cain Burdeau, Jerry Bodlander, Doug Simpson and Lauran Neergaard contributed to this report.
(Copyright 2005 The Associated Press. All rights reserved. This material may not be published, broadcast, rewritten or redistributed.)
×
Related links
Most recent News stories