Estimated read time: 4-5 minutes
This archived news story is available only for your personal, non-commercial use. Information in the story may be outdated or superseded by additional information. Reading or replaying the story in its archived form does not constitute a republication of the story.
**Sister Marjorie Hinckley's funeral is scheduled for 11 a.m. (MST) on Saturday April 10th. KSL-TV will begin LIVE coverage at 10:30 a.m.**Carole Mikita Reporting
President Gordon B. Hinckley, of the Church of Jesus Christ of Latter-day Saints: "I guess the clock is winding down and we do not know how to rewind it."
Just two days after President Gordon B. Hinckley of the Church of Jesus Christ of Latter-day Saints made those comments about his beloved wife, the hands on that clock are still. Marjorie Hinckley passed away this evening at the age of 92.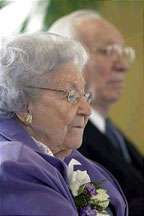 Marjorie Hinckley was respected throughout the world as a woman devoted to family and faith. She was a very sweet, warm lady; her friends and family describe her greatest gift as the ability to make anyone feel comfortable in her presence.
Majorie Hinckley, a gentle woman trying to live a private life in a very public marriage. Her husband is revered as prophet and leader of nearly 12-million church members. She found comfort in his shadow.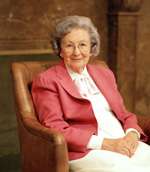 On those occasions when she made public appearances, audiences were immediately captivated by her quiet charm. Her family describes her as genuine and generous, saying she lived life with humility and humor.
Sis. Marjorie Hinckley, 1998: "Being in a situation where I am, much is expected of me. And I say, 'How did a nice girl like me get in a mess like this?'"
Marjorie Pay was born on November 23rd 1911 in Nephi. When she was still a child her family moved to Salt Lake City, into the same neighborhood as a boy named Gordon Hinckley. Their friendship lasted for quite a few years; after high school he went on a mission to England.
Pres. Gordon B. Hinckley: "I reflected several times on the fact that while I was working so hard, as a missionary she was at home dancing with all the boys she knew. But I came back and she was still around. We had a wonderful courtship and a wonderful marriage."
They were married on April 29th, 1937 in the Salt Lake Temple. The newlyweds fixed up a little cottage on property owned by Gordon Hinckley's father. He went to work for the church, she began raising a family.
Pres. Gordon B. Hinckley: "We built a pleasant home in East Millcreek, and settled down and reared our family there, three daughters, two sons. It was a very lively household and the mother of those children was the very center of it."
Marjorie Hinckley loved to plant flowers, beautify her home. She was always described as a hard worker, whether in church assignments or community service. But it was her family, children and then grandchildren and now great grand children, she devoted herself to.
Sister Marjorie Hinckley, 1998: "They're wonderful people and I just look at them and think, 'You've got to do better to be worthy of these kids, they're so great!' They're very strong, I think that's true of most young people today."
Over the 67 years of marriage, their devotion to each other was well-known. They traveled the world speaking to Latter-day Saints. She was always President Hinckley's closest confidante.
Sister Marjorie Hinckley, 1998: "I think any marriage, to be successful, you have to be fiercely loyal to each other. Fiercely loyal, and I think that's happened with us."
As first lady of a world-wide church she was often forced into the spotlight; everywhere she went people reached out and she returned the love..
Sister Hinckley, 1998: "I try to make people comfortable with what they are and who they are. And let them know that they're appreciated and that they're making a contribution. They are." It's a rough world out there, the road has not been paved all the way for any of us. We all have a small place in our hearts where we store up our sorrows and our disappointments. Let's be kind to one another and cheer each other on."
Pres. Hinckley: "To her I give all the credit for the virtues of our family, including our children and our grandchildren and our great-grandchildren. She holds a very bright spot in their hearts, as do I. And my love her for extends over a very long period of time and I expect it will go on forever."
During closing session of last weekend's General Conference, President Hinckley talked of her failing health and of his sorrow.
Pres. Hinckley: "It is a somber time for me. We've been married for 67 years this month…We've walked together side by side through all of these years, co-equals and companions, through storm and sunshine. She has spoken far and wide in testimony of this work, imparting love and encouragement and faith wherever she has gone."
The Hinckley family says instead of flowers, they suggest donations to the church's Perpetual Education Fund or the Marjorie Pay Hinckley endowed chair of Social Work at BYU.
Funeral services are tentatively scheduled for Saturday.
×
Most recent News stories