Estimated read time: 2-3 minutes
This archived news story is available only for your personal, non-commercial use. Information in the story may be outdated or superseded by additional information. Reading or replaying the story in its archived form does not constitute a republication of the story.
John Daley ReportingSpring runoff continues to cause problems elsewhere, like Farmington Canyon.
The problem is simple -- fast-moving runoff running a narrow canyon, and when Farmington Creek jumped its normal path that created serious trouble for the one and only road up the canyon.
Farmington Canyon is narrow; the lone road up it, which eventually leads to Skyline Drive, hugs close to the river and in one spot the road is one the brink of giving way.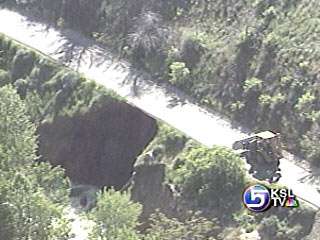 Sgt. Brian Law, Davis Co. Sheriff's Dept.: "Yesterday afternoon they noticed the creek bed had moved a little bit south and it was starting to eat away at the bank there next to the roadway. And that continued throughout the night and this morning put the road there in danger. So what we've done is closed off the road to any public traffic."
The solution is, what else, heavy machinery-- a pair of backhoes. The slopes are so steep they had to tiptoe up to the spot, tied together by a cable. Now their job is to recreate the old channel where the creek used to run before heavy runoff sent it in another direction.
Tom Smith, Director, Davis Co. Public Works: "Our intent is to get it moved back over there, rock armor it so it can't get into the bank again. Put that rock armor up three or four feet above what the high water will be and hopefully that will hold it."
Earlier Davis County Search and Rescue crews were called in to help some people who were camping get down safely.
One thing helping matters, the upper slopes are not eroding, thanks to some aggressive reseeding. A big wildfire two summers ago blackened much of the hillside, leaving it vulnerable to slides.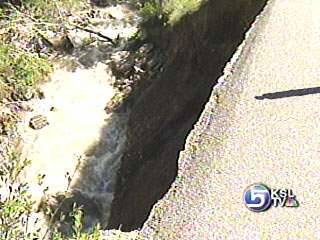 Just another wild card from Mother Nature, which has delivered drought, fire, and now flooding.
Sgt. Brian Law, Davis Co. Sheriff's Dept.: "Right now it's running a normal runoff. It's just we haven't seen this for six years."
Officials here say they don't know how much this repair will cost. They say they don't expect a quick fix, it'll take some time. They predict this road won't be open before July 1st.
×
Most recent News stories