Estimated read time: 2-3 minutes
This archived news story is available only for your personal, non-commercial use. Information in the story may be outdated or superseded by additional information. Reading or replaying the story in its archived form does not constitute a republication of the story.
Sam Penrod ReportingWater watchers have been warning us for months. Now it's happening. Record snowpack transforms into record high water in rivers and streams across the state. Tonight the residents of Garfield County are working overtime to keep that water out of their homes.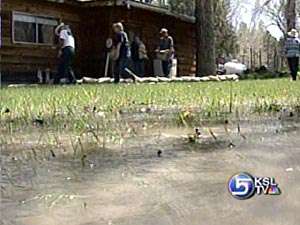 The Sevier river is still rising. The town of Hatch is not in any danger, but it's what's known as old town Hatch that is finding itself closer and closer to the river. And by the end of this weekend the river is expected to rise another foot and a half, its highest level in recorded history.
It is a peaceful and quiet scene to watch the snow melt in the mountains above Garfield County. But down below in Hatch, the water is running out of control, well beyond the banks of the river.
One by one volunteers drop sandbags around the Johnson's home as the Sevier River keeps rising. The sandbags seem to be the last defense to keep water from flooding the home.
Tish Johnson, Home in Danger: "We have great neighbors, though I have lots of people to thank today that turned out to help us do this, great people here."
It's the third time in 30 years of owning this property that Everett Johnson has watched the river threaten his home.
Everett Johnson, Home In Danger: "I lived here in '83, '93 was the second to the biggest, and this year I think will be the biggest."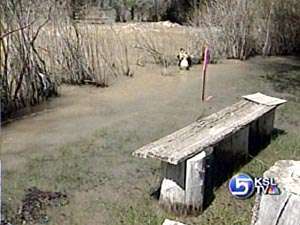 A few miles south of Hatch where water comes off the mountain, is known as Asay Creek. It combines with another creek downstream to form the Sevier River, which travels through several counties in Central Utah.
Ray Owens, Sevier River Commissioner: "I've never seen flows like this, sustained flows, in 28 years as being river commissioner."
One road has already been washed out and crews are bringing in loads of dirt to keep water from washing out another. And by all accounts, the river will keep rising over the next several days before reaching its peak. That's why the Johnsons know they have good reason to worry.
Over at the RV park is the area where campers usually pitch their tents, but it will still be a while before anyone will be able to camp there. And it's been another hot day so the river is expected to keep rising throughout the night.
×
Most recent News stories
More stories you may be interested in