Estimated read time: 2-3 minutes
This archived news story is available only for your personal, non-commercial use. Information in the story may be outdated or superseded by additional information. Reading or replaying the story in its archived form does not constitute a republication of the story.
Samantha Hayes ReportingSeveral Garland homes are literally surrounded by water. A dozen homes had their basements flooded today and many of them have been flooded off and on for over a month now. It's a frustrating cycle.
Diane Morgan, Garland Resident: "We just let it fill up and wait, then keep pumping it down. Pump it out and then try to pump it out of our yard across the road. Yeah, crazy huh?"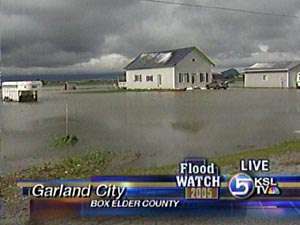 The problems are caused by the runoff-packed Malad River and the heavy rain we've been having. You don't have to live in Garland or by a stream, or on a hillside for that matter, to have problems with flooding. The soil is saturated everywhere, flooding basements in areas you wouldn't think would be at risk.
In Draper crews are trying to route water away from homes. A lot of folks are just exhausted tonight after sandbaggging, vacuuming, and mopping up their basements. It's been a messy day for work crews too, trying to move a storm drain at 142nd South in Draper.
Water started spewing from beneath the roadway, collapsing the asphalt. We may have needed rain before, certainly now most people are saying "enough!"
The Blanchards just moved in. Now they'd like to move back out.
Laurie Blanchard, Taylorsville Resident: "We had about 18 inches of water. It was coming into the basement."
The county told her the water-excess runoff from all this spring rain is rushing south between homes on either side.
Laurie Blanchard: "The basement is 2650 square feet and it filled up quick."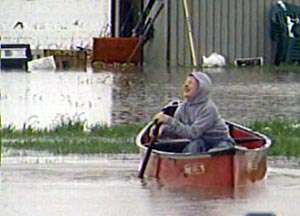 Laurie Blanchard, just like many folks who moved out into the middle of the valley, never thought flooding would be a problem, but here they are filling sandbags and buying sump pumps. Just over the fence the Armstrong family also bailed out their basement and their backyard.
Craig Armstrong, Taylorsville Resident: "I estimated over a thousand gallons of water."
And as far as flooding goes today, you could say this is just a drop in the bucket.
Linn Griffith, Utah Disaster Kleenup: "In the last 24 hours we've had about 40 flood calls, and we've responded on 16 of those and we have more to go as the night goes on."
Many are taking care of minor problems themselves, buying things like tarps, sandbags, shop vacs, and down spouts.
Reporter: "Have you had to order more of anything?"
T.J. Lindsey, Home Depot: "Almost everything, especially sandbags. We had to place a huge order today because we're almost out of them."
×
Most recent News stories