Estimated read time: 2-3 minutes
This archived news story is available only for your personal, non-commercial use. Information in the story may be outdated or superseded by additional information. Reading or replaying the story in its archived form does not constitute a republication of the story.
Coco Warner ReportingThis rain and the heavy snowpack have a lot of people worried about massive flooding. Are we ready if it comes? Since the memorable floods of 1983, Salt Lake City has spent 30 million dollars on improving its flood control systems and 70 million on a new reservoir. Coco Warner shows us how the city plans to handle this Spring's run-off.
Just like a bathtub, you can see the ring or level where the water normally reaches in the Little Dell Dam and Reservoir. But Salt Lake City officials are letting water out of Little Dell to make room for the run-off.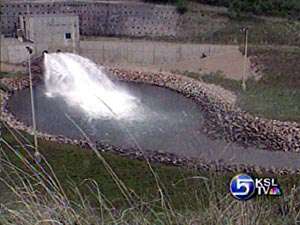 LeRoy Hooton, Salt Lake City Public Utilities: "At the end of the run-off season the water levels should be up to the normal operating level, and hopefully we have no flooding or difficulties getting water out of this."
In 1983 Mountain Dell was the city's only reservoir and proved itself incapable of handling that year's rains and run-off. City leaders were forced to flood 13th South. Nearly ten years later Little Dell Reservoir was built in an effort to avoid a repeat of 83'.
Right now, about 30 cubic feet per second is being released from Little Dell-- that water then travels through Mountain Dell where 125 cubic feet is being released into a conduit that runs along 1300 South into the Jordan River.
LeRoy Hooton, SLC Public Utilities: "So this is a storage facility that we use during flood control periods to hold water or to release water to prevent flooding."
In 1983, City Creek overran its banks, which resulted in the sandbagging of State Street. Since then city officials have created a few catch basins like this one here behind me. They help control the water's flow and help filter debris.
City Creek is running high, but nothing like it was in 1983 when it jumped its banks and the city was forced to turn State Street into a river. But with the creation of new debris basins city leaders feel confident that City Creek should stay where it is.
LeRoy Hooton, SLC Public Utilities: "I'm not overly concerned, we have contingency plans, but it does raise the risk level somewhat having this later melt and the weather that we've been experiencing over the last several weeks."
×
Most recent News stories