Estimated read time: 2-3 minutes
This archived news story is available only for your personal, non-commercial use. Information in the story may be outdated or superseded by additional information. Reading or replaying the story in its archived form does not constitute a republication of the story.
John Hollenhorst ReportingSandy Hansen, Ogden Canyon: "We keep the window closed because it gets pretty loud, hah, hah."
The Ogden River roared even higher past homes today as crews opened the floodgates of Pineview Dam. The flow of the river is measured at 1200 cubic feet per second. That's the highest flow in six years.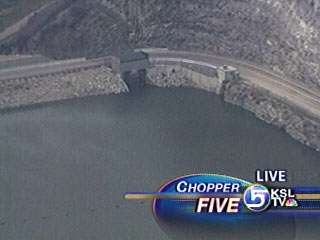 Residents of Ogden Canyon are actually breathing easier because the flood some of them feared, did NOT happen. The river channel is easily handling the increased flow.
It's a spectacular sight -- the biggest spillway flow in years to make room in Pineview reservoir for even more spring runoff later. Downstream water lapped against people's homes and properties. Many were ready with sandbags, but there was no serious damage.
Sheriff Brad Slater, Weber County: "We still have residents that are concerned, still worrisome. We're still making sure we get them sandbags and sand and helping out any way we can that way."
It's a case where officials found that handling information flow was trickier than handling streamflow. A rumor got out the river would rise dramatically.
Sandy Hansen, Ogden Canyon: "I was a little worried when they said it was going to double, and then they said that wasn't true. And then after that I'm not because they pretty well control the water that's coming down."
Tracing the rumor is tough. Sheriff's deputies notified residents that flows would increase, but somehow it got exaggerated.
Sheriff Brad Slater: "Well there was already some misinformation out there before we were ever notified. And obviously those kind of things tend to spread, as they do, panic and concern."
As impressive as this might seem, try to imagine if the dam wasn't there, playing its role in controlling floods. In a typical runoff year, there might be three or four times as much water going down the Ogden River. Even with the dam in place, high water like this is not extraordinary.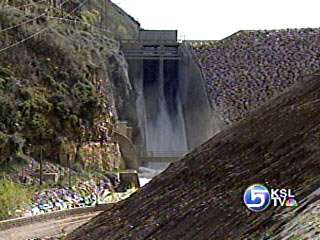 Tage Flint, Weber Basin Water Conservancy District: "In the last five or six years we haven't had these kinds of flows in the river. It's not that abnormal in a normal snow year, but we've been in a drought and we just haven't seen these kind of flow rates."
An impressive show, but not much of a worry, as long as the spring thaw doesn't make it worse.
×
Most recent News stories