Estimated read time: 2-3 minutes
This archived news story is available only for your personal, non-commercial use. Information in the story may be outdated or superseded by additional information. Reading or replaying the story in its archived form does not constitute a republication of the story.
Dr. Kim Mulvihill ReportingDespite the huge relief effort, getting the help to those who need it is still a problem. Dr. Kim Mulvihill witnessed the challenges in Sri Lanka, and she's here now to tell us what she saw.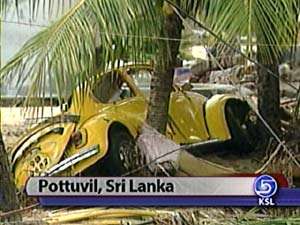 Much of the effort in Sri Lanka is focused on the southern part of the country. Two weeks ago I went with a group of doctors to a remote area on the island's eastern side. We set out from the capital city Colombo, on the west coast. We reach the town of Pottuvil. Help is slow getting to this part of the country.
It's easy to imagine that this surfer hot spot, with its tsunami hotel and restaurant was once picture perfect.
Take Main Street in Pottuvil -- once a popular tourist destination sort of off the beaten path, until the tsunami. Residents tell me there were three waves, the first one didn't do much harm. The second did most of the damage.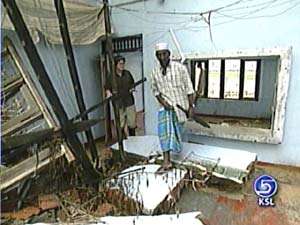 Cars tossed around like toys. Boats swept half a mile inland. Homes, livelihoods, and lives washed away in seconds.
Mohammed Layfer was just about to go to work as a painter at a nearby hotel, when suddenly…"coming water this side." "The water first came on this side?" "First came this side. Second time coming this side, all around."
Mohammed ran outside and scooped up two of his children. He showed us how he tucked each one under his arms as the water rose.
"All of us drinking water, this baby, this baby all take. I dunno the baby." "The water took the babies?" "Baby all take."
The water pried the babies from his arms; they were washed away to their deaths. Mohammed was catapulted 15 feet up, to the top of his house. He managed to grab onto the roof. His wife survived by clinging to a palm tree.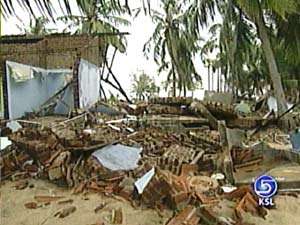 The family is staying with friends for now. They came back home while we were there, hoping to salvage some of their jewelry or anything else.
"All people coming everyday, nighttime, pick pocket man coming all to see, to take the gold, clothes, all taken."
After living his entire life at the beach, Mohammed says he can't bear to stay.
"Even if this area is okay, I'm not coming back here. I think of my babies who are not here. I go to the other side." "You're going to move?" "Yes, to the other side."
Tomorrow, we'll show you how tsunami survivors are starting to pick up their lives and move on. And the particular kinds of help they still need.
×
Most recent News stories