Estimated read time: 4-5 minutes
This archived news story is available only for your personal, non-commercial use. Information in the story may be outdated or superseded by additional information. Reading or replaying the story in its archived form does not constitute a republication of the story.
SALT LAKE CITY (AP) -- A man accused of killing his wife after she learned that he lied about getting into medical school pleaded guilty to murder Friday, making a simple declaration to the judge: "I intentionally shot Lori Hacking in the head with a .22 rifle."
Upon that admission, Lori's mother Thelma Soares immediately started crying.
"I knew he did it," Thelma Soares, Lori Hacking's Mother said. "But to have him stand and hear him actually say that he intentionally killed Lori was pretty difficult."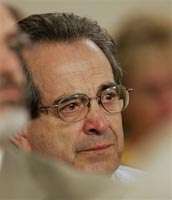 Prosecutors say Mark Hacking carried out the attack while his wife slept last July and then threw the body of the 27-year-old woman in a trash bin. Volunteers scouring a landfill found her decomposed remains about three months later.
The victim's father, Eraldo Soares, said hearing Hacking admit guilt in court "was just like a knife going right through my heart. I could not imagine that he could do that to Lori."
"It's something I've wanted to hear, but for him to finally say he did it," said Paul Soares, Lori's father. "It's really, really hard to hear him say it."
"I'm not sure that it's right for someone who's taken two lives to then be able to go ahead and go on with their own life," said Thelma Soares.
Prosecutors said the sentencing range will be from six years to life for Hacking, who appeared in court Friday with his hands cuffed behind his back and with a look of resignation. Prosecutors said they will push for the maximum sentence.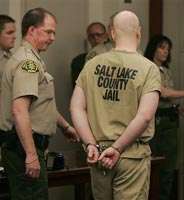 "Under this charge, there is no possibility of probation. He will be going to prison," prosecutor Bob Stott said. "He pleaded guilty to murder, and that's what we were looking for. We were looking for the life sentence."
Hacking, a hospital orderly, pleaded guilty to first-degree murder. He also was charged with obstructing justice by disposing of the body, the gun and a bloody mattress, but those charges were dropped as part of Friday's deal.
Sentencing was scheduled for June 6.
Thelma says she was happy to finally hear her son-in-law take responsibility for his actions. But Paul Soares questioned whether Mark was really sorry.
"I didn't hear any remorse or anything like that in the statement. It was very just matter of fact," said Paul Soares.
Prosecutors were unable to determine if Lori Hacking was five weeks' pregnant, as she had told friends. That meant the husband could not be charged with a capital crime.
"Lori's baby would have been born by now," said Thelma Soares. "That's a difficult thing to contemplate an deal with."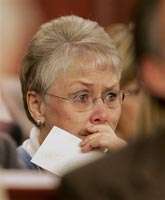 Lori Hacking's colleagues at a Wells Fargo brokerage house have said she broke down sobbing after learning of her husband's deception. She became aware of the lies after making calls to school administrators in North Carolina, where Hacking claimed he was enrolled for medical school. Hacking had also lied about graduating from the University of Utah.
Thelma Soares, Lori Hacking's Mother: "It saves us the pain of going through a difficult pile, so I'm grateful for that."
Mark Hacking, 28, entered his plea after his lawyer showed no sign of preparing for a trial. The lawyer, Gilbert Athay, filed no motions, asked for none of the usual hearings that precede trials, and contacted no prosecution witnesses -- leading many to believe a plea deal was in the works.
That became more apparent when Judge Denise Lindberg scheduled another murder trial for the time Monday when she was to preside over Hacking's trial.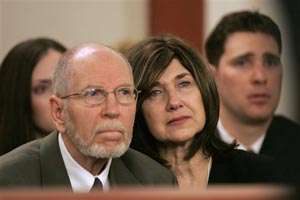 Mark Hacking was last in court Oct. 29, when he pleaded not guilty to all four charges.
Hacking had reported his wife missing to police, saying she had not returned from a morning jog in a Salt Lake park.
The news prompted a weeklong search for the former stockbroker's assistant by thousands of volunteers -- a search that echoed another sensational Salt Lake crime, the kidnapping of Elizabeth Smart from her bedroom.
Hacking was in a psychiatric hospital after suffering a breakdown when he confessed to his brothers that he killed his wife using a .22-caliber gun.
Lori's mother, Thelma Soares, wept as she talked to reporters after the hearing.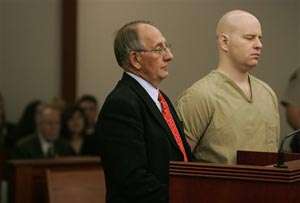 "I still have a lot of questions that are, have never been, addressed, and I need to get some answers from Mark," Soares said. "But that will have to be between Mark and me in the future at some point."
Mark Hacking's brothers Lance and Scott were not in court today.
The Hacking family did not speak.
(The Associated Press contributed to this story)
×
Most recent News stories